And we are back for Part 2 of the summer 2021 wave, best LEGO Star Wars wave in years! In Part 1, we looked at two sets that appear to be absolute gold. We looked at the Dual of Mandalore set, which gives us one of the most iconic Clone Wars scenes in a cheap $20 USD set. Both the minifigures are perfect, and I'm so excited to add Ahsoka and Maul to my collection. The Trexler Marauder set is also cool, as the minifigures are too, near-perfect, and it's nice to finally get an Imperial Troop Transport in LEGO form. I'm so glad that the LEGO group decided to focus on the Mandalorian and the Clone Wars, as we have been asking for sets based on this wave for so long. And looking at those two, they don't disappoint. And so will these next two sets:
Boba Fett's Starship (75312)
When rumours first sprouted that we'd be getting another Slave 1, most of us were disappointed. We just got one in 2019 – and as much as we hoped for a Prequel Slave 1, we all knew it would be the iconic ones from the Original Trilogy. Rumour had it that we would get a Han Solo and a Boba Fett. And most people just overlooked the set. And when the catalogue leaked, boy were we in for a surprise! Instead of basing the set on the Original Trilogy, the designers decided to make this a Mandalorian-inspired set.
We got the most unexpected figure – Boba Fett in his Mandalorian attire. From what I can see in the blurry picture, the helmet could be new, with a few new marks and dents printed on it. He is most likely receiving the same jetpack piece as other versions have had in the past. However, something that is definitely different, is his new torso. The weathered-out printing overall looks absolutely amazing. It looks very tattered and is gonna be our most unique Boba Fett variant. I hope that we get a grizzled, old face for the print underneath the helmet. Again, the phenomenal, scrappy print continues onto his legs, which looks spectacular!

And finally, one of the biggest surprises in this set is the fact that Boba comes with arm printing! Yes! Arm printing! LEGO went above and beyond with the figures in this wave! This is the type of effort I want to see in all Star Wars sets! I want great figures overall, but some that go above and beyond. The character received a built-up blaster which looks pretty cool!
The Mandalorian figure in this set was the same one released earlier this year. He comes with the newer coloured helmet. Right now, we can't tell if he received a face print underneath him or a black head as last time. It's been two years since the show released, so surely they would give him a Din Djarin face print this time. He comes with his newer Beskar armour torso print, with sidearm printing too! This set is so amazing! Two figures with sidearm printing! The designers really put effort into the theme this time, and it shows. Both arms will definitely be printed, and it may be my first Beskar Mando figure so I'm excited! Finally, to top the figure off, he received accurate leg printing. Oh yeah, and he also comes with his Beskar spear.
The set itself is actually surprisingly good. Yes, It's definitely not as good as the 20th Anniversary Slave 1 or the UCS one, but it's still pretty solid. It has the whole general shaping done perfectly, and actually looks petty sizeable. Again, we don't know of every play feature, but I'll let you guys know what I think can be fiddled with. The cockpit looks like it can open to fit one minifigure. There are gravity-based wings that will spin with gravity as the ship moves around. Finally, there are two, ugly stud shooters at the front of the ship. They genuinely just look trash so I'll probably take them off if I buy this set. Overall, this looks like a decent set, and for $60 USD, I think it'll be a steal.
Imperial Light Cruiser (75315)
This is the biggest set at the wave, releasing for $160 USD. I am pretty hyped, like many other Mandalorian fans, and here's why. Here, we get our third Beskar Mandalorian minifigure. I already gave a description a minute ago, so no need to again. We also get Grogu in this set, aka Baby Yoda. It's the same head mould used which debuted the Razorcrest set in 2020, and the regular baby body mould.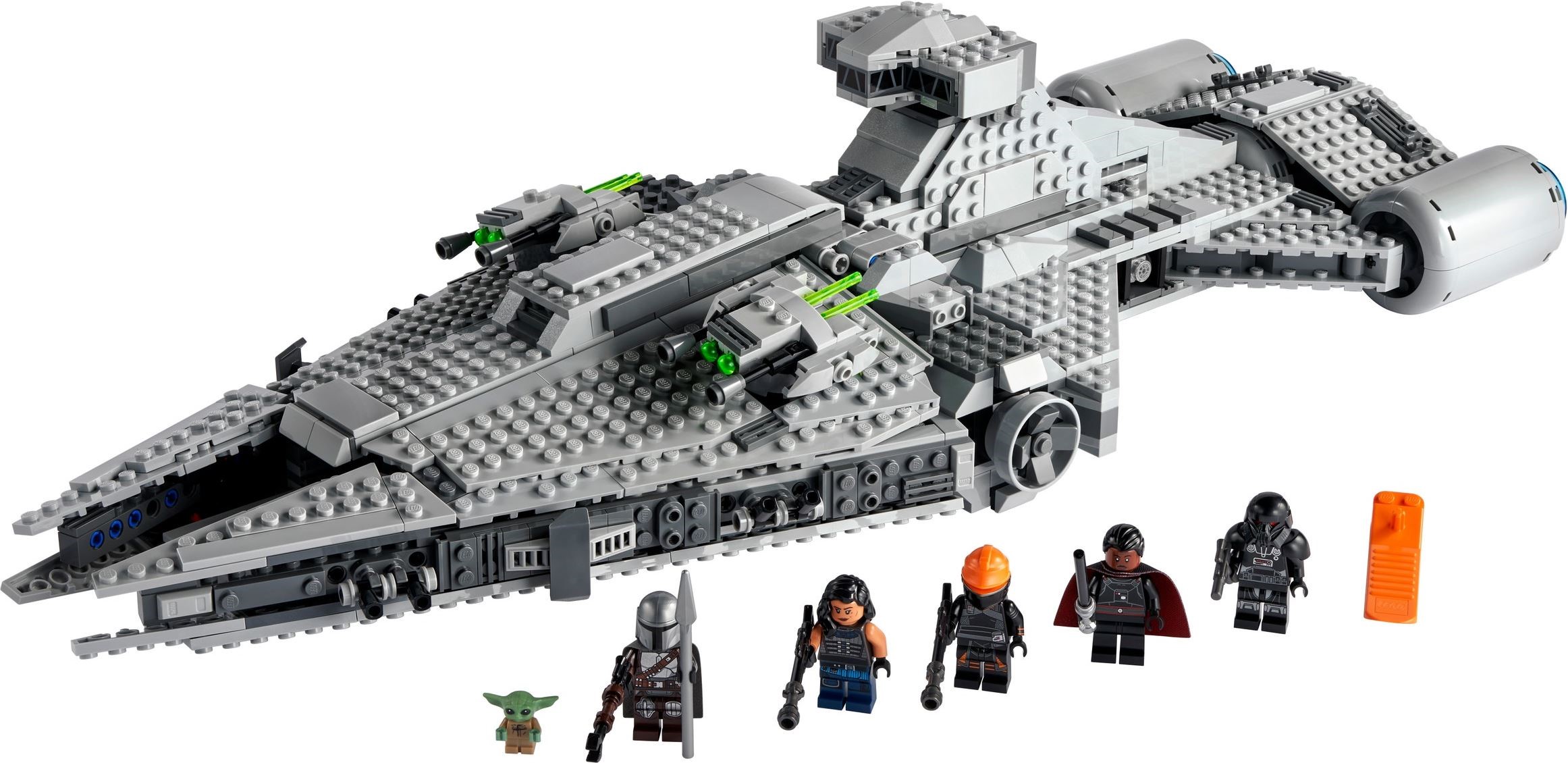 Get the Latest LEGO Sales & Deals
Everyone was pretty surprised to see that Cara Dune was included in this set. After the controversy surrounding the actor, which resulted in her firing, the minifigure skyrocketed in price on Bricklink. However, I'd love to thank the LEGO Group that they included the same minifigure as in our first Mandalorian set. She receives the same really nice face, torso and leg printing as before and was equipped with a rifle with a lightsaber attachment. They should've given her arm printing for her iconic tattoo that was clearly displayed in the show. Now going into the exclusive minifigures, Fennec Shand is a new character in LEGO form. She receives a new helmet mould, which looks absolutely amazing. Her torso and legs look very accurate to the show, and this minifigure will become very collectable in the future.

And finally, the final two minifigures. We finally get our first official Moff Gideon minifigure. I have many problems with this figure. The hairpiece included should've been the one used for Percival Graves in the Harry Potter CMF set. His face print is also very off-putting. He looks very young – something that's obviously not displayed in the movie. His faceprint should've included more wrinkles and some white hair. This just looks like a young version of the character.
Finally, the best minifigure of this whole wave. The Dark Trooper. The LEGO Group created a new mould for its helmet, and I'm guessing there's a very menacing faceprint underneath. To bulk the figure up, to look like the strong droids they are, it was given a printed armour piece. Under it are a very detailed torso and leg print. Finally, the figure included a regular blaster piece. They should've at least included two of these figures in this set instead of one. And that's one of my biggest disappointments with it, besides Moff Gideon.

Moff Gideon's ship itself is an Imperial Light Cruiser. LEGO has never released a full-sized minifigure-scaled version of this iconic Star Wars ship, so I'm glad we are finally getting it. One of the best things about the build is that it doesn't look Mandalorian-specific, and therefore can fit into any Original Trilogy/Empire display.  From what I can tell, the outside consists of four spring-loaded shooters. I'm guessing a few of the flaps can open to reveal a small interior, with a bridge, control panels etc. I would guess that there may be a jail cell maybe. I don't know, I guess we will just have to wait for the reviews. But the set overall looks amazing and is a definite buy for me.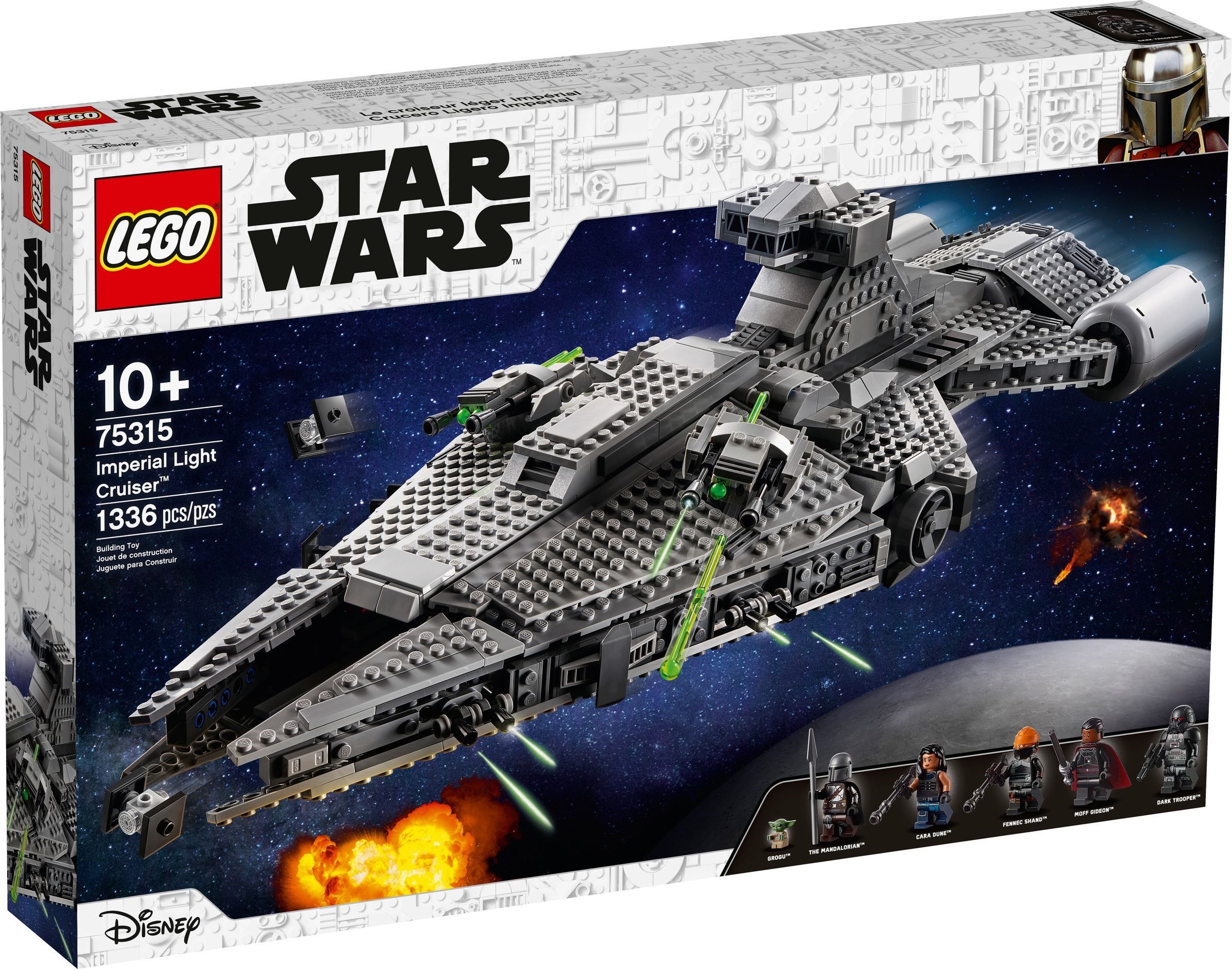 And thank you for tuning into part 2 today! I can't wait to finish part 3 off soon! I have a lot to do today, so sorry for the short outro! I'll see you guys next time!
Images from Brickset
Get the Latest LEGO Sales & Deals