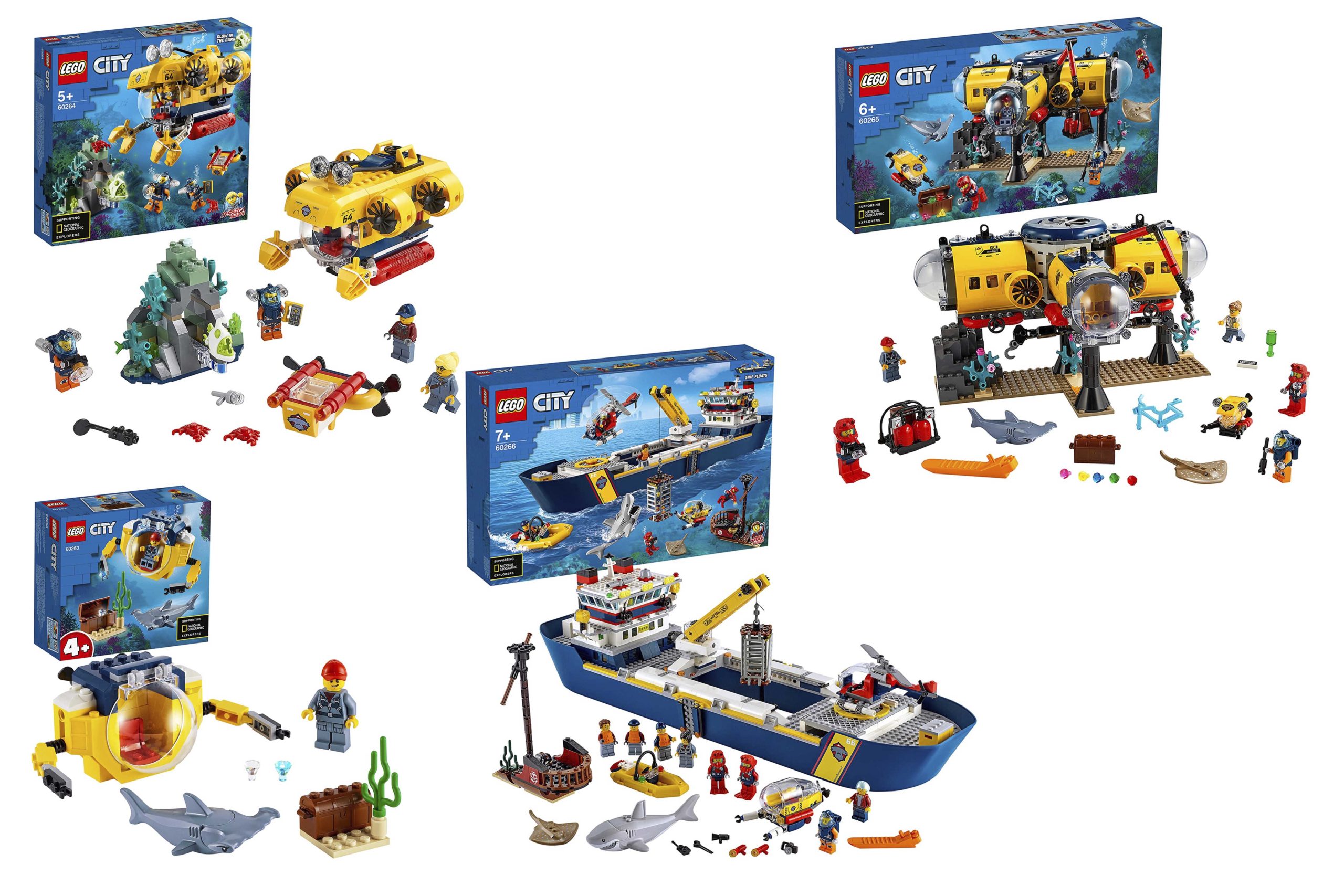 It's safe to say that we are big fans of the licensed LEGO brands here on the FireStar Toys blog. From Star Wars to Marvel, Jurassic World to Stranger Things – it is clear that we all love when LEGO tackles some of our favourite licenses! Today, however, I wanted to bring it a little closer to LEGO's core brands – by taking a look at one of this year's subthemes from their City line.
We will be diving deep under the surface as we explore the LEGO City Ocean Exploration sets. Whilst I don't own any of these sets, I have opinions on each of them which I am excited to share, as this is one of the licenses which I would like to collect at some point. Created in collaboration with National Geographic, it is safe to say that these sets inspire creative play – so let's take a look at them!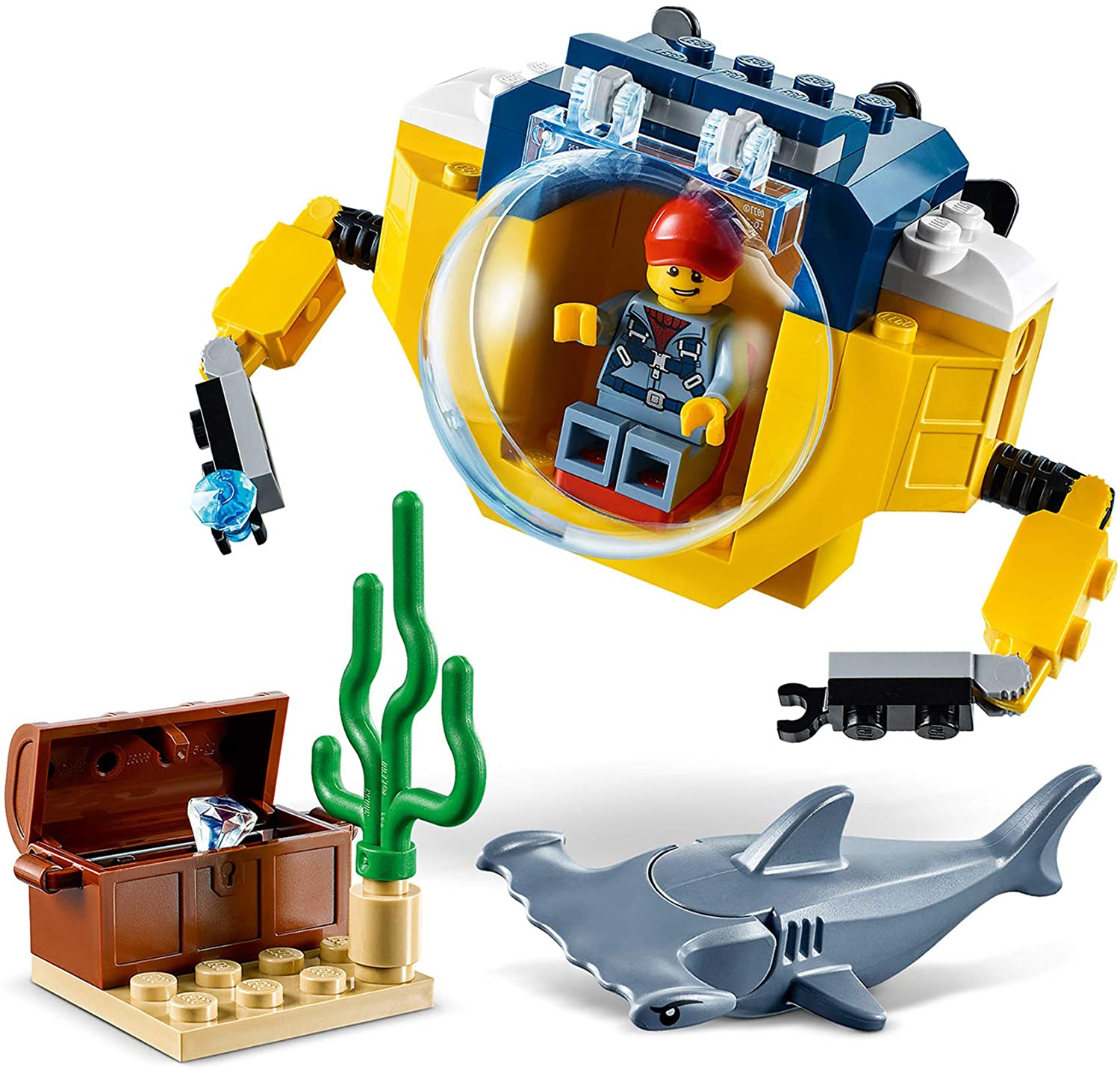 LEGO 60263 – City Ocean Mini-Submarine 
Set 60263 is LEGO's smallest line in the LEGO City Ocean Exploration sets, and provides a fun little package of toys which young fans will appreciate. Coming in as a 4+ set, this set doesn't have the most detail, but it has some nice part usages across the submarine which help to make a fun little build. The figure has some nice detail on the prints for the legs and the torso, and the Hammerhead Shark included in this set is a really nice inclusion which I am sure fans of unique LEGO animals will appreciate. The small terrain piece with the chest here is nice too – and whilst it is by no means a complex build, I think that everything incorporated in this set lends itself nicely towards some fun play patterns for the younger fans this set is aimed at.
Coming in at a retail price of just 8.99, this is a fun little playset which I am sure will be popular with any budding deep-sea explorers!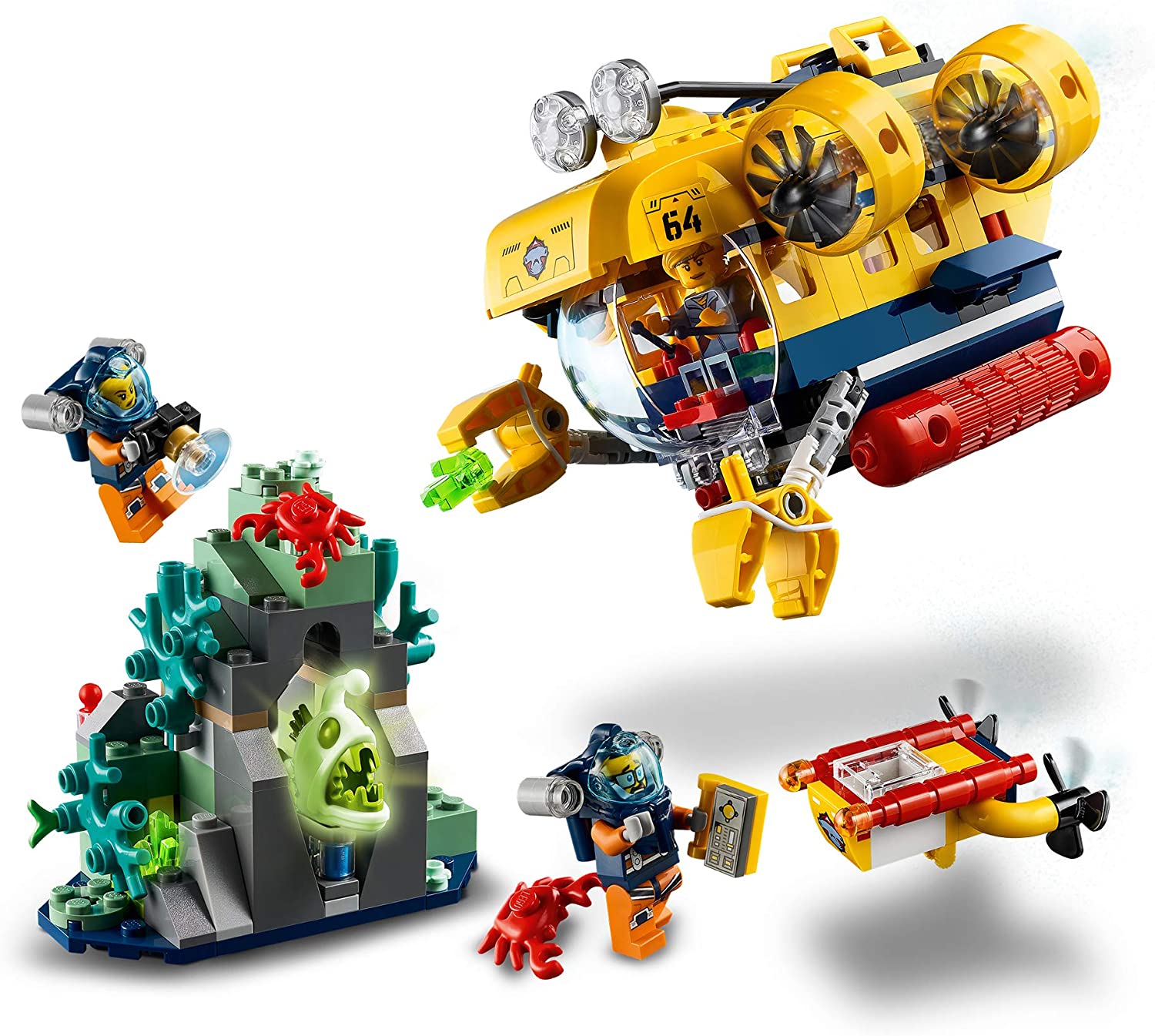 Get the Latest LEGO Sales & Deals
LEGO 60264 – City Ocean Exploration Submarine
Next up is set 60264
– which comes in at 24.99, and which is the set I would be most likely to purchase myself given the cool build for a submarine which is at the centre of this set.
As stated, the main focus on this set is a sizeable submarine – and I really like the size of this sub, alongside the details which are incorporated, such as the propellers and also the robotic arms which extend from the vehicle. I like how there are a lot of small details packed into this submarine as they help to elevate the build somewhat – lending more detail than that which I would traditionally expect to get with a City set. Of particular note here for me personally is the way that the small, unmanned submarine slots into the back of the submarine and can be launched from it – as this adds another level of functionality to the build which I think is really cool.
The other half of the build is a small cave, complete with a brand-new piece for an Angler Fish which I think is really cool. These animals always terrified me as a kid, but I think it looks awesome here – and I like how the LEGO designers decided to put plenty of coral detailing around the cave which the animal is housed within as this helps to lend towards the underwater nature of this build which is quite cool. Combine this with the four minifigures you have incorporated in this set and this is another nice example of a great playset with plenty of functionality for fans of all ages.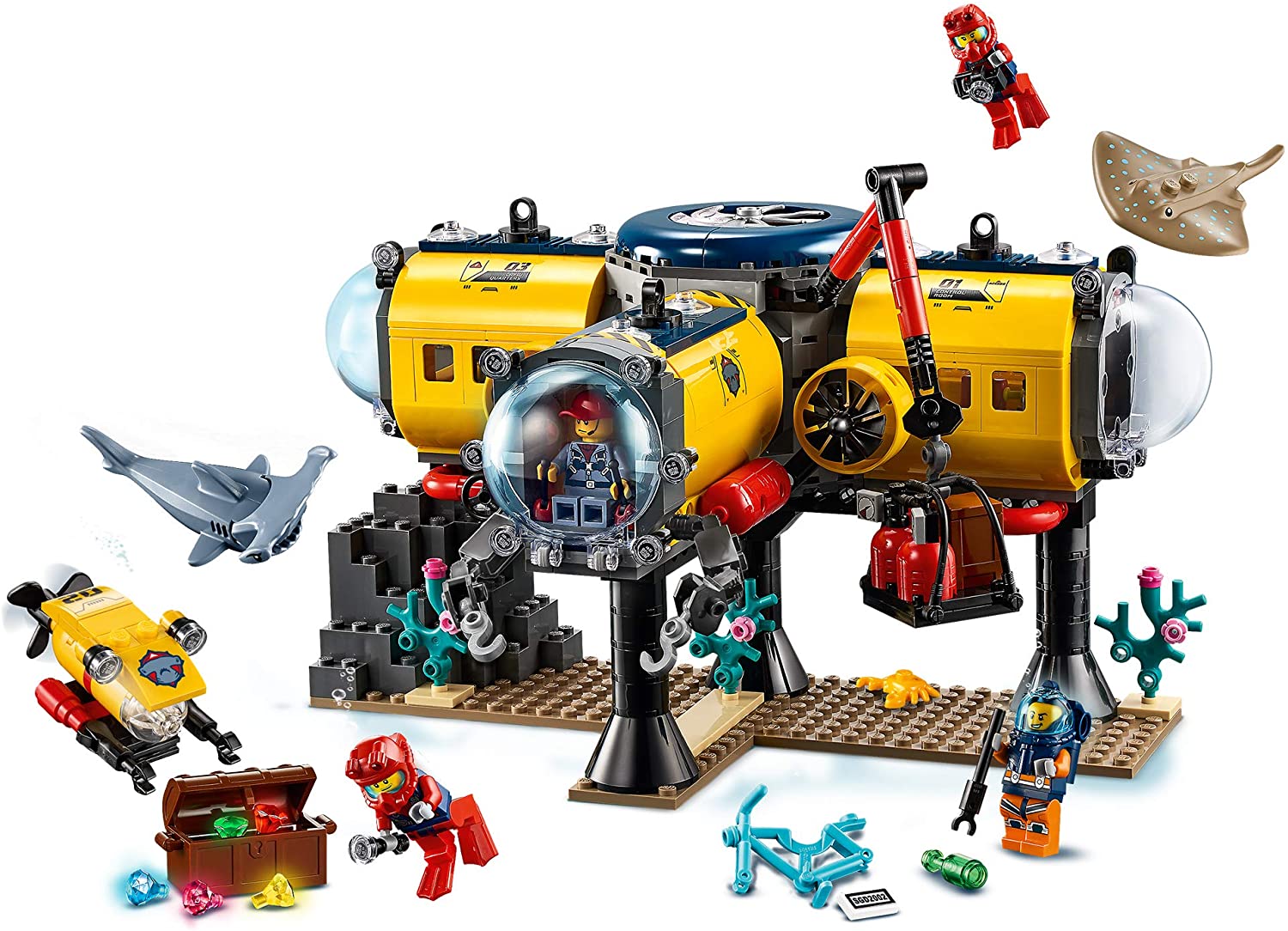 LEGO 60265 – City Ocean Exploration Base
Every good expedition or exploration mission needs a base camp where resources can be stockpiled, and where other vehicles can originate from – and that is no different when it comes to an exploration under the waves!
The Ocean Exploration Base is an interesting build which aims to create a fun, aquatic base build – complete with several different modules which can be detached from the body of the base to re-organise or change the layout of the base. I really like the design of this base as I think the large glass pieces lend themselves well to the aesthetic which the LEGO team have gone for, and I think that some of the additional elements like the fan in the roof of the centre module and the crane for supplies all help to add a great level of functionality to this build.
The detachable submarine portion is cool, but I have to admit, I would prefer for this to just be a stationery base as opposed to a modular submarine. With that said, there are some nice elements incorporated here – including a small unmanned submarine which has quite a nicely polished build. The rock and coral elements help to, again, create that underwater feeling for the build, just like with the previous set we looked at.
There are a couple of nice aquatic animals here, with the Manta Ray and the Hammerhead Shark, and the four minifigures here have some nice variety in scuba gear which helps to add some diversity to the minifigures incorporated in the set. Although I don't own this set, I think it is a really cool structure and I think a lot of LEGO fans will enjoy having a base to display their submarines around.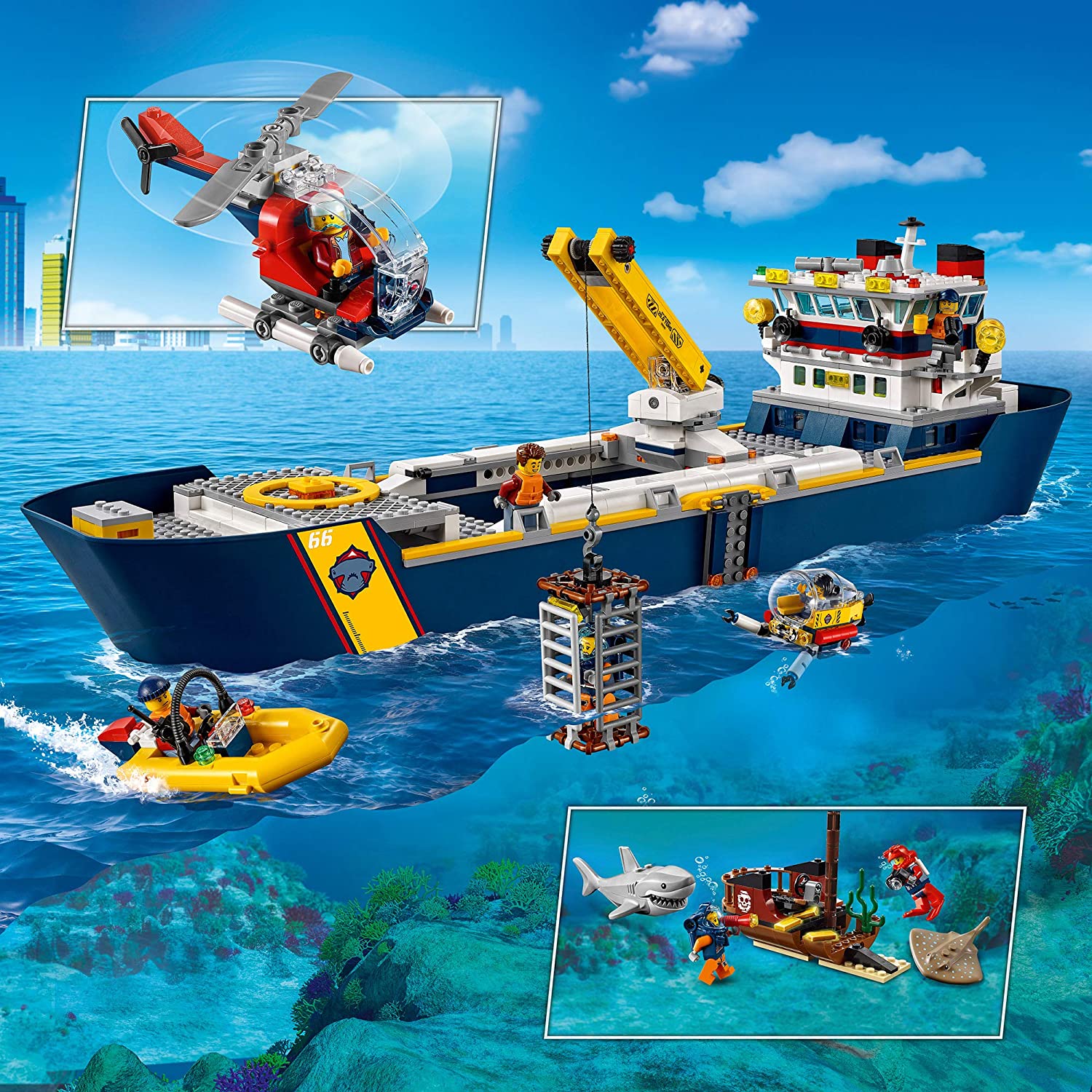 LEGO 60266 – City Ocean Exploration Ship
Any good Exploration Base needs a supply ship – and that is where the City Ocean Exploration Ship comes in, bringing the largest Ocean Exploration Ship
which LEGO have released to this date.
This ship combines two half-hull pieces, and incorporates some fun building elements including a moveable Crane, a Helipad, a storage area for a small submarine underneath the helipad, and also some other additional features across the build of the boat. I really like the gap in the centre of the hull of this vessel, and the way in which it allows you to lower the shark cage through the middle of the vessel – much like many of these vessels feature in real life.
We even get a small piece of shipwreck here, with a fantastic mould for a Great White Shark, alongside a re-inclusion of the Manta Ray here. This set has a ton of functionality and a lot of play features packed into it, and I think that this is bound to be a fun set for any kid to get their hands on, but it also has a few fun features which I think AFOLs are bound to find enjoyment from, too.
Of particular note here is the volume of minifigures included, too. With eight minifigures included you have more than enough to create a fully crewed vessel with this set!

So, that has been my deeper look at the LEGO City Ocean Exploration sets – a line of sets which really appeal to me, even if I don't quite have the space to own them myself right now! I love some of the minifigures across the builds here, and also love the details packed into some of these builds, so I think LEGO have done a great job with this subline (I hope you see what I did there!). With this said, what do you think? Should I take the plunge and buy some of these sets?
I'm going to leave the ocean puns there, but if you'd like to see some more of my posts here on the blog, then do click here.
Get the Latest LEGO Sales & Deals