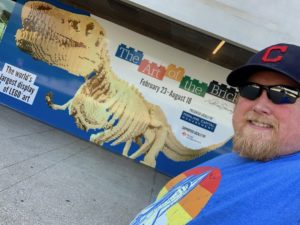 I recently had the privilege of touring the traveling exhibit "The Art of the Brick" created by Nathan Sawaya. My mother, myself, and my two oldest nephews drove to downtown Dallas, Texas to the Perot Museum of Nature and Science. I had heard of this art exhibit built from LEGO for years and always wanted to see it. It has visited 80 cities around the world since 2007, but never been close enough until now. Soon it will be off again outside of the United States to Israel and Brazil. I count myself lucky to have experienced Sawaya's creativity and passion up close.
One small brick…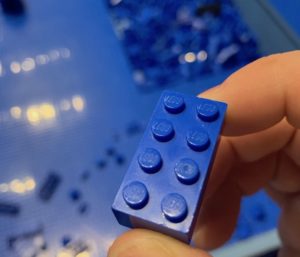 All it takes to create art is something. The great masters have used pigment, rock, light, electrons, and now? LEGO. At the end of the exhibit in Dallas, there was a play room with around 15-20 tables full of LEGO for people to build their own LEGO creations. I stood amazed by two things: age and time. First I noted the many ages of the people building. It wasn't just small children. I saw older children, teenagers with their iPhones in their pockets instead of in their hands, and adults. I saw mothers and single adults building alongside six and twelve and sixteen year olds. LEGO really does span all ages!
Second, I saw that none of those creations lasted very long. The people soon moved on to other exhibits in the museum, or other parts of the city of Dallas. What they had built was ephemeral, short lasting. It sat in the reservoir of bricks, built only until scavenged for parts by another person. Art is so powerful, and sometimes so fleeting, but loved by all who take a moment to appreciate it.
One giant head…
My nephews have not experienced much art in their short lives, but they love LEGO. Now LEGO has become their gateway into a world of art they never knew until "The Art of the Brick" blew their minds. They rushed from artwork to artwork amazed at what Sawaya had built. My eldest nephew, 9, soon lost count (though he tried!) of all the bricks in the exhibit. From the giant Easter Island Head to the small pieces blowing away from a red dress, each selection of brick art held a fascination for him. My other nephew, 7, was caught up in the fun of a brick dog, sandals, T-Rex, and skulls. The diversity of Sawaya's art really captures many aspects of humanity and interest.
A starry night…
The first part of "The Art of the Brick" as presented in Dallas moved from a one to one creation of the Mona Lisa and Starry Night to 3D versions of American Gothic and a giant recreation of Girl with a Pearl Earring. Of particular attraction to me were the LEGO "pixels". Up close, as with the blobs and smudges of paint that comprise the original artwork, the individual LEGO bricks often convey nothing. It isn't until one moves backward, away from the art, that the whole of the work coalesces into something sublime. Delight captured me when I saw Sawaya's penchant for removing subject from background, pulling out the farmer and his daughter from American Gothic, or pieces of fruit from a still life painting. This is LEGO's achievement in art, to be both painting and sculpture in the same work of art.
Get the Latest LEGO Sales & Deals
A young builder…
Since 2002, the former corporate lawyer Nathan Sawaya has been building with his bricks. But he started as I did, as my nephews are, as a child having fun with LEGO. As an adult, Sawaya built to relieve the pressure of his daily life, until it became his every-day passion and employment. Scattered throughout the exhibits were quotes from Sawaya about his art, or about LEGO. My favorite: "dreams are built… one brick at a time".
Surely Sawaya did not set out to be a world traveling artist. He only was building for fun. I am not sure, but I don't think Michelangelo set out to be world famous. I do know Vincent Van Gogh couldn't even sell most of his paintings! But how would the world be less without the statues of Michelangelo or the paintings of Van Gogh? Both were re-created by Sawaya for "The Art of the Brick".
The Power of the Brick
Another of Sawaya's sayings is this: "art makes better humans".
He continues that "art is necessary in understanding the world and it makes people happy." "Undeniably," Sawaya continues "art is not optional." Wow. Art does make us better. It allows us glimpses into each others souls and hearts and eyes. Van Gogh's unique way of perceiving, or the Easter Island Head's mysterious origins, or the "simplicity" of a pair of LEGO sandals in a portrait of a man done swimming: even these help a young boy of 7 understand his place in the world. That is certainly not optional.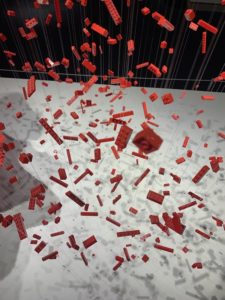 My 9-year nephew builds with bricks every day and when he reads "Imagine of a child learns about art history through LEGO!" on the wall, he may not immediately know, but innately understands that LEGO and art can be one and the same. Just seeing all those LEGO works of art and being amazed is, as I said earlier, a gateway for him and his brother to access the higher world of art through the "lowly" LEGO brick. I can't wait to see what he will build as he grows older. Maybe it won't even be with brick, but hopefully it will be art. Hopefully he will share parts of himself with me, and with the rest of humanity. Hopefully he will understand that a child in Texas, a former lawyer, a person from another country, a person of another time, or gender, or culture, is just like himself.
Final Thoughts
If
we all can love a little plastic brick, and build one on the other in an understanding of an ancient human need to share creativity, then maybe we can all love each other, and what makes us human. I saw many aspects of humanity portrayed in LEGO in the final section of the exhibit that was comprised of Sawaya's more personal explorations of the human condition. I was shaken and moved by the commonalities we all share as people living life, which is what he was expressing.
The keystone of the exhibit, and one in all the pictures, the sculpture Yellow shows a human form ripping open his chest and bricks pouring out. What is inside of all of us, regardless of the outside, is the same thing. As Carl Sagan is famous for saying "we are made of star stuff". We are all the same beneath our uniqueness.
I hope if you are able to see "The Art of the Brick" you will see and understand the same things I did, as you also have your own experience. After all, we all love LEGO here, but we all build different things. I saw what Sawaya built.
If you're interested in other art forms that use LEGO, check out this article on photography and this one about various artists inspired by LEGO.
I look forward to seeing what we can build together…
Get the Latest LEGO Sales & Deals