The LEGO Batman Movie – The Best DC Wave Part 5
And we are back! Part 5 is here! If I am to guess, I feel like this whole series is gonna consist of 10 parts! Yeah! I'm gonna make history by making the first ten-parter article on this website. And again, the reason why I am so committed to this is that I'm so passionate about this wave! I love it so much! So far, we have only reviewed 10 of the sets. And including the many promos, that's still not even half of the products from this wave!
I didn't think I'd need a disclaimer for these articles, but I guess I'll have to do one to save both of us a lot of time. There is one Batman figure that appears in nearly every single set in this wave, there are slight differences due to a few variations of faceprint. Instead of wasting both your time and mine to address these minor details, I'll just state that it's the 'same' Batman figure with one of the many face variants. The same thing will apply to the generic Robin and Batgirl figures from this wave.
(70910) Scarecrow Special Delivery: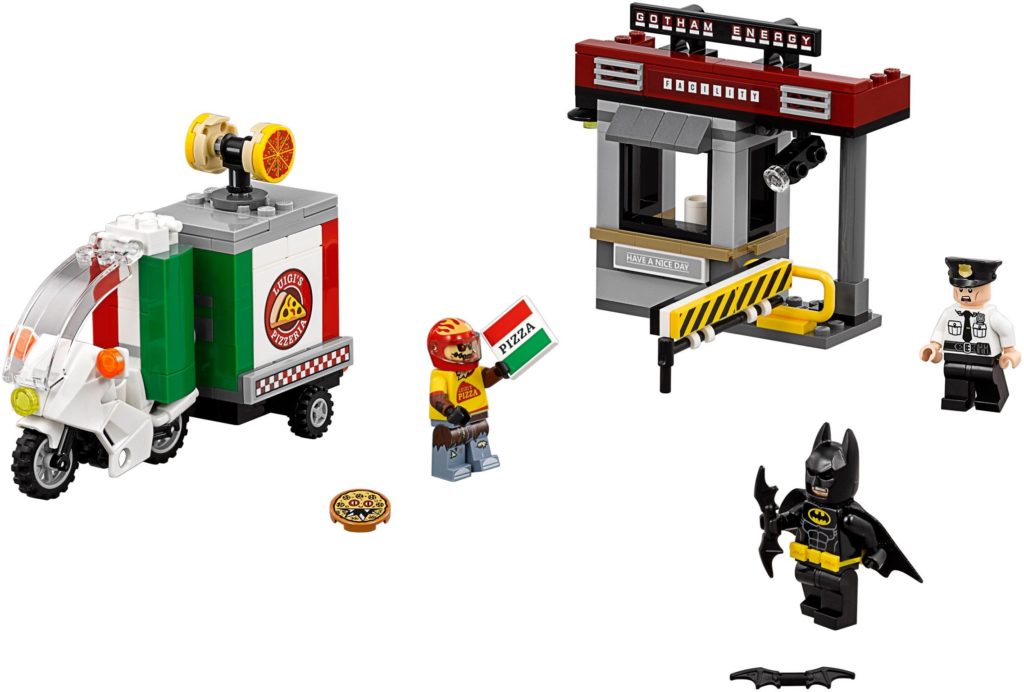 And for $20 USD, we got this brilliant little set! The Batman in this set was again, one of the same variants that were released in this wave. Also, I don't think I've said it before, but Batman usually came in these sets with black Batarangs which looked pretty cool. There was a Gotham Energy Security Guard in this set, he had a really expressive faceprint, and a basic security officer torso. The coolest thing about him is that 2 different heads were included in this set which was so unnecessary, but went a long way. We were given a very unique version of Scarecrow – something that would've been so unexpected in the theme. It was a Scarecrow in a pizza driver uniform! Yeah! I know! It was so cool! His helmet had fire printed onto it which looked quite awesome. However, under that helmet was a very creepy face, with glowing red eyes. The torso was basically a pizza driver uniform, saying Luigi's pizza. However, the neck area had some of his skin revealing. There were even dual moulded arms, to make it look like a short-sleeved shirt. And on his arms were some rips and tears. His legs were also done really well. Again, his skin revealed through the pants, like an overgrown plant. And what's better – there was even side printing on the legs too!
The pizza transport was a very unique design. The windscreen could be opened up, so you could fit Scarecrow in. The carriage had an opening which you could stuff pizzas into, with a printed pizza box and a pizza with a face on it! The roof had a play feature which when spun, would knock off the sides of the vehicle, revealing the poison gas inside.
The secondary build was the security post. It was cute, with an office for the Minifigure, and an opening gate. You could combine this set with the other sets which had parts of the Gotham Energy plant to create a massive play-set – a very ingenious idea.
(70911) The Penguin Arctic Roller
Moving on, we got this $30 USD Penguin-focused set. The main character his his iconic top hat and a very ugly face. His torso was cool too, and he came with an umbrella and cuffs on the arms. Again, Batman wasn't new. So both the figures of this set weren't much of a draw. 
The Arctic Roller was overall an elegant design. The colour combo was quite fancy, mostly consisting of black, white and yellow. The techniques used, such as the 2 big wheels in the front, and the four rear wheels made this set look unique. I especially love the use of the hot air balloon pieces for the wheel fenders. The top engine was a button that enabled the vehicle to shoot off the two hidden spring-loaded shooters at once. And there too was a trunk which could store Penguin's jet-ski. It was a cool build, but the Minifigure selection was quite underwhelming as they were both repeats. 
(70913) Scarecrow Fearful Face-off:
So the Batman was a different variant finally. Sadly, it wasn't exclusive. The same helmet and head were used as before – but LEGO opted to use the classic torso this time, which had the belt printed on, instead of moulded. And this was done so to incorporate the wing attachment build. This version of Batman came with a grappling hook. Scarecrow was also a new Minifigure in this set – but not fully exclusive. His face and legs were reprinted from the Special Delivery set which was discussed before. However, he got a newly printed hair and hat combo, and a ragged looked torso. There were also patches printed on the side of the arms. 
There were two builds included – a helicopter and an expansion for the Gotham Energy plant. The chopper was quite basic – but they couldn't do much for a $15 USD set. It could seat Scarecrow and had a propeller. At each side were two stud shooters which could launch out gas bombs. The Energy plant expansion had a play feature, where you could press on a tile, which would explode the platform. But yeah, it was another simple set.
(70914) Bane Toxic Truck Attack:
And the final set today is this overpriced, yet intriguing set. Retailing for a whopping $50 USD, this set came with three Minifigures. I'm not gonna bother mentioning Batman. This set gave us our first Mutant Leader Minifigure – an obscure Batman villain. The faceprint had his iconic visor printed on, with an angry expression. This figure was shirtless, but on the arms had two cuffs printed on. Finally, a belt was printed onto his legs. However, let's be honest. The main reason anyone would get this set was for that spectacular Bane Minifigure. A completely new body mould was made for him. His coat, helmet, belt and pockets were all over moulded. His back had studs to which you could attach a piping build. And his arms too also had studs to connect the pipes. He was so cool, and I really want to get my hands on him! To get it out of the way, we got a very funny-looking air contraption for Batman. He could sit and a turbine which was placed on top could spin.
Bane's tank was actually quite a nice build. I love the unique orange, black and transparent lime green as the primary colours. There was a driver's seat for the Mutant Leader. But basically, Bane was meant to stand on top, and man the 6-stud shooter. I especially loved the target print on the magnifying glass. And Bane looked menacing on this tank. The other side build was a gas tank. You could press down on a tile and the whole tank would explode. But that's it for this set!
I cannot believe that we looked at 4 sets today! We really sped through these ones. In my opinion, they were definitely some of the weakest sets from the wave – although I really liked the Bane Toxic Truck Attack. Anyways, I shall have a good night's rest now, and I'll see you next week! Also, since Firestar Toys changed their new website, make sure to use my code: FSVIVID10 for 10% off their whole site. 
All images from (brickset.com)