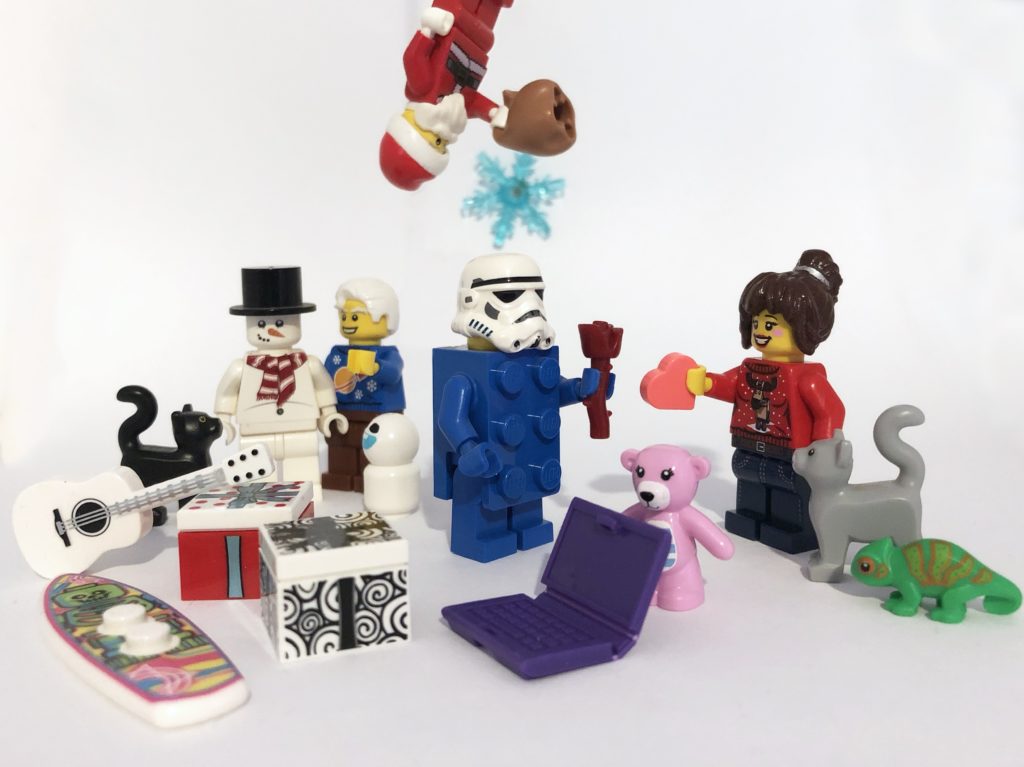 You know that feeling when you suddenly remember something you should have done but forgot? Well, that was the feeling I had this morning. I was sipping my tea as usual, surfing around for some news and inspiration, and realized that it was almost Christmas! Wow! It feels like yesterday when I was preparing for my dad's birthday (which was in May, by the way), and now we're getting ready for a whole new year! Of course you know what that means, right? Yep, a whole new LEGO Christmas catalog for your minifigures, so they can get as festive as possible!!
There have been a few catalogs here, one for special days and celebrations, one for gifts – whether it's for yourself or someone else – one for summer and one for Halloween. I've had some pretty positive feedback about them so far. It seems that when there are so many parts to choose from, it's easy to get overwhelmed. No matter how much LEGO you're surrounded by, you should always stay whelmed (and maybe I shouldn't watch Young Justice too much 🙂 ).
Anyway, let's get on with it, shall we?
LEGO Christmas Jumpers
Aah, there it is. What is a LEGO Christmas without some festive jumpers, am I right? So let's see our options here.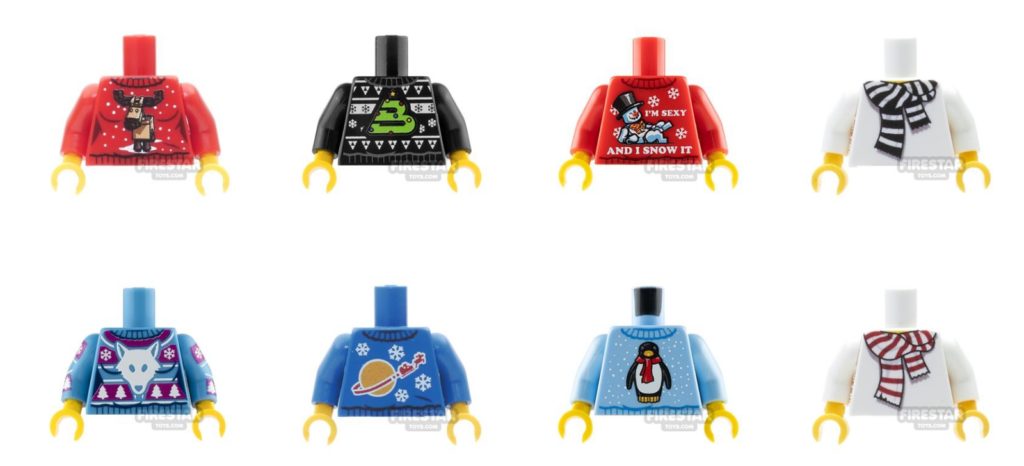 Reindeer, Blacktron, Sexy Snowman, White with black & white scarf, Wolfpack, Classic Space, Penguin, White with red & white scarf
And for those thoughtful parents who dress up as Santa during Christmas, there are a few different designs as well!

From left to right: Santa, Santa, Santa and Santa 🙂
The next one is especially for those minifigures who wanna build a snowman 😉
Santa Claus
There have been several Santa minifigures, we've even seen Darth Maul, Jango Fett and Jack Skellington dressed as Santa, but have you ever wondered how would look like when he wasn't in costume? Or what he would do the rest of the year, when he wasn't busy running around the world? Well, I believe the next two minifigures would answer that question for you.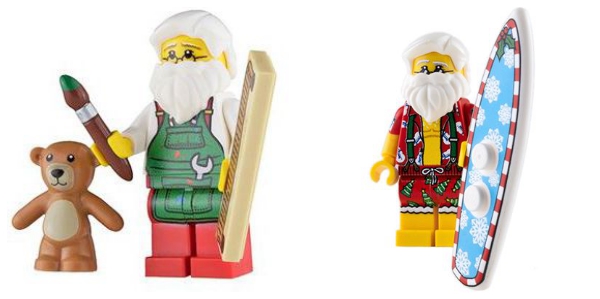 Santa in his workshop and during vacation
By the way, did you know he was such a heartbreaker? That's right! Mrs. Claus isn't too happy about it, but Santa has a number one fan! Or should I say, number one stalker? I guess it all depends where you're standing…
Mary Christmas
Fortunately, his elves do a good job of covering his tracks, so he doesn't get in too much trouble with the missus!

Mischievous elf, helpful elf, and friendly elf
LEGO Christmas Presents
Of course you can't have Christmas without presents. They are, after all, what most of us look forward to. "Did my wife buy me that LEGO set I've been longing for?", "Ooh, this one's rectangular, maybe it's the new LEGO set I saw the other day", "I wonder if I hinted my boyfriend enough to get me those minifigures"… I'm sure you can relate. Guess what? It's the same with minifigures! They look forward to opening those little gift wrapped boxes to see if they got what they wished for.

White, yellow, red and black presents
Of course, some take it a little bit too far…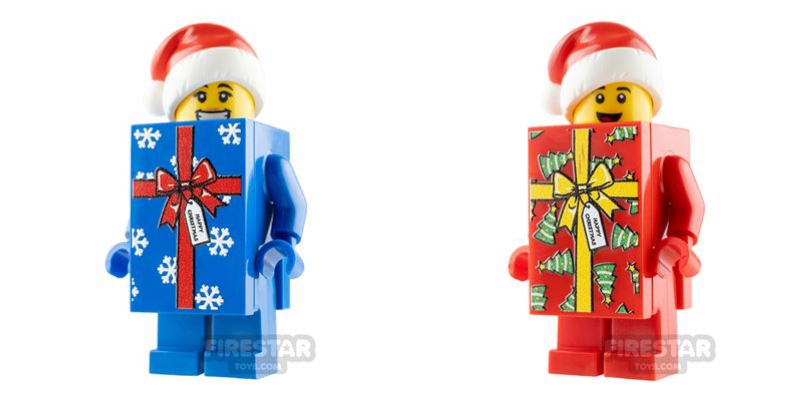 LEGO Christmas Present Girl and LEGO Christmas Present Boy
Get the Latest LEGO Sales & Deals
But hey, who am I to judge? You are, after all, the best present you can give to your friends and family!
However, those are just the wrapping. What will your minifigures get when they open the box? A brand new surfboard? A new console with awesome looking controllers? Or maybe they'll get a cool looking weapon for their collection? As with everything LEGO, the possibilities are endless. Here are a few ideas to get you started.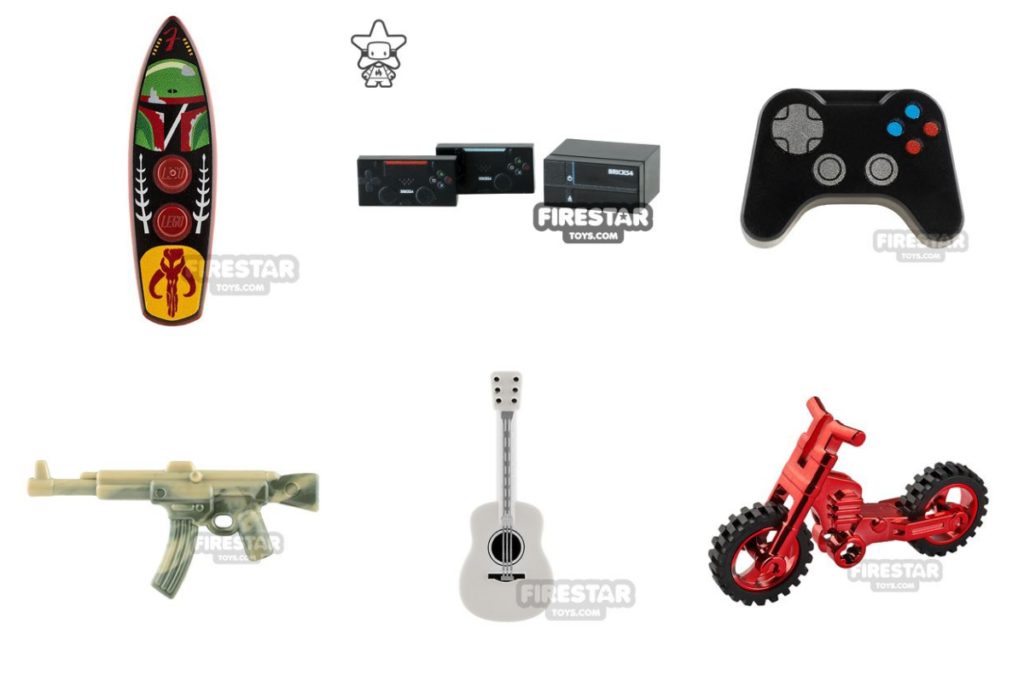 Surfboard, game console, controller, custom weapon, acoustic guitar, bike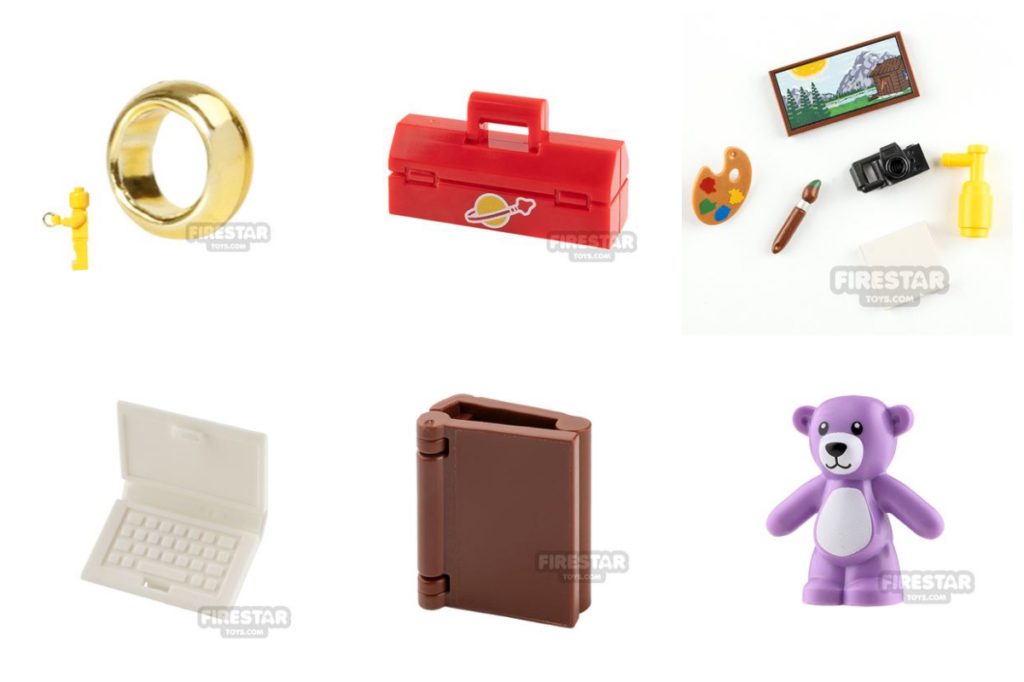 Ring, toolbox, art pack, laptop, book, teddy bear
There are literally thousands of presents your minifigures can get, and there's something for everyone, so make sure you ask them what they want before you go shopping!
And of course you'll need a tree to put all these Christmas presents under. These may be a bit small for big families, but they're perfect for those who's celebrating their LEGO Christmas with either their pets or just a few people.

Green, angular and rounder Christmas trees
Food
Your minifigures are now ready for a LEGO Christmas. They gather in the house, they all have their jumpers and presents, but wait! The table! There's supposed to be food on it!! How could they forget!!
Fear not, we got you covered! From turkeys to egg nogs, candies to beer, we have it all here! And if there is a heavy drinker who makes trouble every year (yes, you all know who I'm talking about!), we even have already broken bottles and spilled drinks, just for them!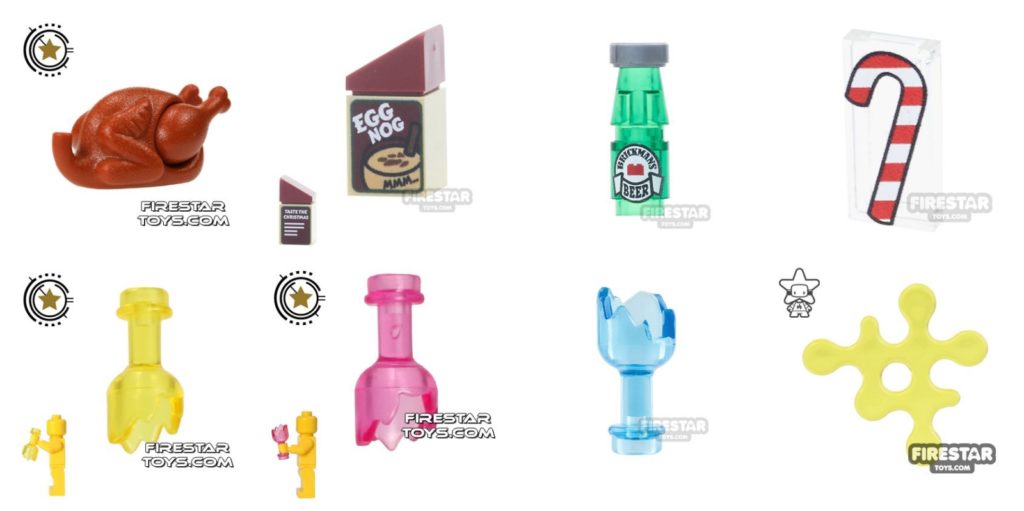 Turkey, egg nog, beer, candy cane, yellow broken bottle, pink broken bottle, blue broken bottle, splat
Spending Time
So we've got the outfits, the presents and the food. But the night isn't over yet. Before it's time to send the kids to bed, why not spend a little time together and play a game or two? After all, everyone will go back to their life after LEGO Christmas is over, who knows when they will get together again?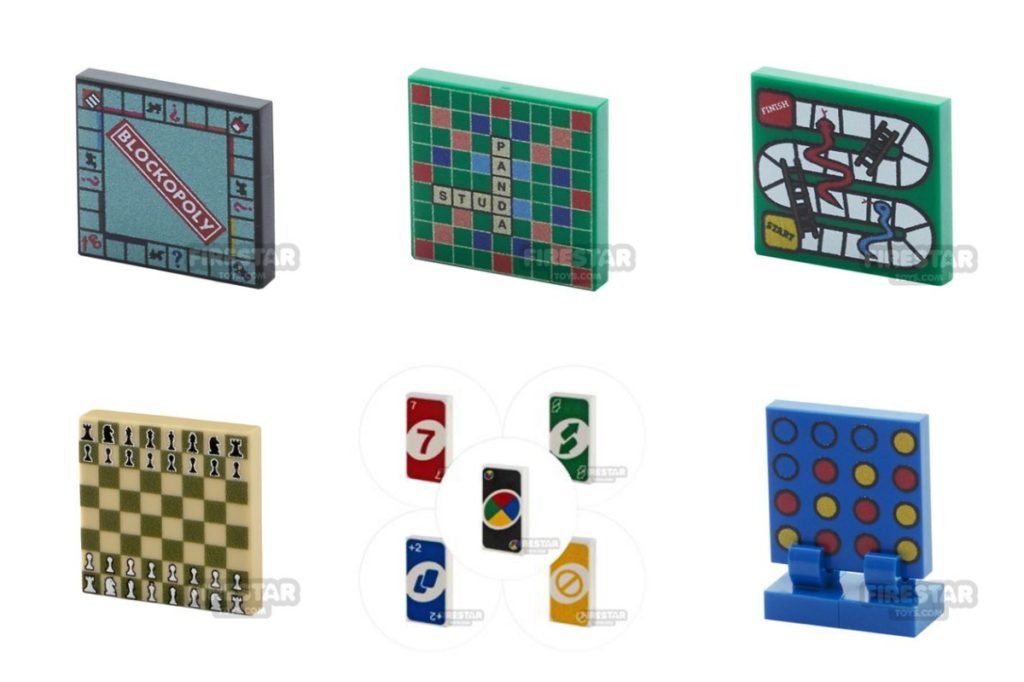 We've got Monopoly, Scrabble, Snakes & Ladders, Chess, Uno and Connect Four.
And to all a good night…
It's almost time for bed. But wait! What's that sound? Let's check the window! Wow, the carolers are here! Let's go out and give them some warm drinks. And while outside, why not build a few more snowmen? It is, after all, a white Christmas.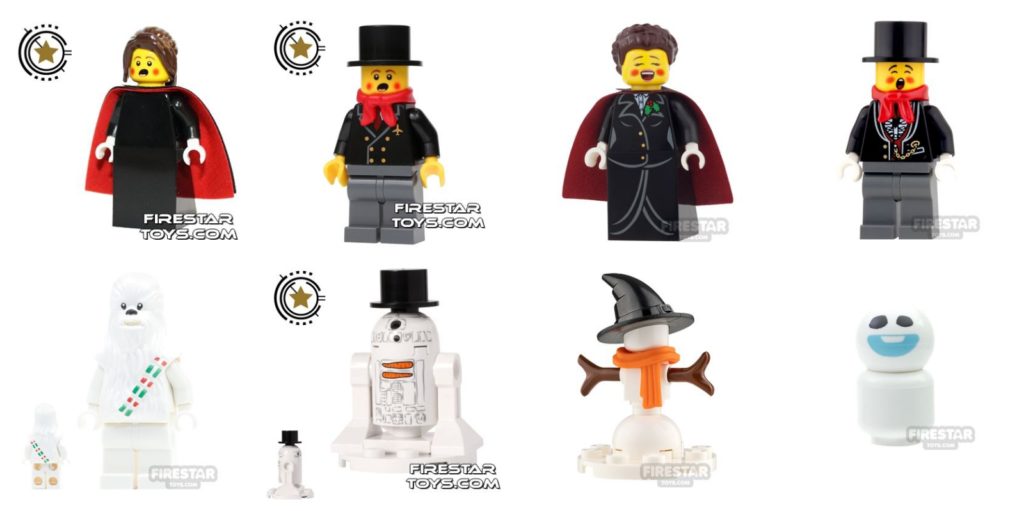 There's old version of female and male carolers, and the new version of female and male carolers. As for the snowmen… let's do something different this year and build Chewbacca, R2-D2, Snow Witch and Snowgie!
And now we have our very own snowmen army! They do look a bit strange, but I doubt anyone can top Calvin's snowmen when it comes to strange. Here's a small compilation of some of his creations. Google "Calvin and Hobbes snowmen" to have a laugh!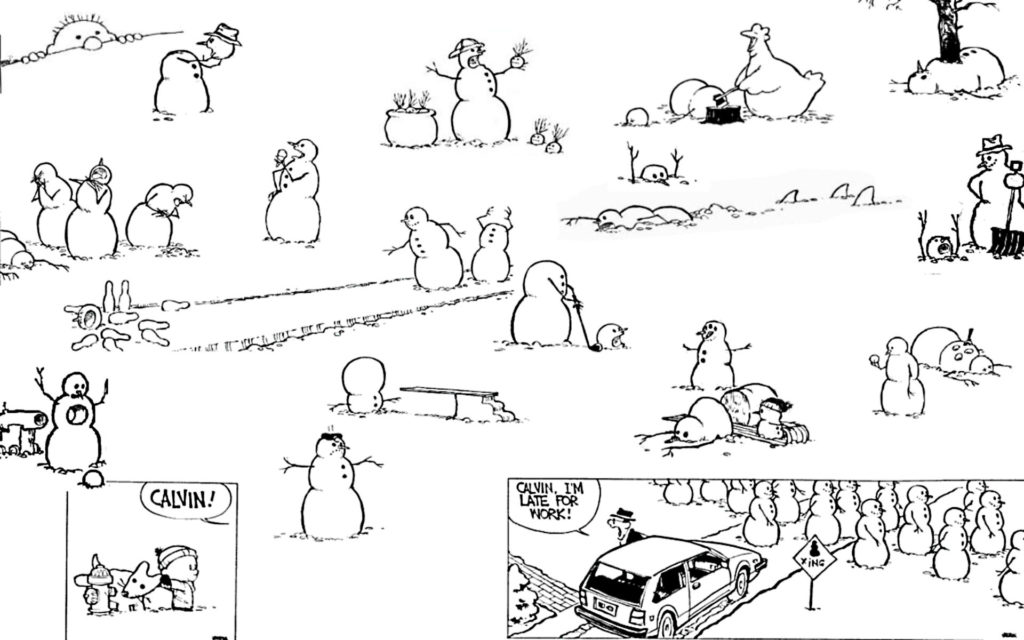 Well folks, it looks like we're at the end of yet another guide. I hope you enjoyed this LEGO Christmas catalog, and that it gave you a few ideas about what to get your minifigures. Of course, there's the subject of getting presents for real people, too (background noise: "Hey, we're real too!!"), but that will have to wait for another time.
Oh, I almost forgot… remember to put out the fireplace when you go to bed, you don't want Santa burning his legs!!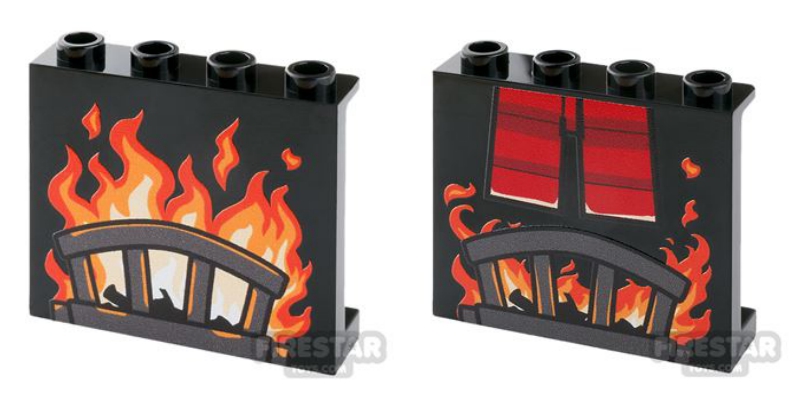 Fireplace/Fireplace with Santa
Most importantly, don't forget to check FireStar Toys as we near Christmas, for I hear there will be some new goodies we can get our hands on!
Get the Latest LEGO Sales & Deals