I was sitting at home, enjoying my cup of tea, when I received an email from my boss – you know, Bob, the guy who sends everyone these awesome emails & discount codes. As soon as I saw the subject, it hit me! Halloween was right around the corner!! I've been too busy doing this and that, I've completely forgotten the spookiest holiday of the year! Without losing another minute, I opened up a new document, and started writing this awesome (!) LEGO Halloween Guide for you.
And what better day to read a post on Halloween than Friday the 13th?
So, what does one do on Halloween? Seriously, it's not a rhetorical question, I've never had a chance to go trick or treating, or attend a Halloween party before. I did see a lot of movies and TV series include them, though, so I think I pretty much have an idea. But how does one celebrate a LEGO Halloween? Now that, I can answer. After all, my sigfig spent days and days last year for the competition FireStar Toys was holding.
LEGO Halloween Torsos
Let's see… first, I'll need a costume. But recently, my sigfig is trying to act more her age (I wonder why that is!), so nothing too flashy. Let's see what options we have. 

A laughing hoodie designed after the Joker? Well, I wouldn't want Batman to come after me, so thanks but no thanks. A jumper with a spider on it? Yeah, that's better. Hold on… A flying witch with bats resembling the Classic Space logo?? Now we're talking!!
Now, just because my sigfig doesn't want something flashy, doesn't mean yours won't, too. If they want to go full-on Halloween, here's what we have in store for you.
I hear zombies are very trendy these days. Although honestly, when have they not been trendy?
So your sigfig can dress up as a surgeon, a regular zombie with a cool shirt, a fitness instructor, a nerd, get ready to dance to Thriller, put on a jacket or a hoodie, or the best (worst?) of all, a clown! Now, those things are scary even without the zombie factor!!
However, if, like me, zombies are not your thing, then there's something else that may interest you. Tell me, with all the Marvel and DC superheroes flying around, who wouldn't want to join the Avengers or the Justice League? Imagine having super strength, telepathy, laser eyes, super speed… preferably not all at once, though. As you well know, with great power…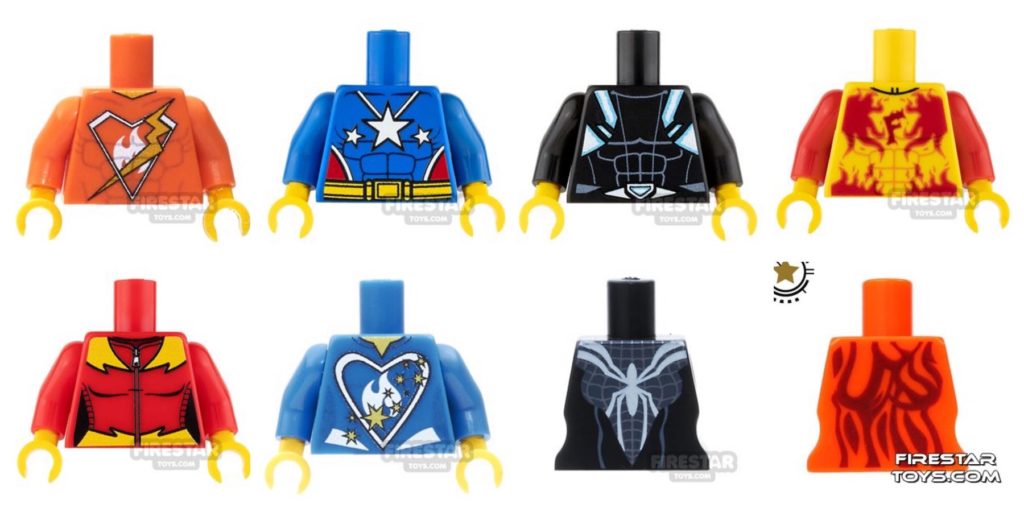 You can be a flashy, starry, tech savvy, or a flamy superhero. Same goes for the ladies; lightning, heart, arachnid or… well, I'm not sure what the last one is, really. It does remind me of Mystique, though. Something to remember: While the curved Arealight torsos are pretty cool, they don't include arms, so you'll need to get those separately.
LEGO Halloween Heads
Now that we're done with the costume (yes, I'm leaving you be to choose the legs yourself), let's move on to the heads.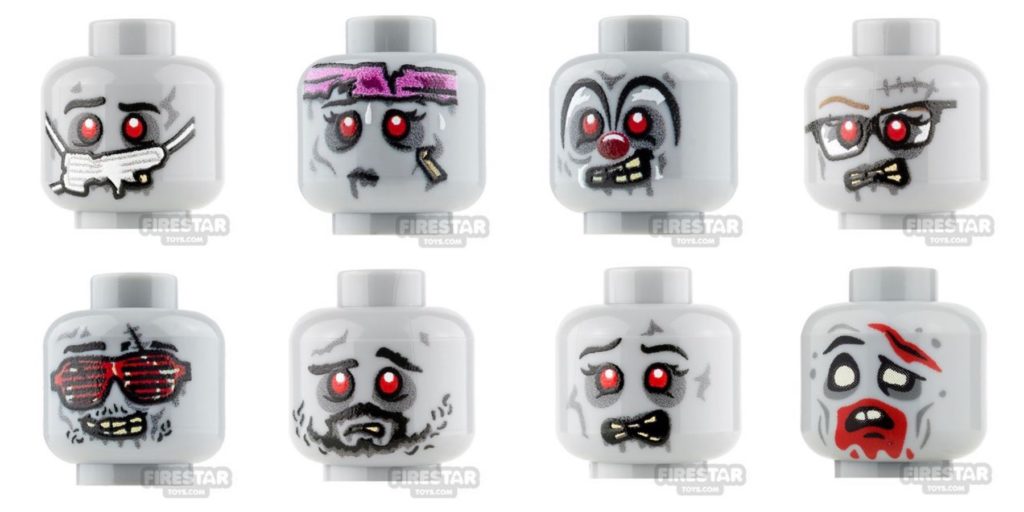 Again, in the zombie isle, we have a surgeon, a fitness instructor, a clown, a geek, one with sunglasses, one with a moustache and a beard, one that is hungry, one that has just eaten… oh my goshness, there are so many of them!! Tell you what, just click here and you'll see all kinds of zombie related stuff!
And in the superheroes isle, we have red, purple, white and black for the ladies, black, green, blue and even more blue for the gentlemen. 
But enough with the usual suspects! Let's see what else we can use when we're attending the LEGO Halloween party.
Get the Latest LEGO Sales & Deals
Your sigfig would most certainly be the center of attention if they went to the party as a Neanderthal, right? Or a silly-looking pumpkin? And they would scare everyone off by dressing up as an evil mime or a poltergeist (which, as a bonus, glows in the dark)! However, if they're looking for something more artistic, they can attend the LEGO Halloween party with a sugar skull along with their partner, or by themselves with some beautiful make-up. Or if they're into video games, they can dress up as one of those guys, what were they called? Ghost soldiers? Skull troopers? Yeah, something like that. 
A quick intermission
Before we move on to another topic, I'd like to mention something.  Now, I usually spend several hours every day browsing the FireStar Toys online store to see what's new, to keep up, or just to find inspiration. Even with that, I always find something that makes me go "They have this too???!!" One of my latest finds were the new custom mould hair pieces. Now, I'm told they're hard to obtain and in limited quantity, so if you see something you like, be quick!
These are some of my favorites among them, but you can see the whole range here.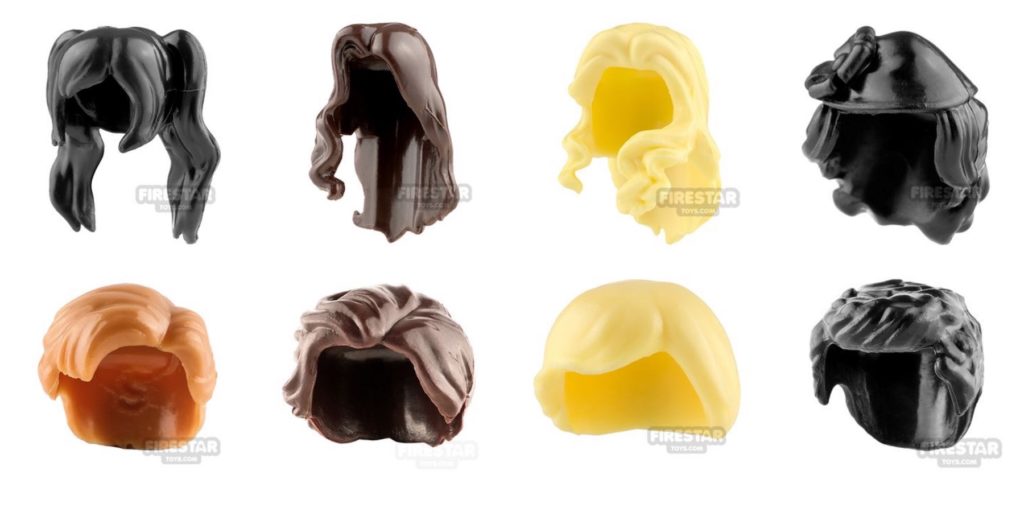 Black, brown, blond, and black with a hat (most of them have color choices – for now)
Ginger, brown, blond and black short hair (again, there are different colors)
And a fun fact for you: Did you know blond is masculine and blonde is feminine? I didn't. So technically, the hair in the first row should be "blonde" – and I'm totally ignoring that fact. Thank you Legolas for your beautiful BLOND hair 🙂
Right, back to the subject…
Custom LEGO Halloween Minifigures
So, you're all dressed up and ready to go to that awesome LEGO Halloween party. But who else will be there? And who will they dress up as? People, we need some serious spookiness right now! Let's fill that room with other minifigures! 
See, I told you zombies were trendy! We have zombie Twi'lek dancer, a zombie corn, a Steampunk doctor, a dark angel, Jack the Ripper, a witch doctor, Grim Shady, and the Devil himself! Now, if this isn't a spooky crowd, I don't know what is!
Trick or treat!
I hear you say "What's Halloween without candy and chocolate?" I was just about to get to that. Here, have some from our wide range of chocolate bars and candies.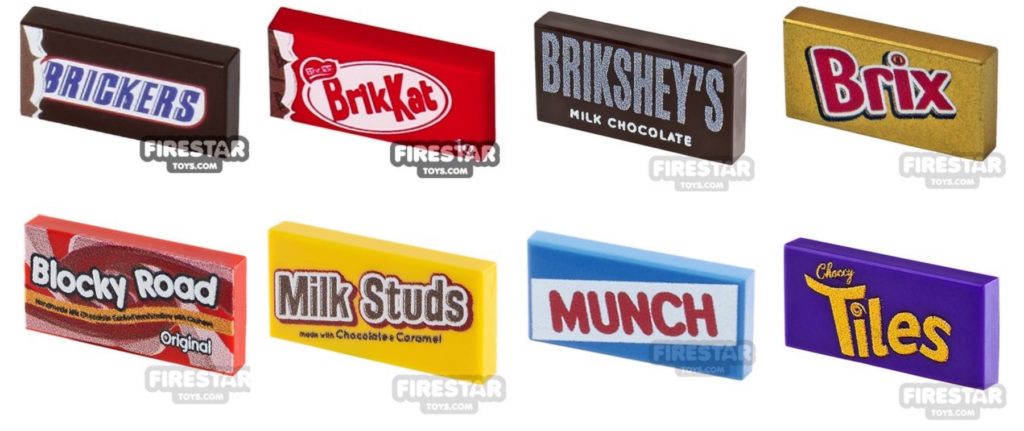 We have Brickers, BrikKat, Brikshey's, Brix, Blocky Road, Milk Studs, Munch and Tiles. Honestly, I love the names these guys come up with.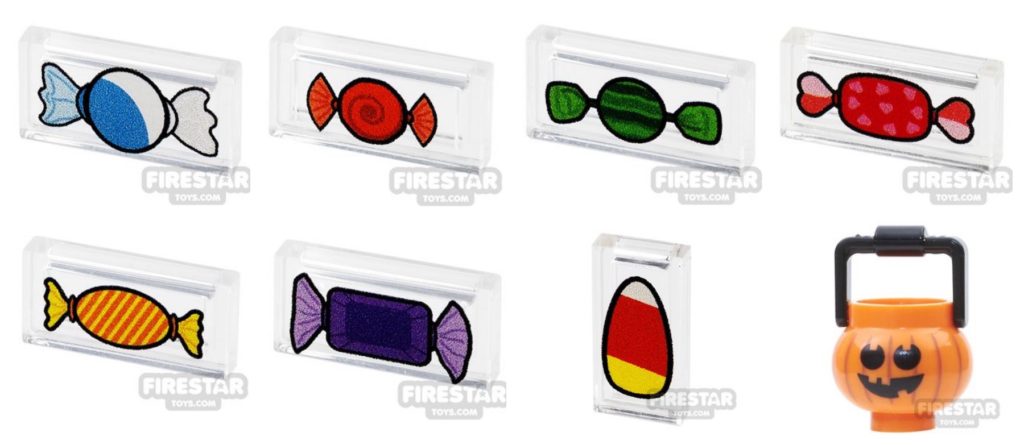 The candy bars – or sweets – aren't that fancy. They're just called blue, orange, green, red, yellow and purple. Get them separately or as a pack. Of course there's the candy corn, and let's not forget the pumpkin basket to put them in. 
Hungry for more?
If somehow any of these are not enough for you, and you're looking to make your LEGO Halloween even more spooky, here are a few extras.
A black cat, spider and a bat, a custom printed tombstone, and who can imagine Halloween without ghosts, skeletons, witches and pumpkins, right?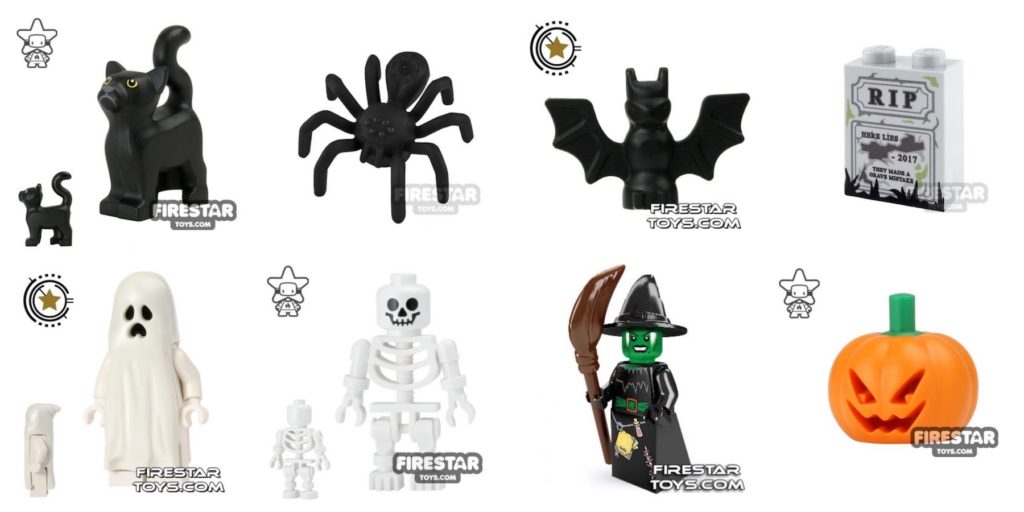 Last Words
So there you go, your partial LEGO Halloween catalogue. Partial? Why, yes. There are many, many where these came from, and be on the look out, for I'm sure there'll be many new parts and minifigures as we approach the big day!
If you're still reading… why don't you take a look at the new initiative started by FireStar Toys, #FSTCreate? I'm sure your sigfig, when they use one of the custom parts mentioned above, will be eligible to join in on the fun!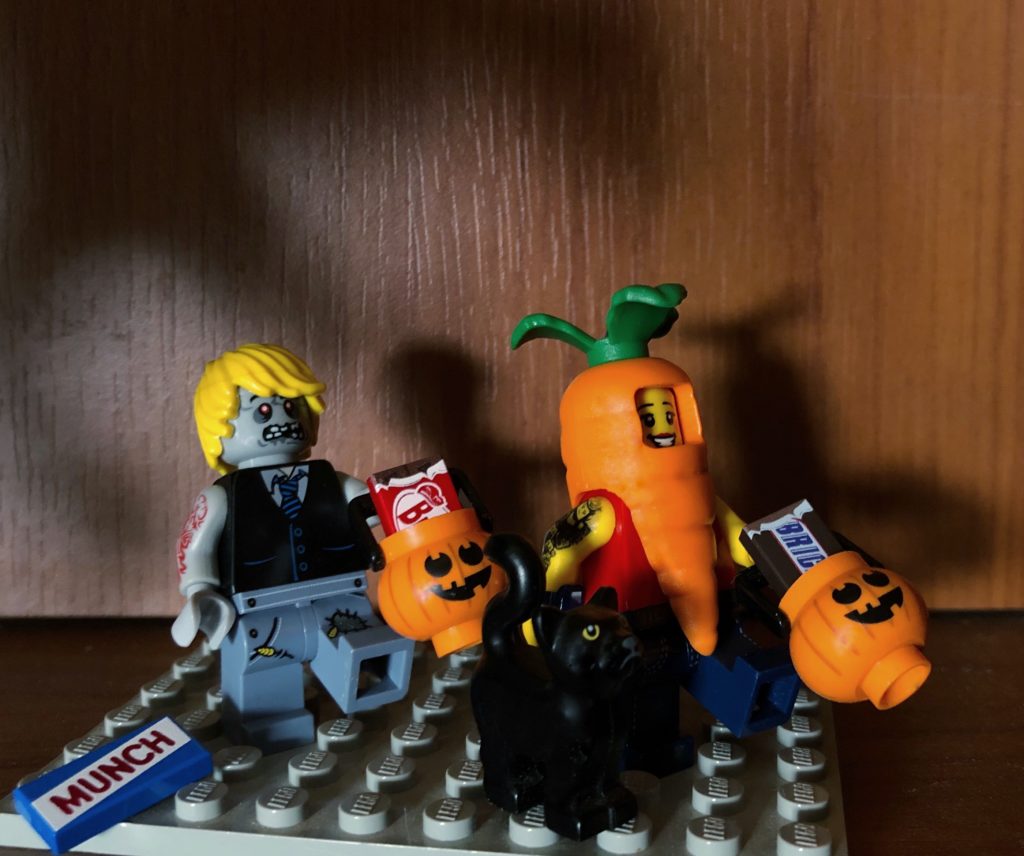 Get the Latest LEGO Sales & Deals