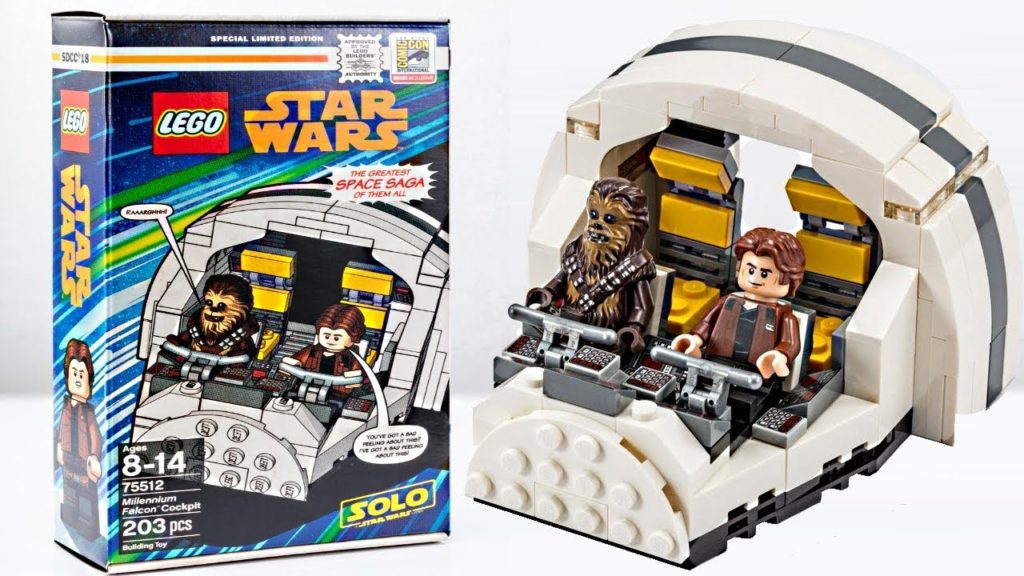 It's safe to say that when you walk into your local toyshop or your local grocery store, you are bound to be presented with a wealth of different LEGO products. Microfighters. Collectable Minifigures. Pocket-money sized sets. Normal sets. And much, much more. With licenses ranging from Star Wars to Marvel and everything in-between, it's clear that there is a practically limitless variety of LEGO items for you to choose from and collect. But what if I told you that those sets don't represent the full assortment of options out there for you to purchase? What if I told you that there is a wealth of highly sought-after, and highly unique exclusive LEGO sets out there for you to purchase?
In today's blog post we are going to explore those very sets – and look at the phenomenon of exclusive LEGO in a line which is already so diverse and varied. A few of the examples we will look at in today's blog may seem obvious to you – but equally, there may be some which will surprise you! Let's sit down and break down the world of exclusive LEGO together right now.

Up first I want to look at Store Exclusives – a type of exclusive which are not unique to The LEGO Group but are seen across all different toy lines which offer a vast array of different offerings. When a company wants to offer a large assortment of products under a line, it can sometimes be beneficial to offer individual retailers exclusive products, as this provides leverage for the company to get their foot in the door with that retailer and encourage them to stock their products. This is quite a common practice which toy companies employ to keep their retailers and distributors sweet – ensuring that they continue to prove to be a viable source of income for the company.

The main store exclusive I can think of when it comes to LEGO is the old school ToysRUs exclusive – something which used to be done frequently when TRU was the main retailer for toys and games. One set I have fond memories of tracking down in this instance was 'The Hydra Fortress Smash' – an exclusive set which released when Avengers Age of Ultron was in cinemas. This set is a good example of the format these exclusive sets tend to follow – as they usually feature a couple of exclusive minifigures combined with an interesting build to add value to the exclusivity of the set. Another good example of this would be Hamleys – who stock the exclusive LEGO Royal Guard figure as it is relevant to their location and customers in a geographical sense.

Get the Latest LEGO Sales & Deals
In recent years, however, with the closure of TRU and other retailers, the trend of 'exclusive' LEGO sets have more turned into LEGO Shop exclusives – with lots of these formerly retailer exclusive sets now available exclusively in LEGO stores. This can be combined with the wider phenomenon of 'LEGO Store' exclusives – which can be both online or in-store. We've seen everything from exclusive order bonuses for spending X amount of money on LEGO products in-store, to geographical location exclusives like the Royal Guard – like Lester, who is exclusively available at the Lester Square LEGO Store.
This phenomenon of exclusives to the LEGO stores has meant that some items have become incredibly highly sought-after on the LEGO aftermarket due to the limited availability they see. Oftentimes if you don't purchase something within a set window, then you are unlikely to see it again – not too dis-similar from the Bricktober TRU sets which many people used to clamour after.

This exclusivity is further extended in the trend of exclusive polybags – smaller sets which LEGO produce for individual magazines or other outlets, or to give out for free for promotional purposes. There is such a breadth and depth of different polybags out there that it is incredibly hard to cover them all – but one of my favourite examples is the much smaller, almost foil-bag esque items which they released as part of their Jurassic World magazines. These packs would often include a re-release of a minifigure and a terrain build, providing an exclusive combination of elements which was its own unique item. Whilst these packs often lack the appeal of exclusive minifigures or elements, what they do have is their own unique style – something which will be popular with LEGO fans who are always looking for individual items to add to their collection.

Following on from this we must, unfortunately, touch on my least favourite topic when it comes to LEGO and exclusivity – San Diego Comic Con Exclusives. Every year, for SDCC, LEGO makes a small assortment of exclusive minifigures and builds which eager convention-goers can get their hands on through a raffle ticket system. The system itself means a very small number of attendees even get the chance to get their hands on this uniquely detailed, hyper-demanded characters.
In recent years LEGO has seemed to take notice of the disdain towards these highly sought-after exclusives, with a variant of Captain Marvel produced for SDCC released again in a polybag afterwards, but many of the older exclusive minifigures look set to never see the light of day again – and so will only ever be available for a hefty price tag on the aftermarket. If you are ever lucky enough to get your hands on a LEGO SDCC exclusive then keep your hands on it – because these things will only go up in value as the years go by.

A more widely available but still unique exclusive is the LEGOLAND exclusive – a type of set which can only be purchased when you find yourself at one of the various LEGOLAND resorts across the globe. The most recent set is 40346 – a set which allows you to create your very own LEGOLAND, complete with different rides, the iconic LEGOLAND entrance and some of mini-land. This is an awesome set which allows you to add something unique to your LEGO collection – and would absolutely go together with some of the more recent theme park themed sets which LEGO have created. I am not sure about the timeframe for availability of these sets – so my recommendation is to pick them up as soon as you can if you enjoy these exclusives, as there is no telling how long they may be around.

Our final item today is arguably even more elusive than the SDCC exclusives which we have looked at – and that is the LEGO Employee Gift which is released each year by the LEGO Group and is available to purchase exclusively for individuals who work for the LEGO Group. For 2019, the LEGO Group created a festive-inspired Christmas X-Wing – complete with a candy colour scheme which looked delicious. The set also included an exclusive Christmas-styled X-Wing pilot alongside two other characters, and some smaller builds which look great. These sets are incredibly hard to come by when you are external to the LEGO group, but MandR productions has been able to come across one, and has a great review which you can watch here. It's safe to say that LEGO don't cheap out when it comes to exclusive treats for their employees!
So, it's fair to say that there is a lot more to Exclusive LEGO than people initially realise – with lots of different sets available through different platforms and mediums which the public may never see. With that in mind, we'd love to hear from you. Are you lucky enough to own some of the rarer LEGO sets? Are there any that you are keeping your eyes out for?
Let us know in the comments below, and click here to read more of my work!
Get the Latest LEGO Sales & Deals