As a child, I played with my LEGO collection on the floor of my bedroom. Often, as my brother and I shared both the room and LEGO, we would leave our LEGO parts on the floor overnight. This was great for continuing to build the next morning, not so much for late night bathroom trips.
#pain
Growing older, I tried to move to desktop building, but never had much desktop space and too many bricks to fit on it anyway. It never worked well. This trend continued into adulthood until I moved into my first real apartment. There an extra room became space for an organized LEGO collection with a dedicated desk for building. Never had I experienced such luxury! Since moving out of there, I no longer had the privilege of that much space until years later.
Planning a Workspace
I moved once more last summer, this time into a trailer home that I shared with a married couple. The room I rented had a triangular section that protruded from the end of the trailer. As soon as I saw that feature of the room, I knew what I wanted to do with it.
I measured it from every angle and estimated how much of the space I could dedicate to what I had in mind. To help my mind visualize the real world size, I laid down electrical tape to the dimensions I thought would work best. A tweak here and a tweak there and I had a concept. I sketched out a design based on the floor plan, and embellished with legs and supports. Finally I was ready to move from paper lines and tape towards a three dimensional object.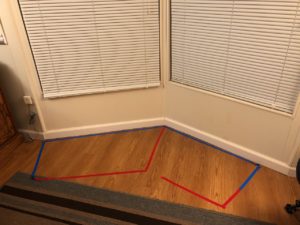 I asked my dad to help me source spare plywood. After working overseas for seven years, he had built wooden crates to ship home my parent's belongings. He still had the walls from these crates in a shed in the back yard. He found two that were large enough, and let me have them for my work space. They still have his name and address written on in permanent marker.
Constructing a Workspace
A friend of my father's has access to large wood building tools, and the know how to not cut fingers along with the wood. He graciously offered to help me cut my dad's plywood down to size. The work of an afternoon, and I now had the surface to what would become my work space. Rummaging around the wood shop turned up some old 2×4s that soon became legs, and a bit of spare molding for a lip to prevent small LEGO bricks falling onto the floor. Leaving the wood shop with many pieces of fresh cut wood, I felt confident that a few screws later I would have a workspace.
Once hauled into the rented room, a problem became apparent. I didn't have screws and only an old screw driver. A trip to the hardware store yielded a brand new drill and brand new screws. Enter build mode! After a few false starts, and I was quickly drilling this screw into that wood and attaching legs and braces.
Get the Latest LEGO Sales & Deals
Soon it stood there, only about two weeks from idea to object. I had never been so thrilled about a non-LEGO build.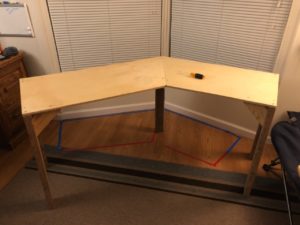 After a trip to a craft store, I had some felt. I carefully measured, cut, and glued it down for a soft, sound proof, and non-abrasive surface (my dad's plywood hadn't been sanded or finished). My workspace was complete!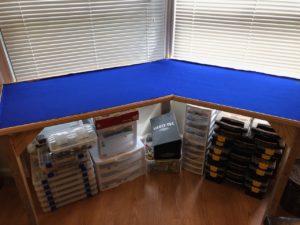 Using a Workspace
Purchasing some shelves full of drawers into which I could sort my many, many bricks helped with the finding of pieces. I didn't plan an independent location for these shelves, so they sat on the workspace, cutting my available surface space in half. Subsequent LEGO purchases, that I was too lazy to sort, soon covered the remaining surface. I found myself almost unable to build, ironically, due to lack of work space. The workspace is terrific, but user error continues to cause trouble.

Having moved again last weekend, this time just for the summer prior to entering a more permanent dwelling, I was forced to disassemble my workspace and store it with all the plastic bins that house my LEGO. When I rebuild it, I plan to choose a better fabric surface than felt. The sharp, hard sided LEGO plates and bricks to pull at the felt, which is a challenge to keep clean of lint and dirt. I plan as well to construct it a bit more solidly, this time with extra space for the storage shelves. The advantage of this move is the opportunity to fix mistakes while I'm at it.
Other Solutions
Where do you build your LEGO? Dining table? Floor? Office desk? Do you have a dedicated room, or part of a shared office? Basement perhaps or closet? I would love to see where you build your LEGO! Do not be ashamed, whatever you have. Every dwelling and surface is unique, and we all work with what we have. Wherever you create space for your LEGO passion, I want to see what that looks like! Send me an email with no more than two pictures showing me your space and telling me what works for you.
In a follow-up post, I will share as many as I can, so give me something to share! (Please, no links to online photo-sharing sites.) I hope to be able to publish the follow-up in two weeks time. Let's inspire each other with our solutions.
I look forward to what we can build together!
Get the Latest LEGO Sales & Deals