So this is the second article that I had to redo from scratch. Why? To give you a basic rundown, I wrote a few articles in advance last July before university started so I could pump one out each week. However, it so happened that I dropped my bottle of water on my Mac, basically making it unusable. So I lost two articles. This is the second of the two. I remember I spent the most time researching and getting pics for this one, so it's going to be annoying to do again. But, I still want to compare these two LEGO Avengers Tower sets. So here we go!
Attack on Avengers Tower (76038)
The first LEGO Avengers Tower set was released in 2015 with a retail price of $60 USD, and it came with five minifigures. The Iron Man in the set was based on his Mark 43 variant from Avengers: Age of Ultron. He received the flip-up helmet mould along with a dual face expression. His torso and leg print were accurate to his actual suit. LEGO gave him clear studs and cylinders to represent his repulsers and a spare hairpiece for him. Thor was another repeat of this wave. His face print was great and so was his torso. I only wish he came with leg printing, chainmail arm printing and a more accurate hair colour.
The Iron Legion figures were both the same figures. They used the Iron Man helmet piece in blue instead of red. Their torsos were printed with the Avengers logo, and they even got leg printing. This time, they came with red pieces to represent red repulsers. The final figure of this set was Ultron. This was his Mark 1 variant. His face was printed into his clear head. His torso and leg printing were also phenomenal.
The bottom level consisted of a docking bay for both Iron Legion suits. The windows could be slid out to allow the suits to deploy. This part of the floor had a mechanical-based look with the caution stickers on the floor.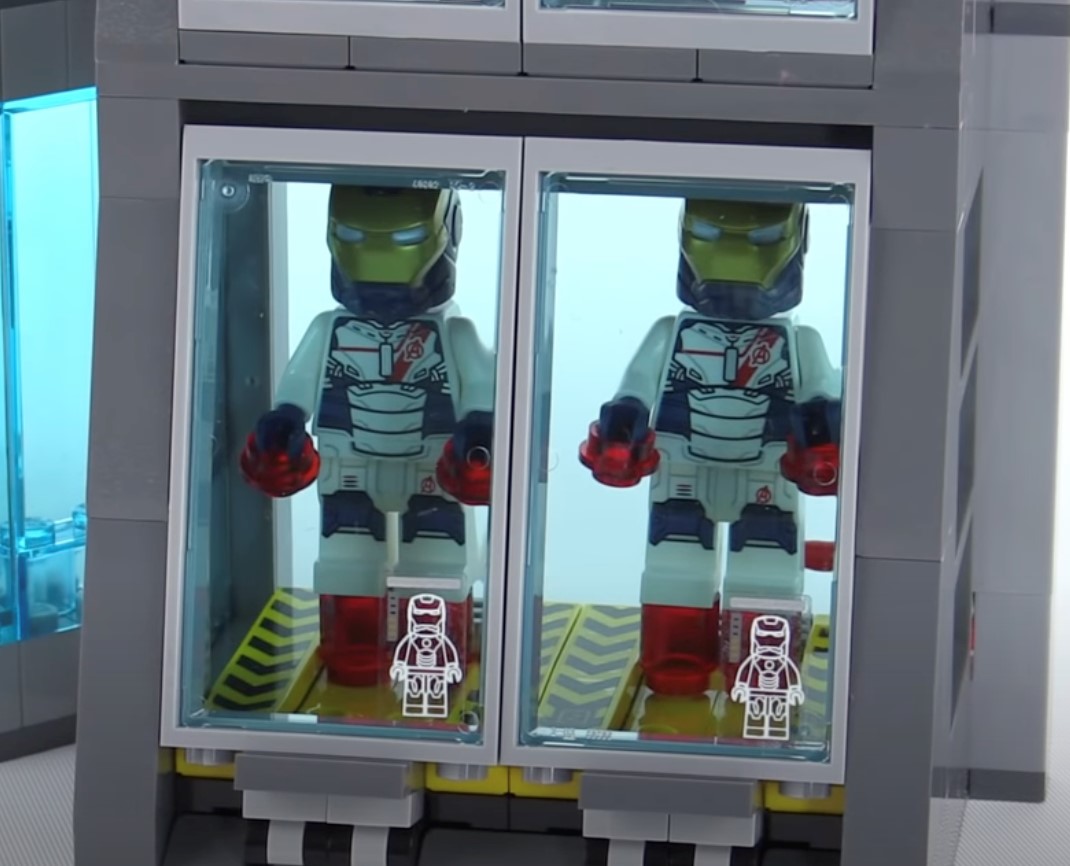 The second part of the bottom level was a small med bay. I really loved the build for the hospital bed – how it was built into the drawers and examining station. There was a sticker of a cat scan of a minifigure.

The next level up was a repairing station for the Iron Legion. A figure would be placed at the base. Two arms from each side would then be able to angle to make repairs. This was also the station where you could recreate Ultron's birthing scene. Then, using your hands, you could push down on a lever which would break both windows to release Ultron.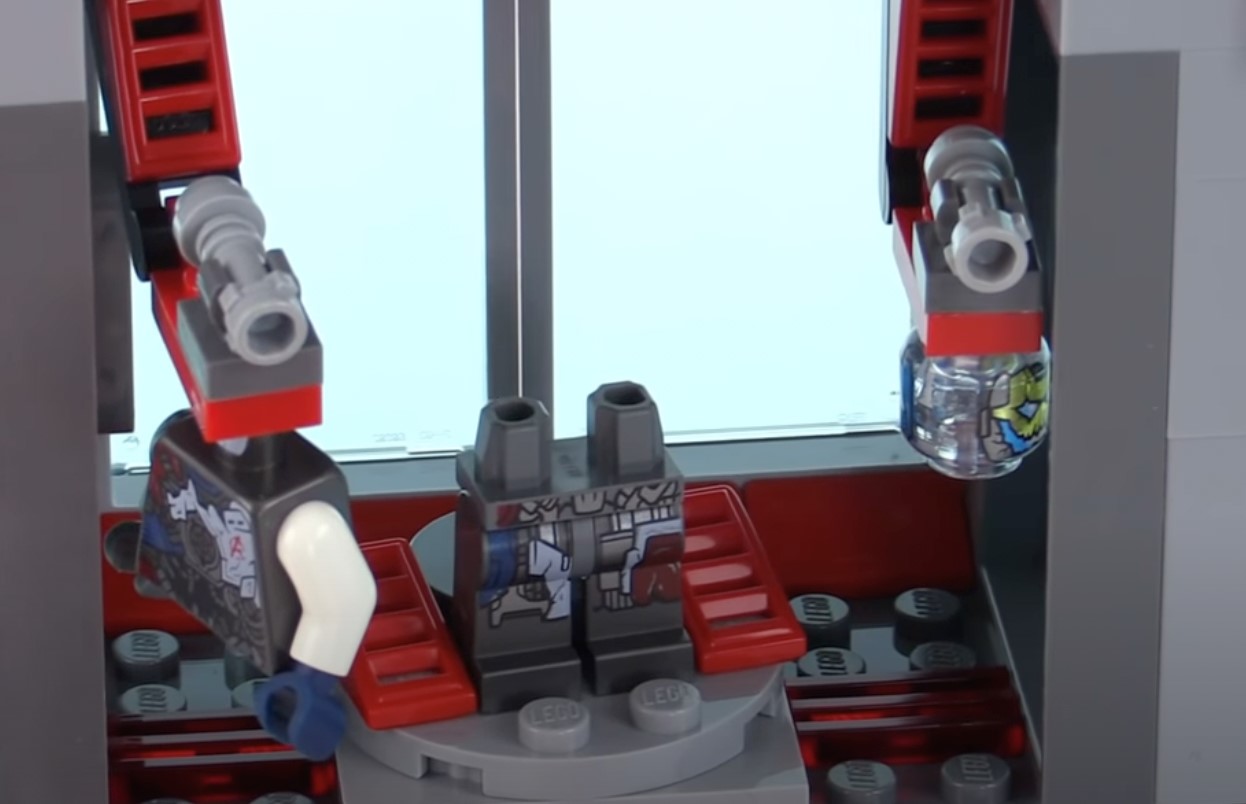 The opposite side of level 2 consisted of a station to analyse Loki's sceptre. It would be placed on the table, and a sticker was used to represent a computer analysing it.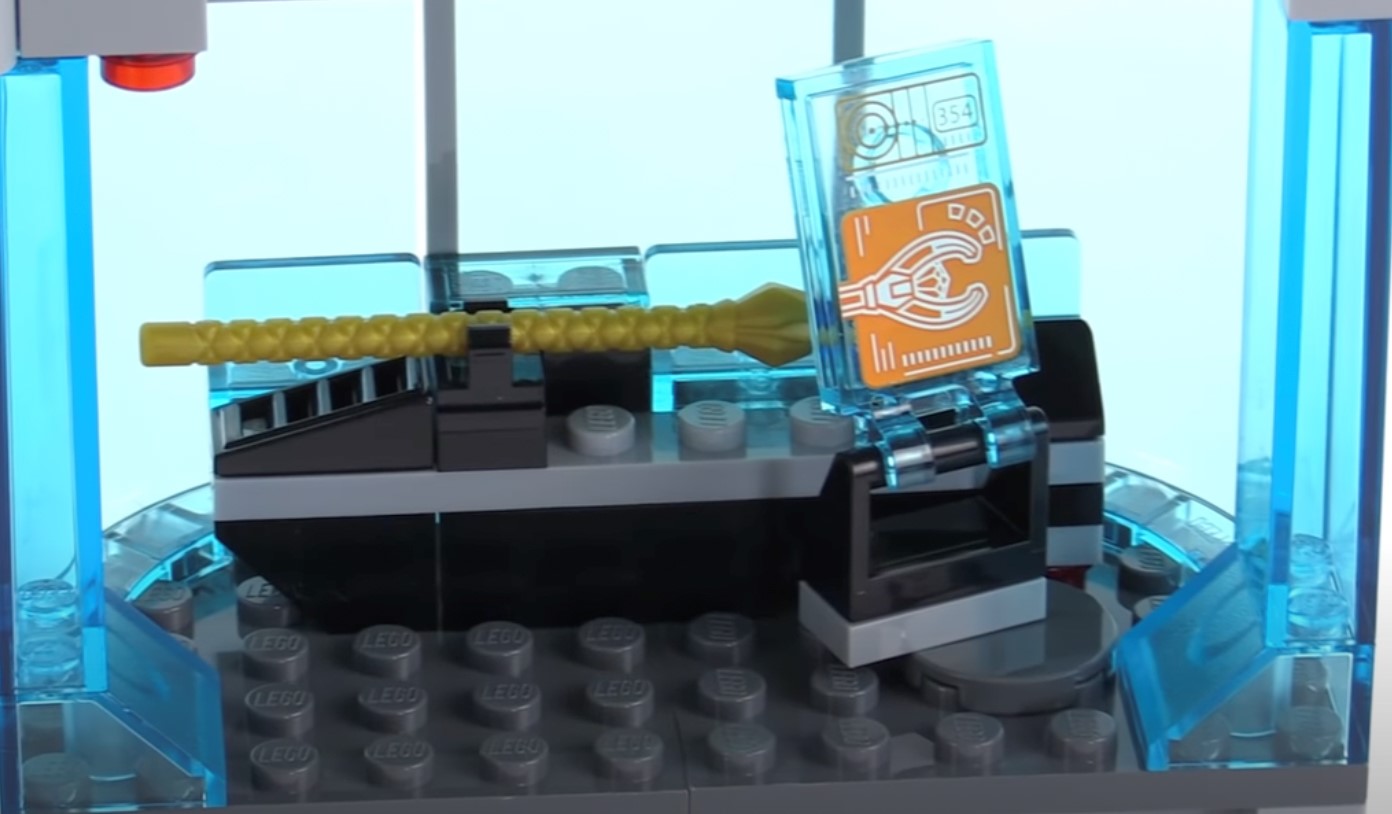 Above, on the first level was a computer room, with a triple monitor setup. The middle screen had a picture of Jarvis – Tony's AI. It was a nice build for a circular PC build.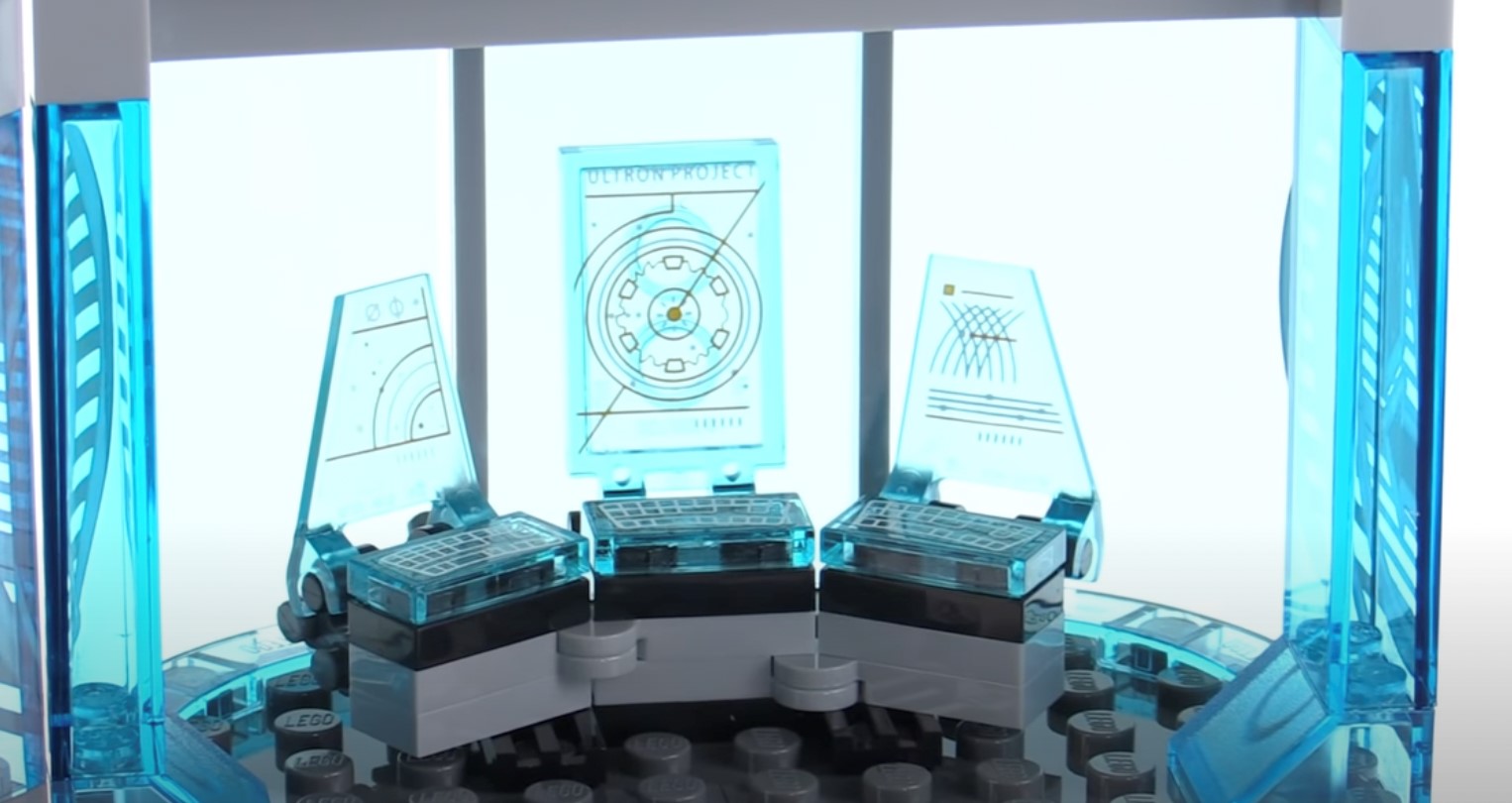 The other side was a seating area, connected to a balcony. Below the balcony were two stud shooters which could be rotated and aimed below. Using Ultron on a Super Jumper, you could launch Ultron below the balcony to make both sides fall, as they were loosely attached.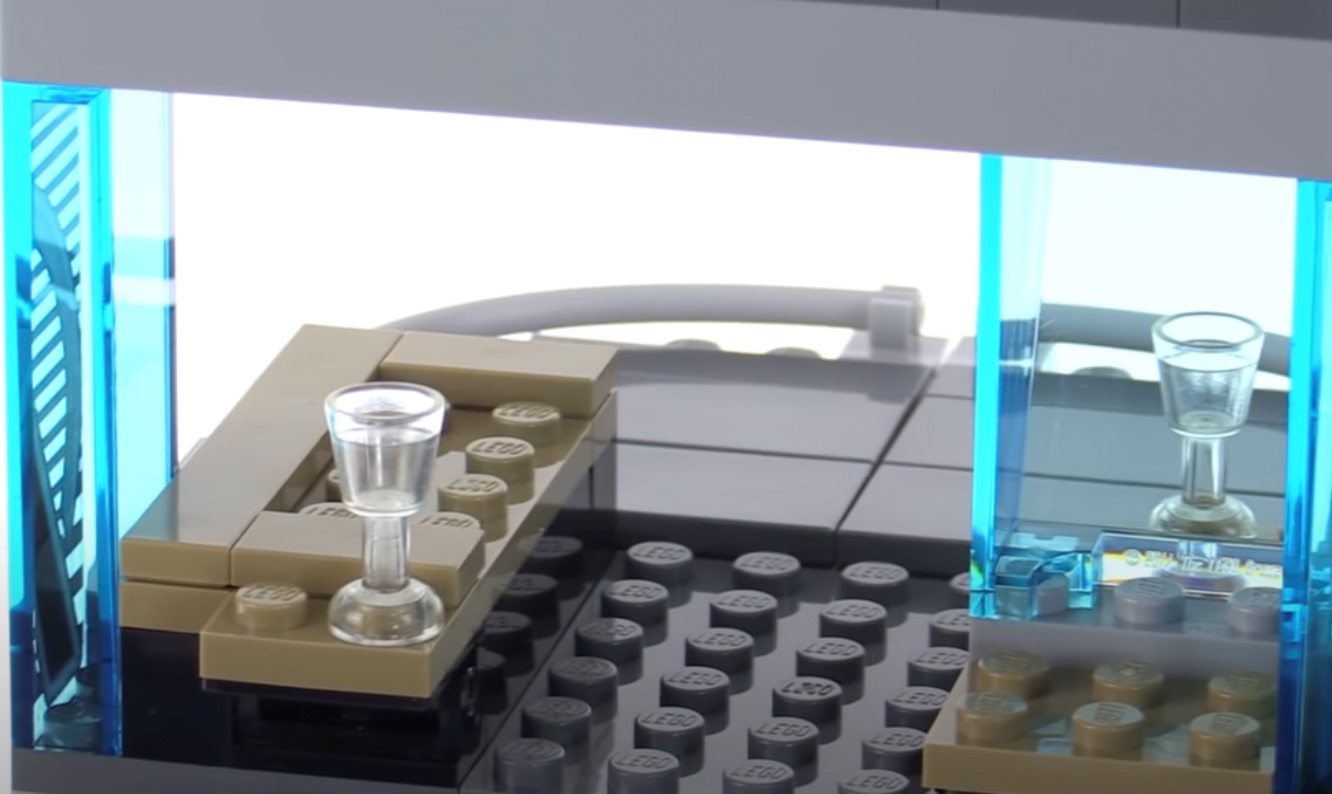 The top-level consisted of a spinning turret, armed with stud shooters. However, it could be hinged down to reveal a drone that had two stud shooters. Overall, the 2015 Avengers Tower was a really solid first crack at the concept of this iconic Marvel building.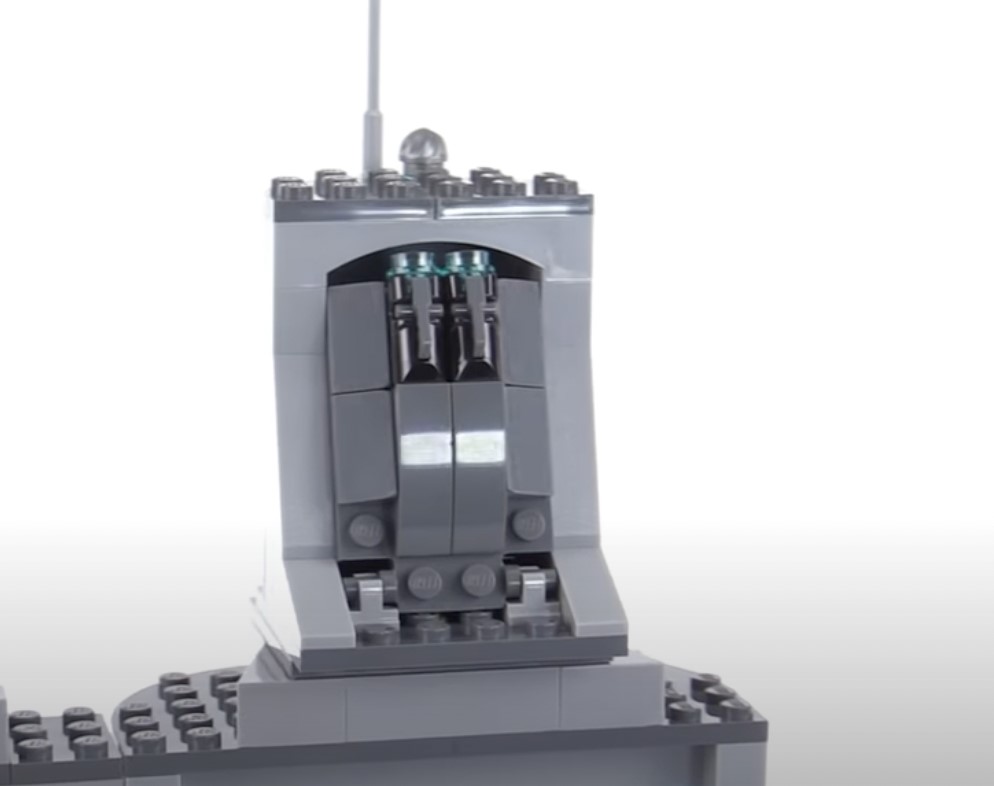 Avengers Tower Battle (76166)
The second LEGO set we shall be comparing today is this $90 USD Avengers Tower released in 2020. The minifigures in this set were far superior to the first version. The generic Iron Man minifigure in this set was based on his 2020 Avengers game version. He was not exclusive, but he had a great face, torso and leg print nonetheless. He also received a booster attachment which he would place his legs on – a reference to his booster that he used in Avengers: Infinity War. LEGO also included a hairpiece for this figure like the previous Avengers Tower.
The second Iron Man suit was Tazer – a reference to the Blue Steel suit from the MCU. It was predominantly coloured in blue and silver. It had really great printing overall. The same could be said about the Blazer suit. It was phenomenally printed – this time with a silver and red colour scheme, a direct reference to the Hot Rod suit from the MCU. Both these suits came with power blast pieces to attach to their arms and legs, so emulate them flying.

Get the Latest LEGO Sales & Deals
Black Widow was also amazing! The face, torso and legs were great. However, the highlight of this figure was the arm printing that LEGO included for her. There were two blasters for her. LEGO was generous to include two AIM agents in this set – both with a very cool built-up weapon. Their heads and torsos were quite generic and had the exact same prints as were appeared in the numerous other sets they were included in. Finally, Red Skull was amazing to get – with a cool new face and torso print. I really liked the build for his stud shooter rocket launcher.
The bottom floor of this level consisted of a removable mini arc reactor. The screen beside the build showed a diagram of how the arc reactor powered the entire tower.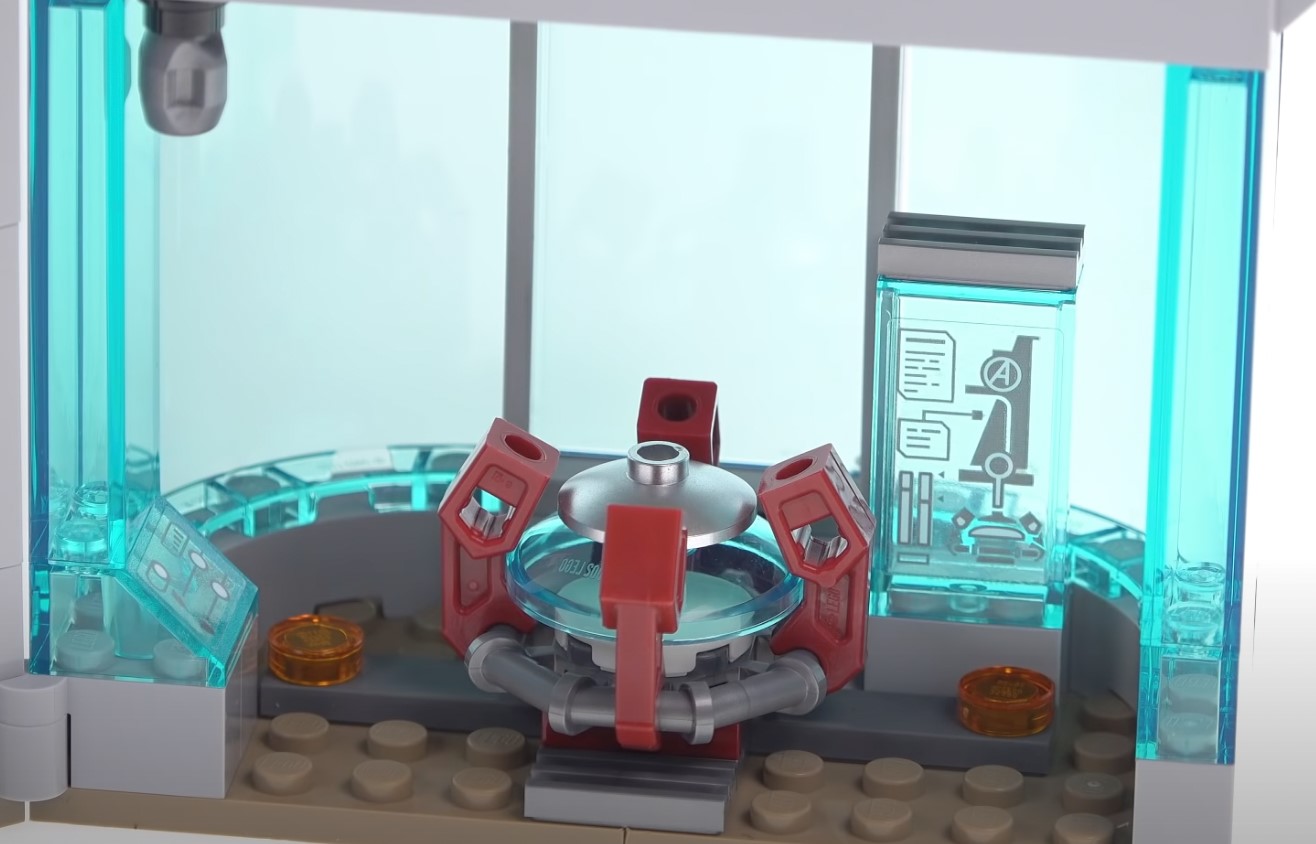 The second part of the bottom floor consisted of a docking bay for a bike – similar to the docking bay for the Iron Legion in the 2015 version. The bike was quite unique to other bike builds from this theme, because this was a hoverbike. I love when the designers create different builds and not the same thing over and over again. It could fit one minifigure. To deploy the bike, the windows could be opened up like the 2015 version.
The next level up was a weapons rack. You could store a flashlight, a bow, some binoculars, and guns. Behind this rack was a place to store the Infinity Gauntlet.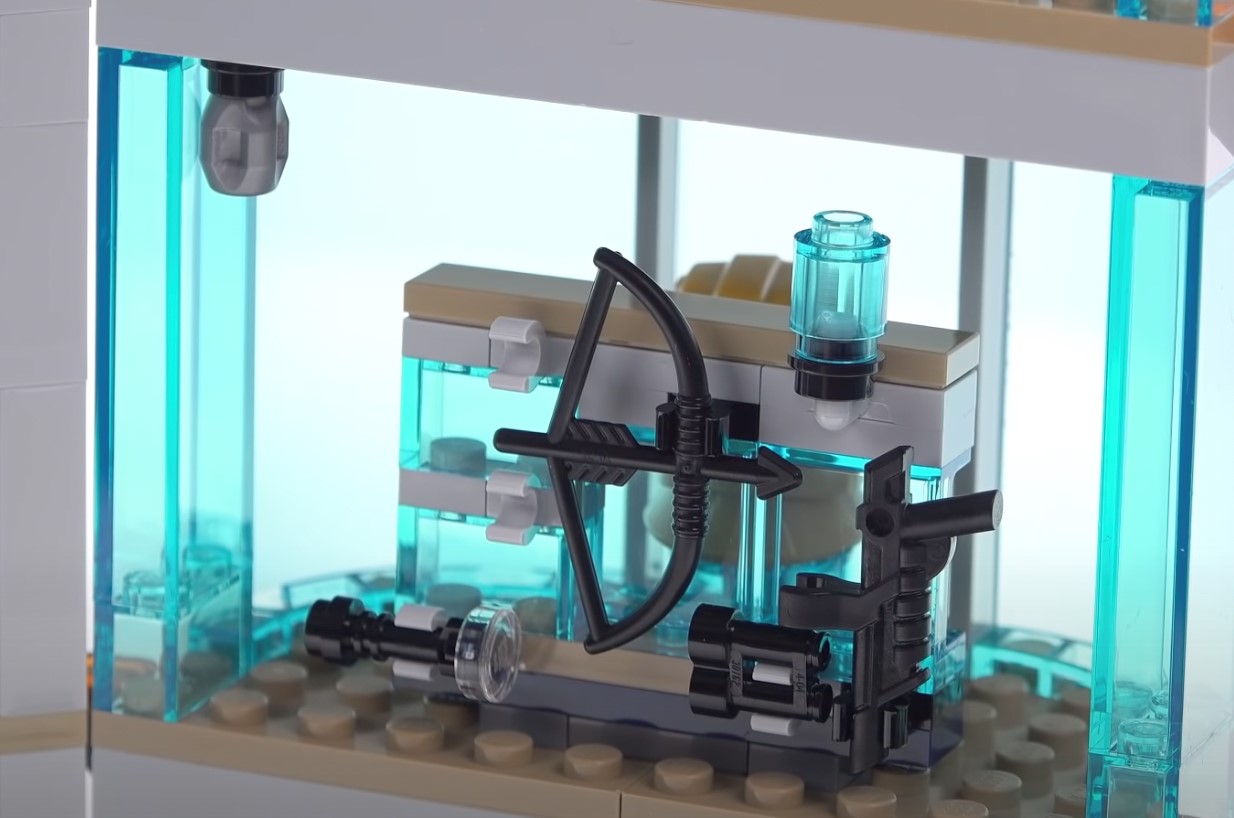 Right next to the weapon rack was a station to store both the Blazer and Tazer armours. The windows could be lifted up to deploy them into action.

The next floor up was a station to open the Power Stone – a direct reference to Guardians of the Galaxy. The build was ripped straight off the Collector scene in that movie – and LEGO designed it so well! Behind that was a screen that showed analysis of the Infinity Stone.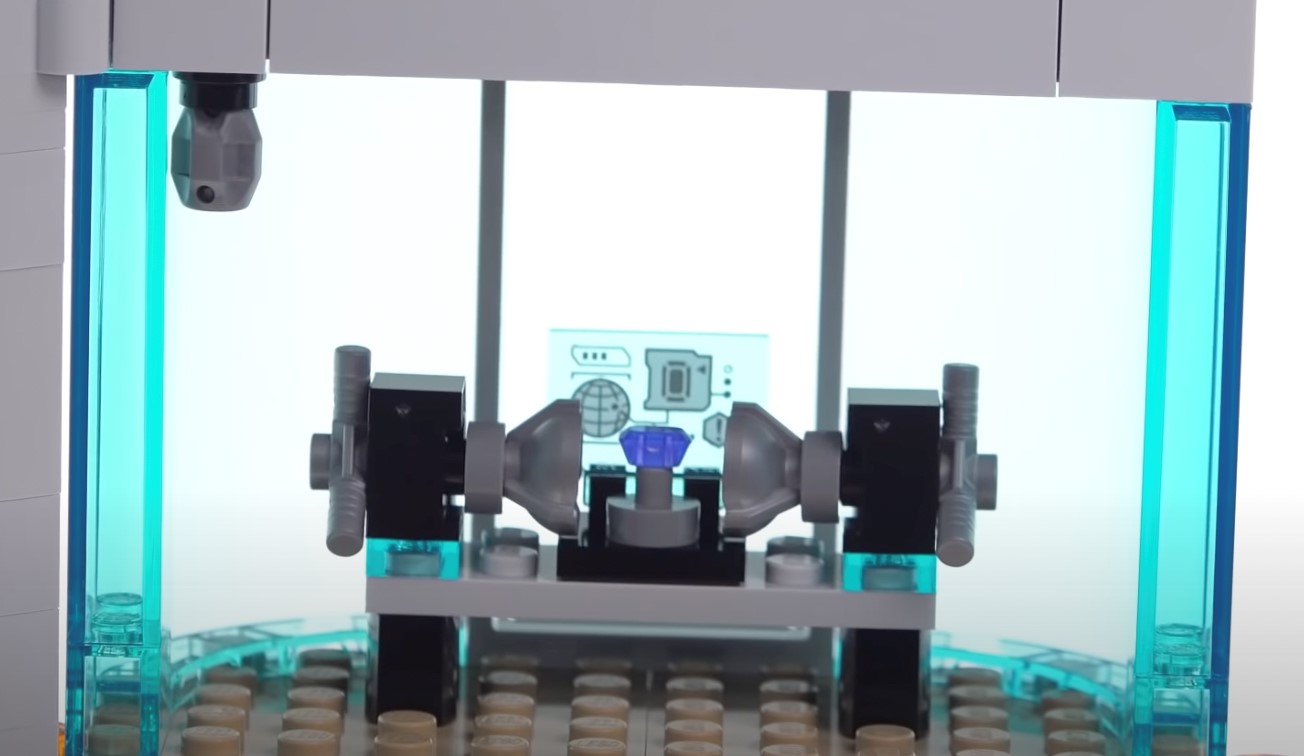 Next to that was a jail to place Red Skull. The cell could be unlocked by lifting the bars up. To break him out, the windows could be knocked out via a lever – similar to the 2015 tower.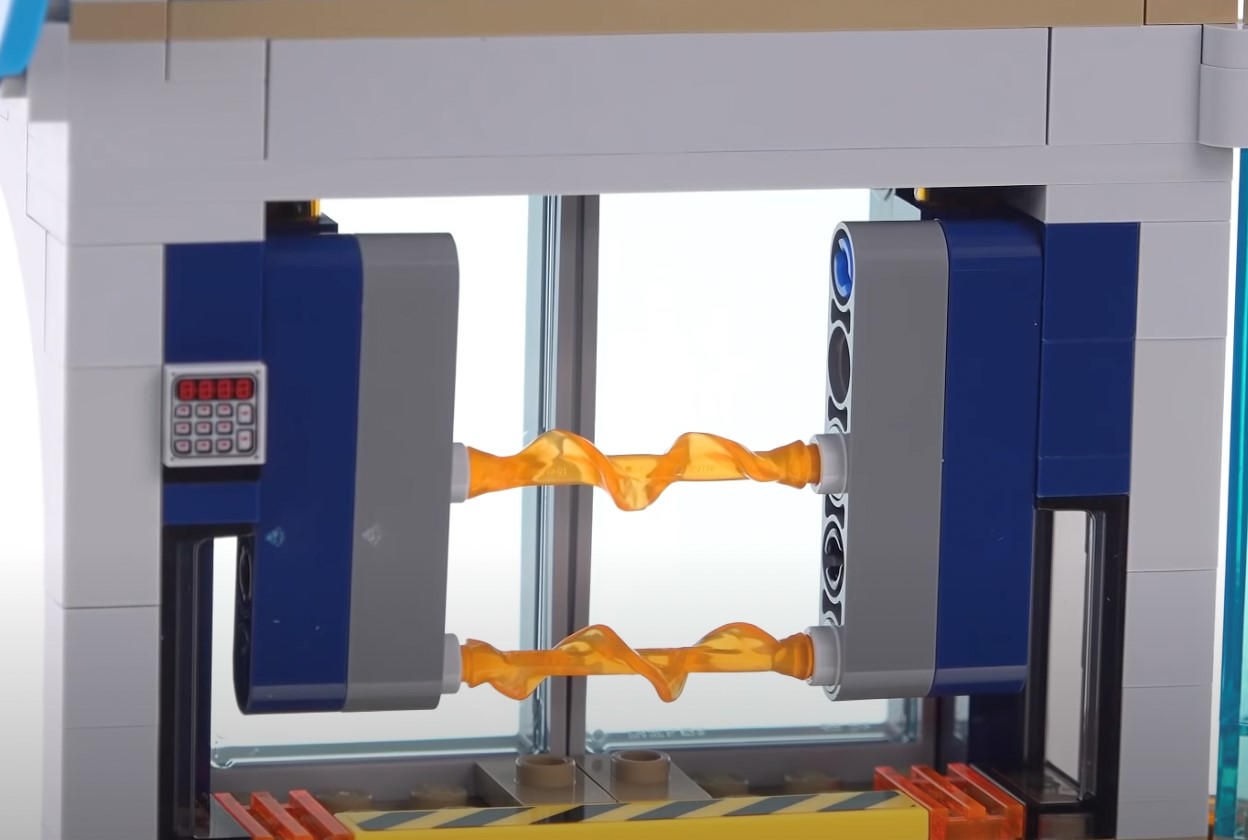 The final level consisted of a balcony. Below the balcony, was a similar splitting mechanism to the 2015 Avengers Tower. It could split in half and hang down. There was an interchangeable TV screen next to the door – one of the news, and another, a Captain America vs Red Skull game.
Next to that was a seating space for the Avengers. Next to the seats where a screen with an incoming call from Hawkeye, and a table with a coffee mug.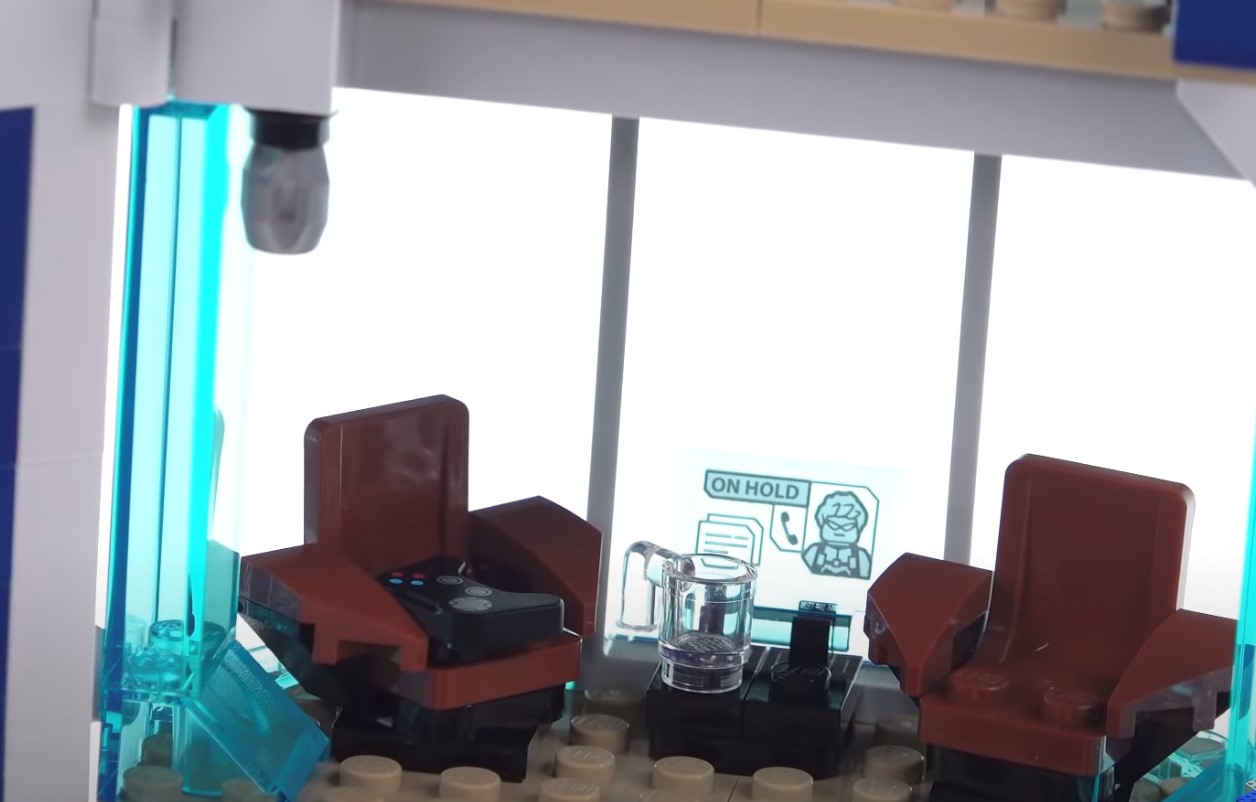 Finally, the top of the roof was a deploying station for Iron Man to blast off from. It was quite bland, and I wish LEGO included a potted plant or some other detail at the top.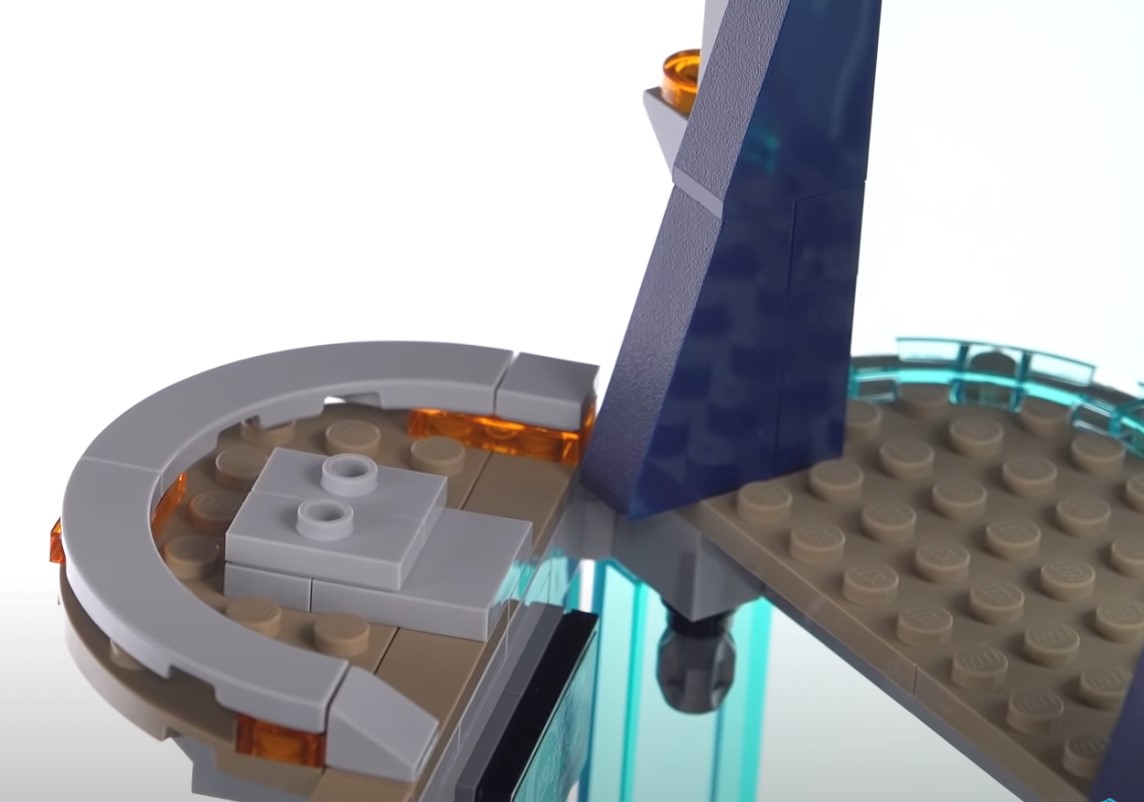 Which is Better?
Before we state the winner – I forgot to say that both towers could be opened up for play, and closed up for display. Yes, it's an obvious detail but one that should be addressed.
So without further ado, the best LEGO Avengers Tower is 2020 one. Obviously. With the extra $30 in its budget, LEGO was able to include a much better selection of vastly detailed minifigures and a whole two other levels. The interior and details in the 2020 model were far superior to the 2015 one – and also that built-up A symbol was just so much better than the printed window on the original. So yes, the new one takes the cake.
It's sad that I had to redo this article – but I'm kind of glad I did. Now I am more likely to buy the new Avengers Tower because I don't want to miss out on a far superior designed iconic building from Marvel, and an amazing selection of minifigures. So Yeah! I hope you guys enjoyed today's article. And I shall see you next time! Peace!
All set images from Brickset and interior images from Jangbricks on Youtube.
Get the Latest LEGO Sales & Deals