So we are at part 3 of this series! I can't believe we spend entire articles discussing only 3-4 Minifigures. There are so many on their website that I really love, so this is my best opportunity to take a look at them. I would also like to say that I've been an ambassador for Firestar Toys for a while, so if you want to purchase any of these Minifigures or any other thing off their website, make sure to use my code FSVIVID10 for 10% off! Even though I am an ambassador, every opinion in this article is a true reflection of what I think about these Minifigures. If I believe something is good or bad, I will state it. This is my honest opinion. So let's jump into it!
Custom Design Minifigure SW Warrior Princess:
After just recently watching The Clone Wars, along with The Mandalorian Season 2, Bo-Katan became a desirable Minifigure that fans wanted. Unfortunately, LEGO never made this character into a Minifigure for a long time, so Firestar Toys decided to respond to that demand by producing this beauty. And she retails for £29.95. Halfway through 2021, LEGO did indeed make a version of this Minifigure and did a solid job. I own the set that she comes in, but am yet to open it. Anyways, back to the Firestar Toys version. The helmet is amazingly printed with the iconic design from her appearances in the shows. The white and blue mech so well, along with the light blue designs along with the piece.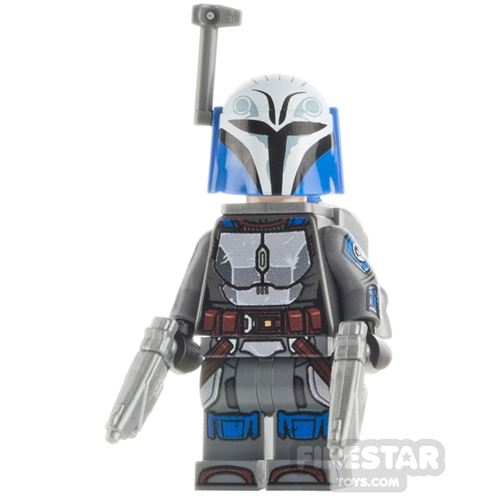 The torso print is also done so amazingly. The different shades of grey complement each other really well. I especially love the scruff detailing and marks on the torso. They are slight but are still amazing inclusions. There too is side arm printing with some Mandalorian markings. The legs continue on with this detail. I don't have much else to say about the printing.
Here is a look at the back of the Minifigure. She comes with a custom moulded jetpack that looks very realistic to the one from the Clone Wars. I especially love the blue and yellow printing on it. The blasters are also custom moulded – made to look like the weapons she uses in the show.
Finally, she is given a really nice new faceprint, and I especially love the freckles and cheekbones, along with her headband. A hairpiece is also included for her.
Custom Design Mini Figure – SW Artistic Admiral:
Grand Admiral Thrawn was easily my favourite character from Star Wars Rebels, along with many other Star Wars fans. So it's no surprise that the official set that included him sold like crazy. With the official one retaining around $80 AUD, Firestar Toys recognised that we needed this Minifigure, so they created one for us who can't fork over close to $100 on the official Minifigure. I think this is a great alternative for £24.95.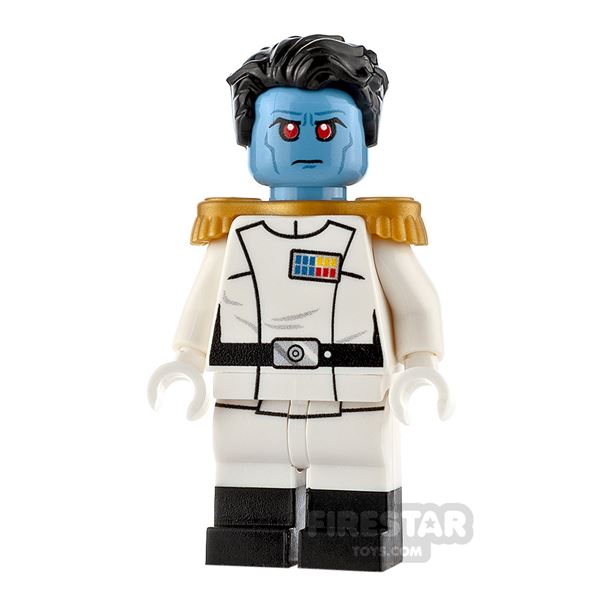 I do have one critique about this Minifigure. Unfortunately, it's the first thing I need to address. The hairpiece is not too accurate. Even though in some scenes it may look like he has a crew cut, it is not as defined as this. He has slicked-back hair in the show – Star Wars Rebels. In addition, the hair colour is inaccurate. Sometimes his hair in the show may look a little black, but it is clearly a very dark blue. The official LEGO Minifigure pays attention to these details and created a very accurate hairpiece for him. Firestar Toys could've printed a similar piece for this Minifigure, considering that the official hairpiece is pretty expensive. But yeah, that's my main gripe with this Minifigure.
The faceprint is menacing. Firestar Toys nailed the eyes, with that dead, red glow. The cheekbones and eyebrows are done really well, and his stern facial expression is all that we need for a Thrawn Minifigure. Even though he only has very minimal shoulder pads in the show, the designers of this Minifigure decided to give this custom a proper piece, which is a little inaccurate. The gold could just be printed onto the torso. Speaking of the torso, we are given very minimal printing, but it is fully accurate to the character's design. All the badges are accurately printed and the rest of the detailing throughout his uniform are well done.
Finishing off the Minifigure, we are given white and black dual moulded legs which is just perfect – something that the official version lacks. Along with that comes a little bit of leg printing that continues on from the torso. Overall, this is a really great representation of Thrawn, besides the hairpiece.