Hey everyone! Welcome back to one of my biggest retrospectives of all time! Yes, this series of articles will probably go on for two months, because I have so much to say about this wave. Today, and for the next few weeks, we will be discussing the best LEGO DC wave of all time – the LEGO Batman Movie? Why? Out of every single set based on movies, TV shows, D2C sets, and comics, none of them can compare to this theme. Why? One word. Minifigures. The figures that released in this wave, made it the most detailed wave of all time. So without further ado, let's jump right in!
I didn't think I'd need a disclaimer for this article, but I guess I'll have to do one to save all of us a lot of time. There is one Batman figure that appears in nearly every single set in this wave. However, there are slight differences due to a few variations of faceprint. However, instead of wasting both your time and mine to address these minor details, I'll just state that it's the 'same' Batman figure with one of the many face variants. So yeah, enjoy.
The Joker Balloon Escape (70900)
One of the most iconic sets revealed in the wave was this $15 USD gem. LEGO gave us our new, and main wide-released Batman figure in this set, based on his appearance in the film. He used the same cowl mould as previous figures in black. And came with a beautiful faceprint which, for once, wasn't pale or dark. Most Batman figures had terribly coloured faces because of the printing on top of the black head. But LEGO managed to solve that problem by printing black on top of a peach coloured head. This was a small, yet massive change for the character, and I ask myself why LEGO doesn't do this now. In addition to his new torso print, LEGO created a new mould for his belt, which attached to the legs. Finally, a grappling hook was included.
This set also gave us the iconic Joker of the LEGO Batman Movie wave. They created a new hairpiece for him, and one of the best Joker face prints to date. His torso was the iconic purple colour, and he even got leg printing!  These two figures were such a great start to the wave.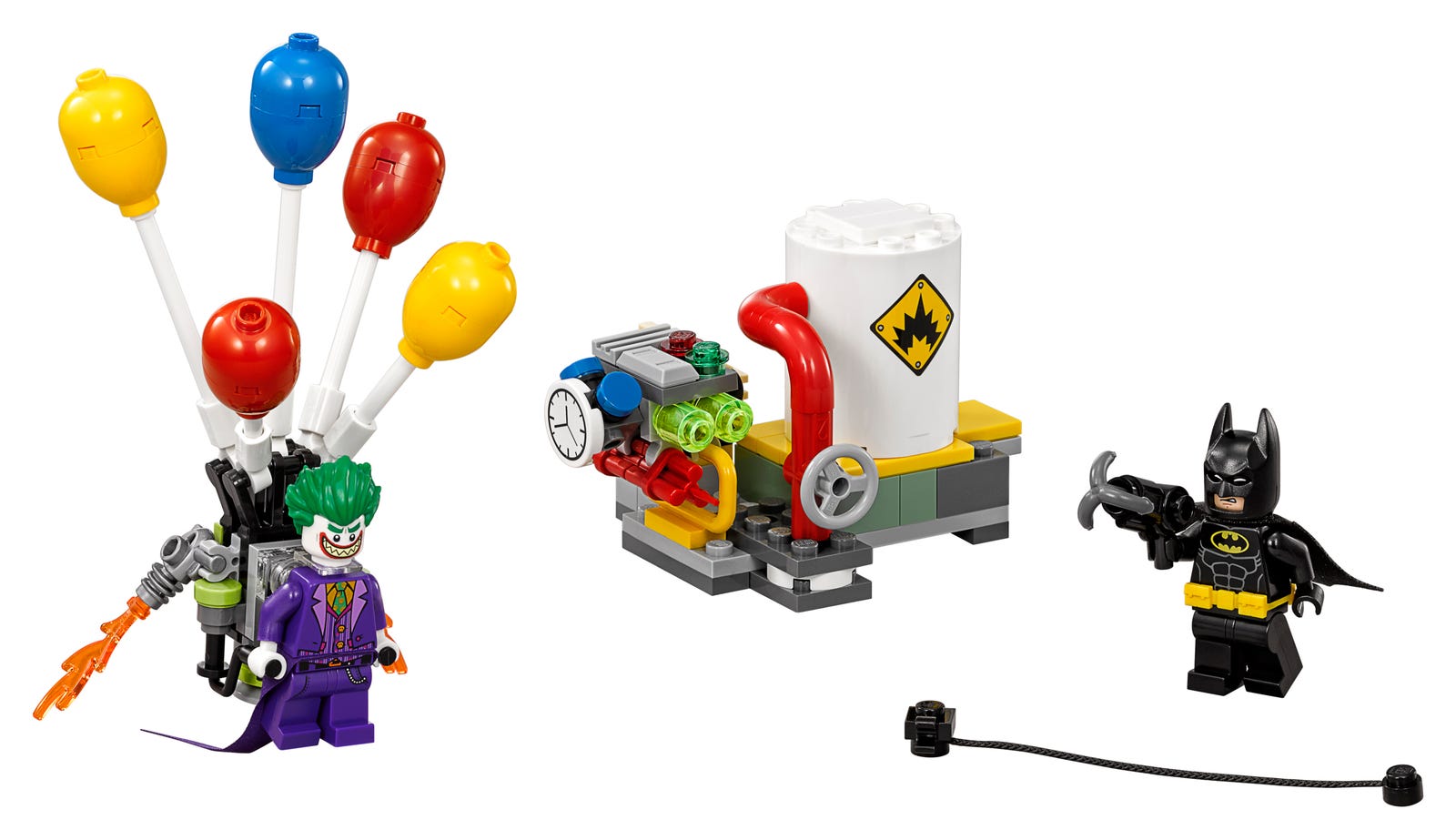 This set included two unique builds – something quite different from the typical superhero set. Joker came with a balloon getaway contraption that was seen at the start of the film. LEGO created new balloon pieces. The other build was a small part of an industrial warehouse or site. There was a play feature here. You would place a bomb on the bars, and on the back, you would press down on a tile which would explode the highly volatile container. It was a cool little set and an amazing way to get two of the iconic characters from the film.
Mr. Freeze Ice Attack (70901)
Yes. Another cheap $20 USD set included another one of Batman's iconic villains. The Batman in this set was the same figure included in the previous set, but with one of the few different face print variants. LEGO gave him a flame thrower to combat the villain's abilities and a Batarang. Mr. Freeze was beautiful. LEGO had its own take on the character, drawing from different comics, and other media. He came with a torso and helmet attachment. And underneath, was an amazing torso. And guess what? WE GOT LEG PRINTING! This is the reason I loved this wave. LEGO put effort into the minifigures, and it shows. The final minifigure was a security guard. He had a cool, yet generic face and torso print, and was equipped with a gun.
The builds again were surprisingly good. Although I'm not a big fan of mechs in the superhero line, I love this one. It wasn't oversized and clunky. It was simple and straight to the point. You could place Mr. Freeze on top and move his arms and legs. On one of the hands was a massive freeze gun, with a stud shooter. The second build was an ice chamber, which could open. You could fit the security guard inside to make it look like he froze alive. The final build was an extension to the ACE chemicals build that was discussed in the previous set. This one didn't have any play features, but it had a lot of details. Overall, this was actually a dope set, and I am sad I didn't get it.
Get the Latest LEGO Sales & Deals
Catwoman Catcycle Chase (70902)
Now hear me out. This $20 USD beauty should set the standard of how every superhero LEGO set should be treated. Not only are there amazing minifigures, but the builds were also actually great too. The first figure was Robin (Dick Grayson). This had to be one of our most detailed Robin figures ever. LEGO created a completely new mould for his hair and helmet to perfectly match his movie design. It was such a cool mould, and I loved the printing on the goggles. So as a design choice, LEGO decided to pair this tall legged minifigure with a short cape. His torso print was brightly coloured, and they went the extra mile to give him dual moulded arms to represent sleeves. And it didn't stop there. Not only did they print his legs, but they even dual moulded it to complete the figure off. This is what I mean when I say LEGO makes good minifigures.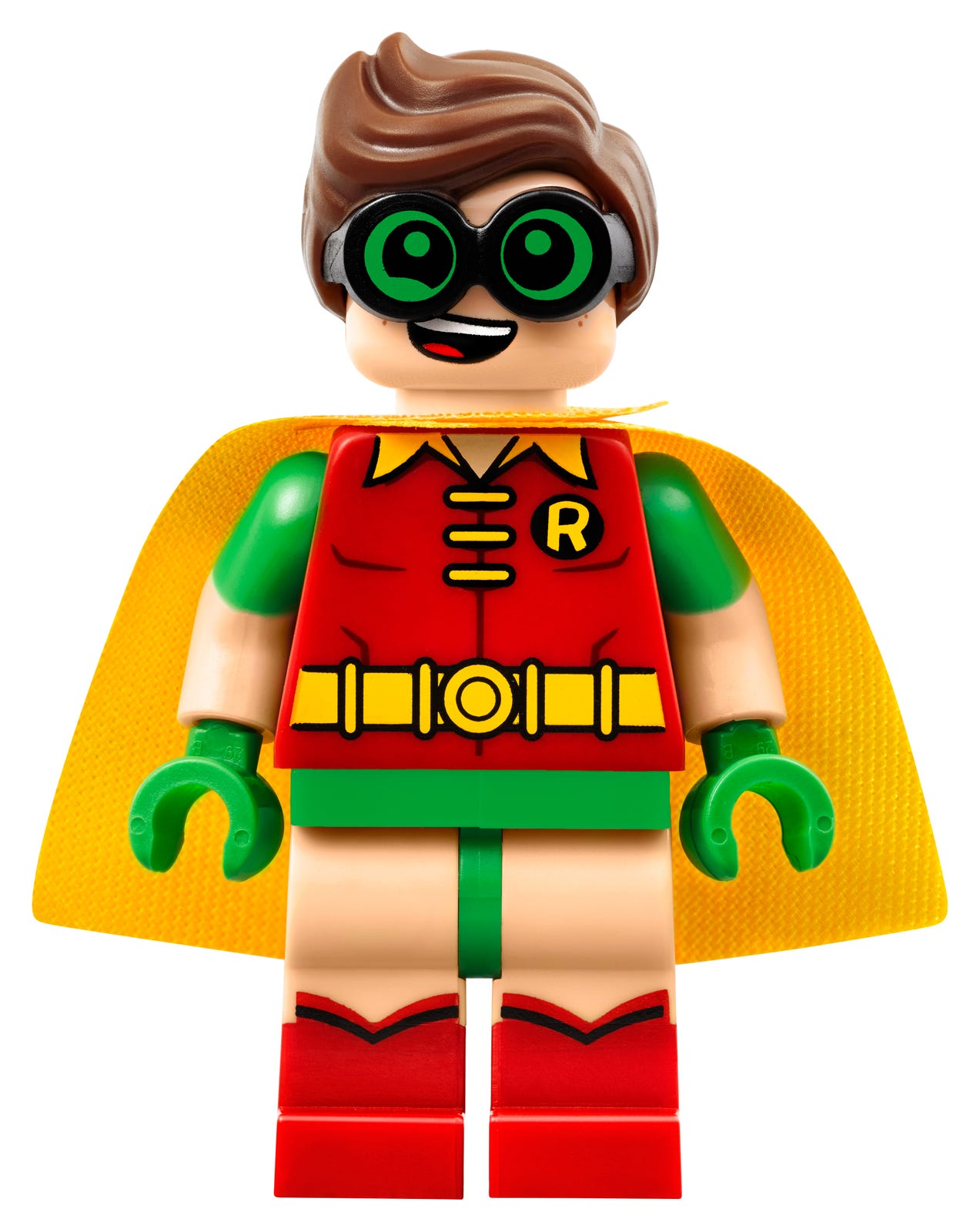 Robin was just the start. We received our second Batgirl after so many years. This time, she was coated in purple and yellow, opposed to her black and yellow look from her first appearance in minifigure form. A new helmet mould was created for her, with a peg attachment in the back to clip on a newly moulded hairpiece. Her torso was beautiful, and yes, she came with a ton of sidearm printing. She received the same belt piece as Batman. And to top the minifigure off, LEGO gave her front printing, dual moulded legs, and side leg printing. Yes. They went all out. Oh. And yeah. She came with two Batarangs.

Finally, this set was topped off with an amazing Catwoman figure. The new helmet mould was beautiful. Underneath was a cool face print, with beautiful green eyes. Her torso print was done really well, with her amazingly done sidearm printing. Under that was unnecessary leg printing, yet a nice inclusion.
The builds were also really amazing! Usually, LEGO makes oversized bikes in $20 USD sets. However, this was perfectly sized. Although there weren't any play features, it was a really cool build overall. You could place Catwoman and ride into the scene. The other build was a neat jewelry store. The light pole could be dropped on the bike when pressure was placed on it. Again, there weren't any play features, yet it was a really nice build.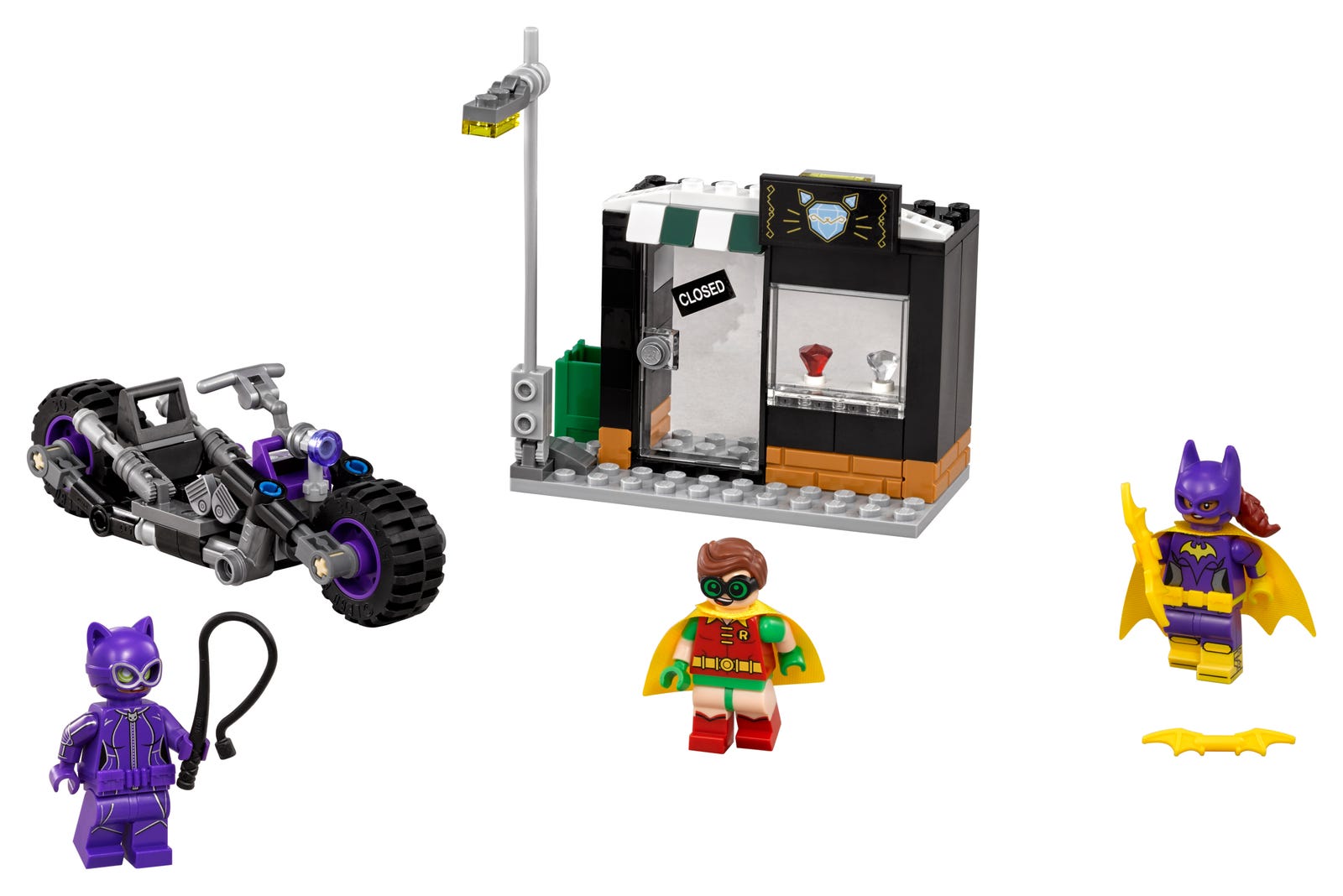 And that's it for our first of many LEGO Batman Movie retrospectives. I cannot wait to go through the rest of these sets together. But I need to wake up tomorrow at 4:45 am for work, and it's 9:45 now. So with 7 hours of sleep on the horizon, I'm gonna sign off. See you guys soon!
All images from LEGO.com
Get the Latest LEGO Sales & Deals