As a child in the 90's two things in particular excited me: baseball and LEGO. During the warm Virginia summers, on the East Coast of the United States, I would play baseball in the backyard. After supper, as the warm night breezes tossed my bedroom curtains around, I would listen to professional baseball on the radio and break out my LEGO bricks for some quality build time.
My brother and I received a large, red bucket of LEGO one year for Christmas, and we would share the bricks as we built. Eventually we received official sets for birthdays, and our collection grew. Many an evening, or rainy summer afternoon, we built, rebuilt, and created all sorts of plastic adventures.
By the late 90's, I grew into quite the Star Wars fanatic, and was building custom X-wing Starfighters and a very colorful version of the Millennium Falcon. It was with tremendous excitement that I received my LEGO Club magazine to read that LEGO had partnered with Lucasfilm to create official LEGO Star Wars sets in conjunction with the release of the first Star Wars film in 16 years. The Phantom Menace was a bit of a disappointment for some, but the sets are still getting better and better even twenty years later.
Wait. Twenty years? Time flies when you are having fun! As much as I have grown older, I haven't grown up, and I still love LEGO, baseball, and Star Wars.
New Words
If you are a LEGO fan, you probably have heard that the brand name is derived from the Danish words leg godt which mean "play well" in English. As an Adult Fan of LEGO (AFOL) I learned the word, or acronym, MOC which stands for "my own creation". I do think it amusing that the children of the 1970's, 80's, and 90's who are now the adult fans of the brick have coined an official term for what they used to do on so many days as kids: build their own creations using LEGO parts instead of always following the official set instructions.
Whether or not one is building a "MOC" or just stacking this brick on that brick and seeing what emerges from the pile of chaos, it is awesome that a childhood activity has morphed into a life long passion. Making play a continual part of life is always a good idea. And now I have met, and continue to meet, so many other people from all over our little blue globe that love LEGO. I have found a world wide community to which I truly belong, and we all have our place in this wildly diverse bucket of bricks.
New Builds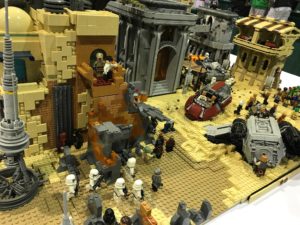 My space will always be dominated by Star Wars, though other themes and fandoms fly in and out at times. I am continually fascinated by the amazing builds and MOCs that the LEGO Star Wars community is able to produce. Last year I attended Brick Fiesta 2017 in my current home of Dallas, Texas, and saw two huge and extremely detailed LEGO Star Wars MOCs. Both were builds illustrating scenes from Rogue One: A Star Wars Story.
The first was an incredible Jedha city replica, complete with dwellings (and rooms inside), streets, a bazaar, and even a Rebel led ambush of Imperial forces! I spent nearly twenty minutes slowly walking around the display and trying to catch and see all the intricate details that the builder had inserted into the ABS city. I am certain that I didn't see the half of what was added during many nights of careful construction.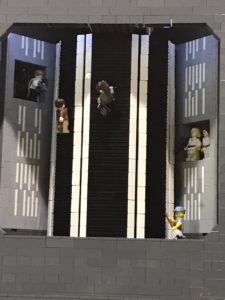 The second MOC was a recreation of the record's tower at Scarif, which included a desperate Rebel mission to steal plans to the Empire's ultimate super weapon, the dreadful Death Star. While this MOC was also faithful to the film it came from, the absolute fun of this build were the "Easter Eggs" or hidden jokes, the builder had included. The tower itself, and the beach surrounding, were incredible, but what made me laugh and scrutinize this build were the janitor in the tower quietly mopping his floor, stormtroopers on jet skis zooming around the little islands, and so many other hilarious vignettes hidden throughout the Star Wars action. I know the builder of that MOC must have laughed, imagining other fans such as myself discovering the jokes and appreciating them as much as I did.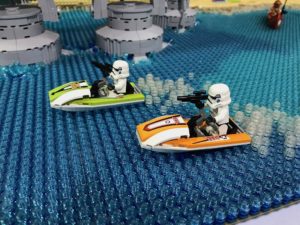 Get Bricking!
The great people at FireStarToys.com and minifigures.com gave me this space to talk LEGO. I am thankful to them for the opportunity to explore the fun we all share and to meet many more new LEGO fans. Mostly I would like to talk MOCs. I would like to feature specific builds I find, introduce builders, and maybe talk techniques and styles. And don't worry. If Star Wars isn't your smile factory, I will look to provide diversity of theme and creativity of part usage. I may even try to inspire your own builds through seed parts, challenges, or who knows, the occasional contest? I plan to let imagination run wild! Won't you join me on that journey? And please feel free to comment and interact with me! I'd love to meet you and am happy to answer questions or take blog ideas for what you'd like me to discuss or feature. Together I know we can build something cool.
I dislike wasting time, so I'll end this post with my first MOC related advice. If you are on any popular social media platform I recommend finding the LEGO people who inhabit that space. My favorite is Instagram, and I recommend starting by following the #moc hashtag. You'll get some random, non-LEGO content, but mostly you'll discover a huge community of LEGO builders. After awhile it will be possible to identify those that are building stuff you like, and then you should follow those accounts. Finally: interact! Don't be shy about leaving a positive comment or courteous feedback. Don't be afraid to ask a technique or build related question, either. Even if all you do is like, I know that the builder will appreciate the connection. Not everyone may respond, but I bet most will. No matter what, get out your bricks and get building!