Welcome back to the second part of Vividusername – An Instagrammer retrospective. For all who are new, I'm so self-obsessed that I'm writing my own autobiography on how I achieved a 10K LEGO account on Instagram. Previously, we discussed Phase 1, the early stages of my account. Now, let's hop into Phase 2. Last time I left myself with a question – what differs the different phases of my account? Well, on April 20th 2018, the phases became well-defined. By the way, I made an error in the last article saying April 28th, 2018, so just ignore my sentences powered by half a brain cell. Ok the anticipation has built up. Let's get into it.
Phase 2 – The Beginning
Ok so what happened? On this day, began the transition of my Flash table photos to the regular white backdrop photo. As my time on Instagram increased, I started to notice that others in the LEGO community posted LEGO with white backdrops. The big reviewers did and still do it. It was also a great, clean technique for photos. So, ripping out the cover of a shoe box, and glueing white paper into it, @photoshootbuddy (Instagram), created the white box that I use to this date. And this was my first picture:
I'm pretty sure the LEGO Marvel Superheroes 2 trailer just released, which is why these heroes are in the pictures. Anyways, I think the photo came out well. I did realise that the white background wasn't bright enough by itself, so I used the second filter on Instagram, called Clarendon. It gave the photo a bluish tint, but for some reason I stuck with it for the next two years. However, I didn't immediately swap to white background shots straight away.
Pro tip here: If you're trying to post daily on your Instagram, make sure you've created content 1 week ahead, in case you don't have time to take photos on the day you need to post them. When I started, I took a photo and posted it the same day. But I realised that I needed to get ahead of myself. Right now, I'm pretty sure I'm about a month's worth of content ahead of myself. So I'd say that on the 23rd of May 2018, my photos discontinued using the Flash table.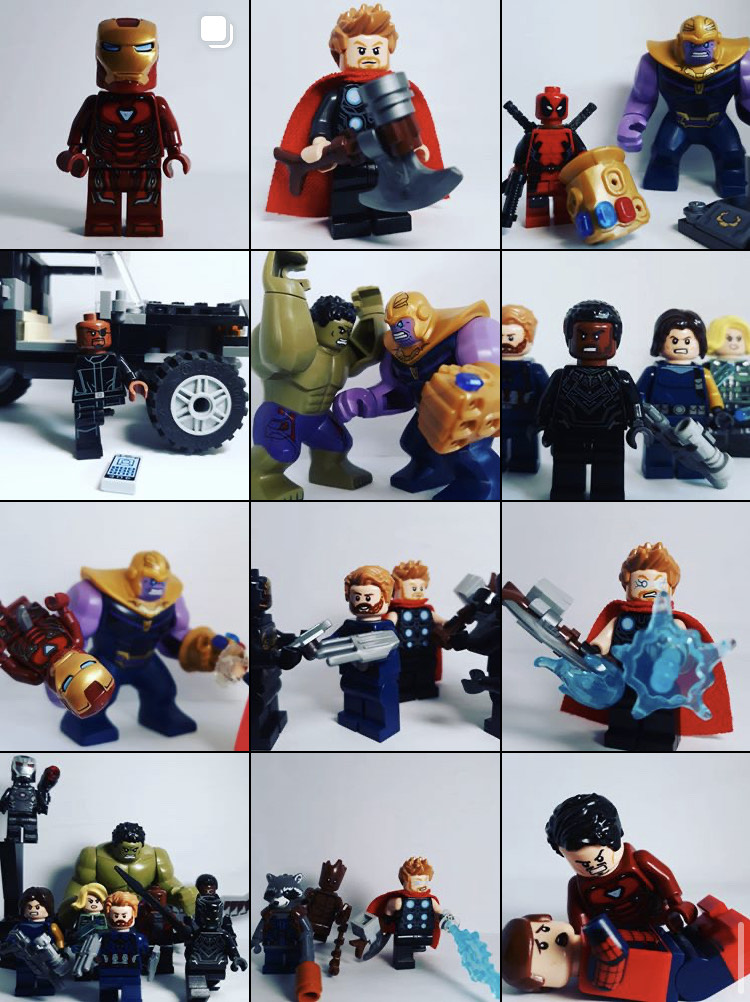 Minifig Monday
Another failed gimmick that I began to do during Phase 2 was Minifig Monday. I'd state the minifigure that was featured and the set they'd come in. My plan was to make a post like this every Monday, which would eliminate the amount of time it would take to create one day's post each week. It started with Marvel of course.
Not gonna lie, it was not consistent at all, because you can see that there was no Minifig Monday every week. Eventually, after 6 minifigures, it died completely. I didn't bother doing it. So you'd think it would be over right? Well… no.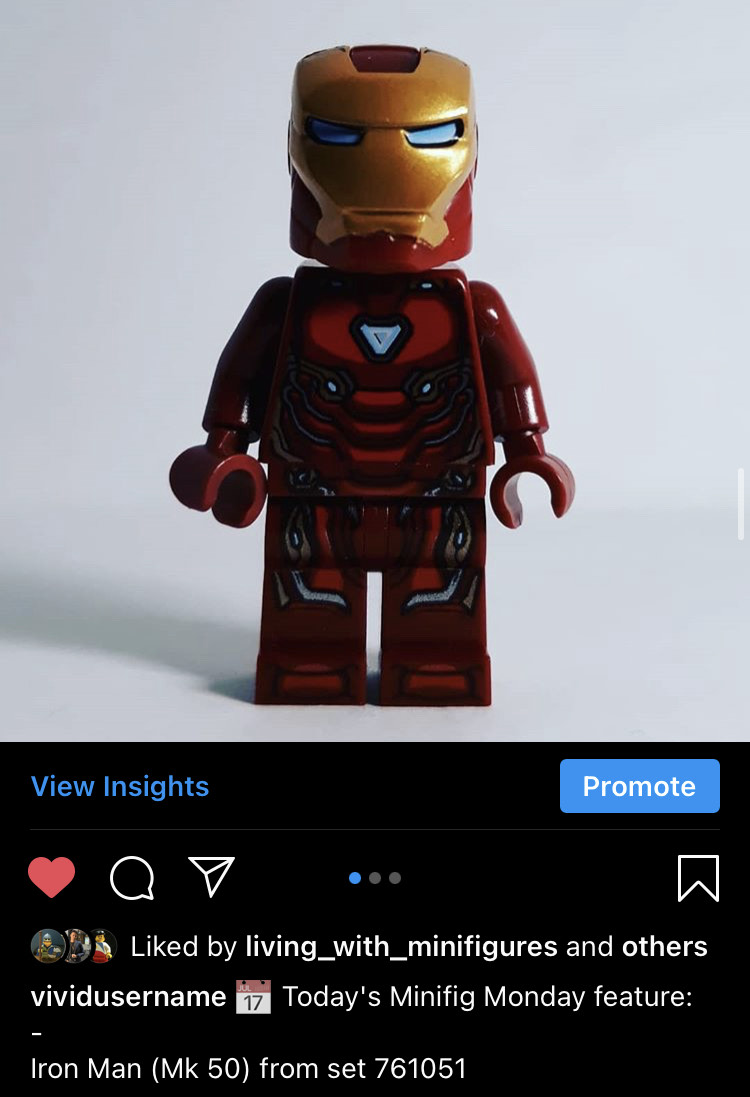 On the 20th October, 2018, I created a spinning minifigure display – something like what Jangbricks has. I was quite proud of myself, as I managed to use simple gears to spin a platform around, which would contain a minifigure. I'd spin a knob on the side, and the platform would rotate. So like the dumb optimist I am, I revitalised Minifig Monday – now called Minifig Mania feature. Ok. Let's get something out of the way. I didn't intentionally copy these names. I made them up. And these are quite obvious names for things related to LEGO.
What was the gimmick this time? Well, this time instead of pictures, I spun minifigures. Also, it wasn't every Monday. I just did it when I felt like it. Starting on the 12th of November 2018, it quickly bloomed into nothingness as my last Minifig Mania post was the 7th of December 2018. Luckily it wasn't a business I invested tens of thousands into. I do still kind of do these when opening CMFs, but it's more informal, so it doesn't count.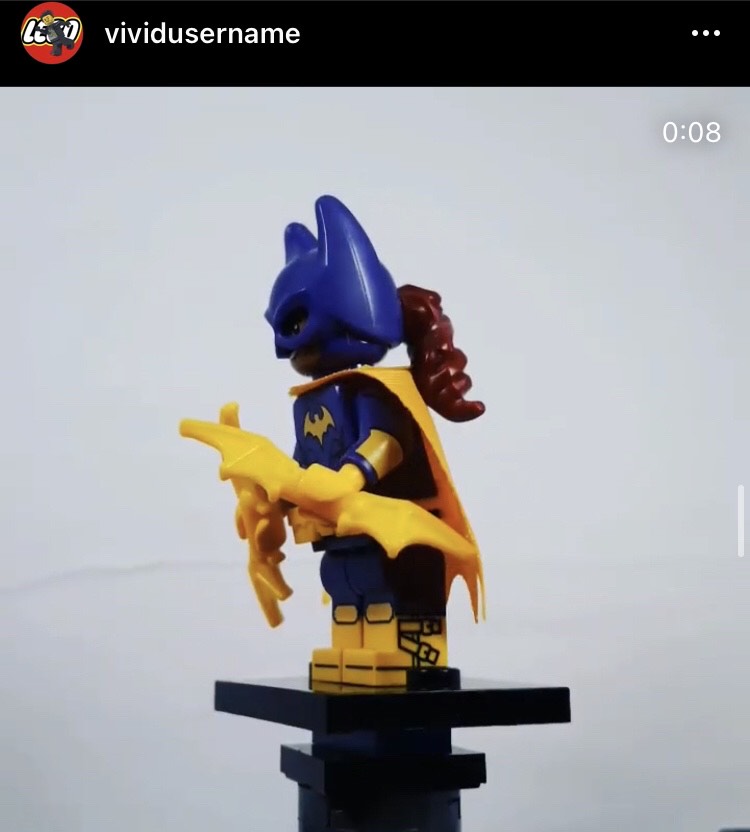 Get the Latest LEGO Sales & Deals
Content
A major thing that I started on my Instagram were my box openings. Basically, I emptied a box onto a table (my Flash or my new self-made Supreme table), and smashed it onto a wall or on the floor. Most my comments were people just laughing at how I trashed boxes after opening the sets. Many referred to me as HowToBasic, a Youtuber who creates very similar content – very weird smashing and destroying. But that has been one thing that has stuck around since the beginning, and it ain't leaving any time soon.
Now a question that is asked to many Instagrammers who post daily is how we are able to come up with content. Let me just say, it was hard. Something that carries me through Phase 1 and half of Phase 2 was Infinity War. My posts mostly consisted of recreating trailer scenes from Infinity War, and predictions. Also, since mine was a new account, I benefited from the fact that I had tons of things to post. Another thing that boosts content on my page is the purchase of a new LEGO set. When I purchase a set, I post a picture of the box saying how much I got it for, the previously discussed opening, and finally a set review. It's always easier to post when I have new sets. So everything I've discussed so far, made up the majority of Phase 2.
Phase 2 – The End
Going back to the running out of ideas for content – that happened. There's only so much you can do with white background posts. So I resorted to something that was quite obvious – set reviews. It turned out that I actually haven't created posts on a ton of the sets I owned, so I did just this. In April, I began to post photos that primarily featured my Supreme table as the background. I mostly took individual photos of sets and posted them every day – calling it 'Set month'. It actually lasted 2 months, which was cool.
But something big happened on June 19th. I hit 10,000 followers! I remember, that night I was waiting in my study room for that number to change. Mid-semester had finished a week prior and I was in the holiday mood. 9992 and counting. And guess who the 10,000th follower was? Myself. I followed myself on one of my other accounts because I thought it would be funny. But yeah, that was a great night. I thought I was the biggest hotshot that I even applied for verification, which I didn't get. A few days later, I posted my 10K special which now has 1000 views on my IGTV page.
A week or so after my 10K followers, the set reviews ended, and I struggled to create new white background content. Now with 10K, I was uncertain on what to do next. I was running out of content, and was unhappy with what I produced – especially with the number of eyes on me. So I made a massive change to my account – something that is quite risky once you get to a certain number of followers. And there it began: Phase 3.
Phase 3 – The Beginning
I switched up my content completely. The white background was eliminated, although I still use it as a green screen for my photo editing. I now post pretty decent looking edits on my page. It definitely takes more time and effort to compose them, but I enjoy it. My first few did really well, with the first one getting over 1K likes.

But, then Instagram messed everything up when they copied TikTok by introducing Instagram Reels. Creators from all over the platform took a hit when this was introduced. Why? I don't know. My best guess is that they wanted to promote the new feature, so they rewarded you with more engagement if you post Reels, and less if you only upload regular posts. The average likes on my posts fell from 600 to barely hitting 200, and it is still at that level to date. My follower growth also has capped off, as I'm still only around 10,080 – three months after I hit 10K. I went from 100 followers a week to no change. Yeah, engagement has dropped significantly. But my posts have definitely upped in quality, and I enjoy creating them.
I also started a Youtube channel recently as I want to take a shot in the dark to make LEGO reviews my main job. Yeah, it's unlikely, but I'll kick myself in the future if I haven't tried.

Phase 3 for me has just started. I'm maybe a month into it, at the time of writing. It definitely has a way to go, and I want to make a few more stylistic choices to create a more aesthetic page. But that's it for my Instagram journey on how I started a LEGO account that reached 10k followers! We are all caught up to date! I don't know when Phase 3 will end, but if I'm still around, I'll make sure to make an article on it. But that won't be for a while. Wow! I've surprised myself by how much there is to say about my story! I only thought it would be one article long. Anyways, I want to thank you guys for sticking around, and a massive thanks to my followers and subscribers who've stuck with me! See you guys in the next article! Peace.
All images from @vividusername on Instagram
Get the Latest LEGO Sales & Deals