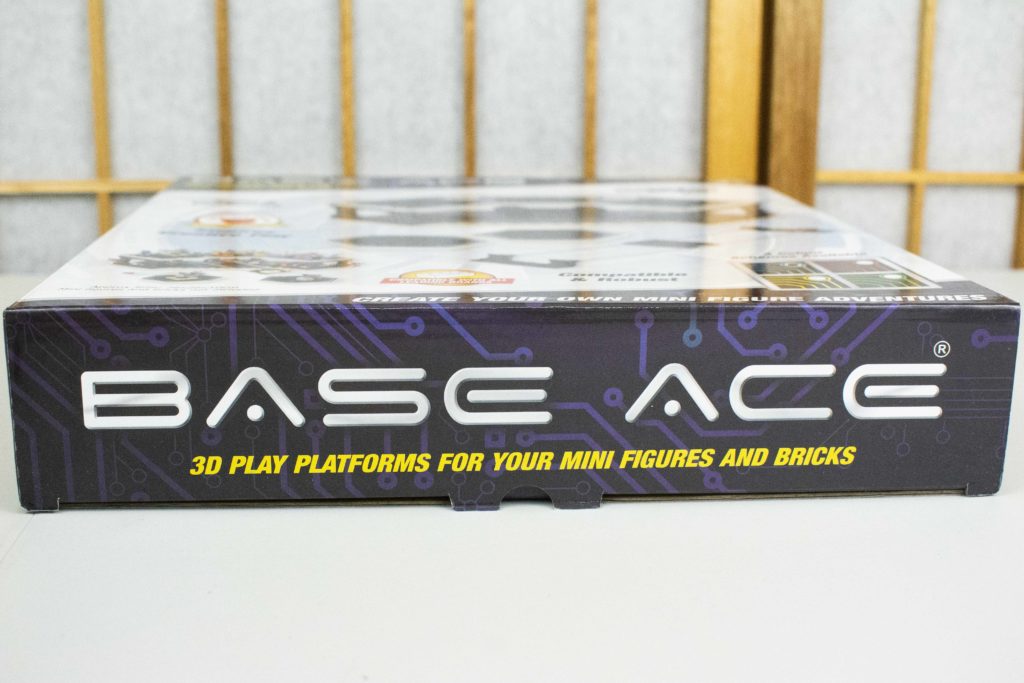 ---
Imagine my sheer excitement when I received an E-Mail from Bob earlier this month letting me know that both him, and the boss man, had wanted me to break down a product which they had been sent in the post. I was incredibly excited as it was a product which I had seen lots of in the past but had never actually got up close with – one of the wooden compatible-brick brand play-sets from Base Ace – complete with real baseplate features which allow for LEGO and other compatible products to be used in conjunction with the play-set! So, without any further ado, join me as we breakdown the 'EVO' kit from our friends at Base Ace.
The Box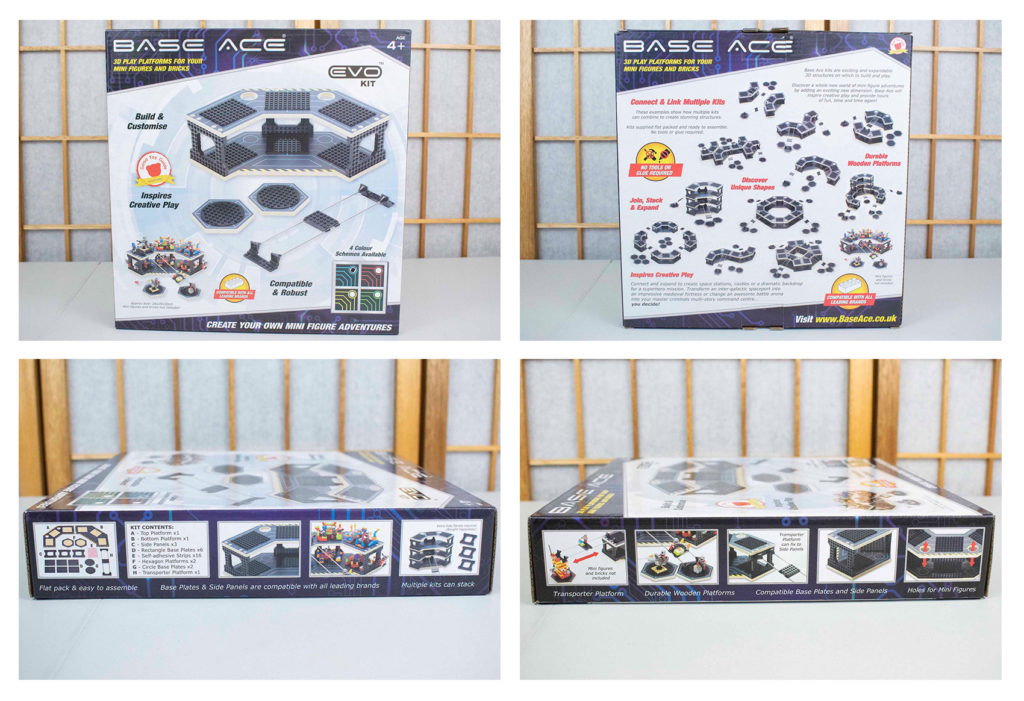 As you can see from the shots in the packaging, Base Ace describe their products as '3D Play Platforms for your Minifigures and Bricks', which will 'inspire creative play' and 'provide opportunities to build and customise'. All of this is very much sales-esque speech designed to make the product sound inviting and appealing – but it's safe to say, the actual product itself is still very exciting in its overall style and design. Throughout the box-art we can see photographs of compatible brick brands used in conjunction with the Base Ace play system, and it is safe to say that the displays and situations created will fuel the imaginations of children across the world.
This is good, as whilst a fun product for any age group, I would argue that the product line from base ace is designed specifically for children, providing them with an opportunity to create large-scale structures and bases for their brick collections, without any of the associated cost which comes from building structures of this size and scale solely out of bricks. Indeed, the product line from Base Ace sits in a happy middle ground which marries creativity and play in a rather successful combination.
Combinations

The back of the box further sells this sense of creativity and combination – highlighting an assortment of different scenarios and 'bases' which you can create by combining several different 'EVO' kits. This really highlights the way that this series of play-sets captures the sense of endless play which many construction brands strive for – and therefore I feel this product will resonate with children who love LEGO and similar brands, purely because this series of play-sets follow the same principles which have proved so successful for LEGO in the past.
Once we get past the box art and the limitless combinations which are communicated on it, we are then presented with the core elements of the play-set which are secured nicely within bubble wrap inside the packaging. These are two main platforms made from wood – with elements cut out for wooden dowels to create different levels of elevation, alongside spaces created using the colours and patterns chosen to mark where separately included baseplates will be attached. We also have two independent hexagon-shaped platforms here, and a metal and plastic lift-type mechanisms which allows a moving platform to add some additional dynamism to the play-set. With all these elements laid out, it became time to assemble the platform.
Assembly
When it comes to assembling the platform itself, it requires a little bit of DIY, so I recommend that this is something which parents assemble before giving it to children. The play-set itself includes two-sided tape, which you use to then attach the baseplates to the main wooden platform, so that LEGO elements are then able to be incorporated within the play-set. This is the same for the Hexagon platforms – and I highly recommend you take your time with these, as I mounted my own at a slightly awkward angle so now they will not align with the play-set as is intended.
Make sure you take your time and use the design patterns on the wooden pieces to line everything up correctly, as this will allow you to avoid making the same mistakes. Once this is completed, you can then take the plastic elements which utilise plastic dowels to connect the two platforms – allowing you to construct some of the 'wall' elements of the play-set and then piece the rest of the two included platforms together to create a two-story base which has some brick-build compatibility elements.
Functionality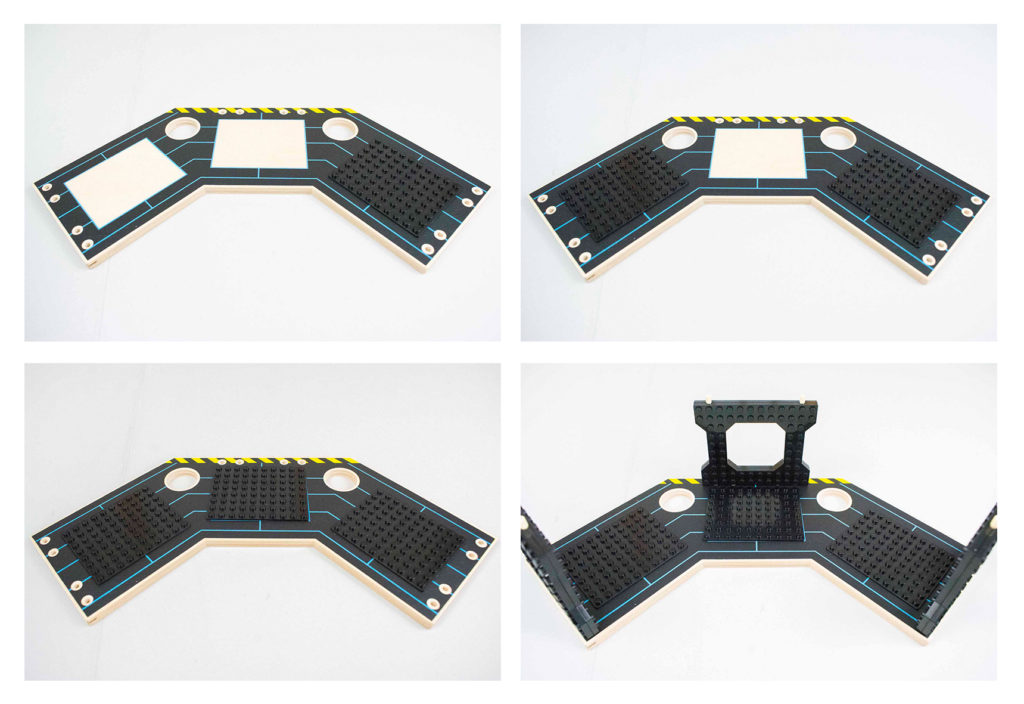 Once assembled, the amount of play options which the base ace kit offers is apparent. As you can see from the assortment of pictures included within this article – there are several different ways in which this base can be assembled. Indeed, we can either put the top or bottom platform in reverse order – meaning that we are able to create a base which already has a large amount of customisation.
We are also able to choose how we connect elements like the sliding platform – providing even more opportunity to change play styles depending on the elements incorporated. Whilst the options here are relatively flexible – with things like the walls featuring studs which can be built upon – the options become even more expansive when you consider the integration of a second platform. Things like the moving platform positioned between two platforms would only serve to add to play options – providing even more opportunities for children to get creative during play time.
Furthermore, the intuitive dual-dowel system used to attach the walls would also allow the level of platforms to iterate in an expansive manner, meaning that there is, in theory, no limit to how tall bases can be built. This serves to provide even more play options – whilst also perfectly capturing the 'endless' appeal of construction products like LEGO.
Usage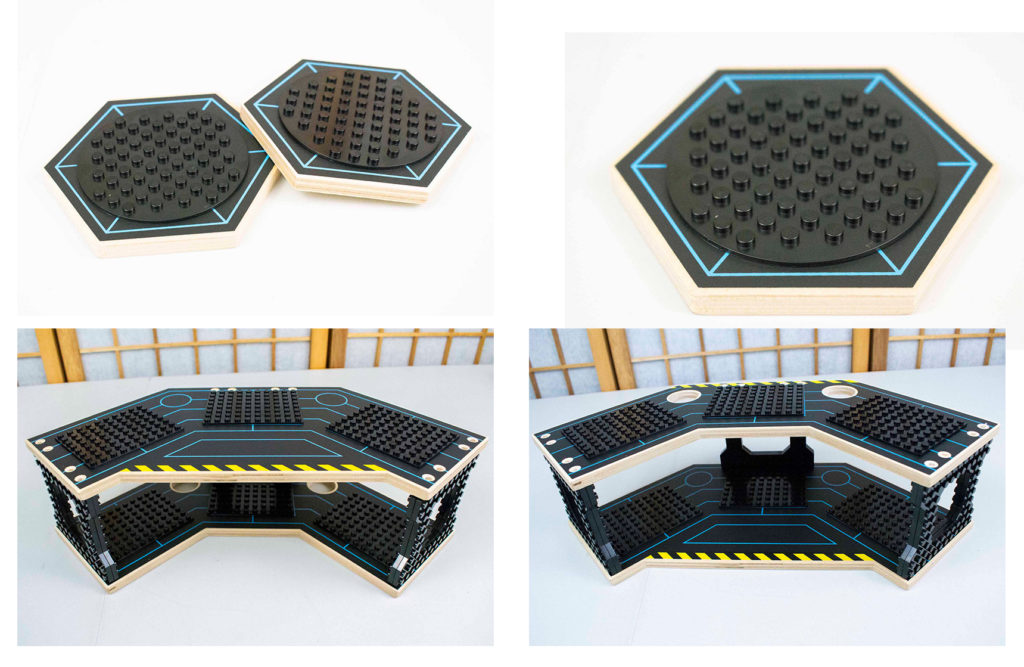 So, with all this functionality and with so many different options, how well do products like LEGO function with this product? Well, I decided to select some of my favourite minifigures and I wanted to play with posing them in different positions throughout the platform to see how they functioned – and I am happy to report that there was a good level of compatibility, as was advertised. Figures felt secured in place for the most part, and although connections were not as solid as a LEGO-on-LEGO connection would be, they were still more than satisfactory for a compatible-brand product. I also think that children will enjoy the additional play options that having studs on the side of the walls presents, as it provides a real opportunity to place fun wall-climbing characters like Spider-Man or Iron Man in interesting and dynamic options.
This, again, provides an incredible level of options for play – meaning that children can have fun creating their own stories and immersing themselves in their own worlds which they have created. Whilst not designed solely for this purpose, the short amount of time I spent playing with these figures on the platform certainly suggests that this could be a fun alternative to more traditional LEGO minifigure display cases.
Conclusion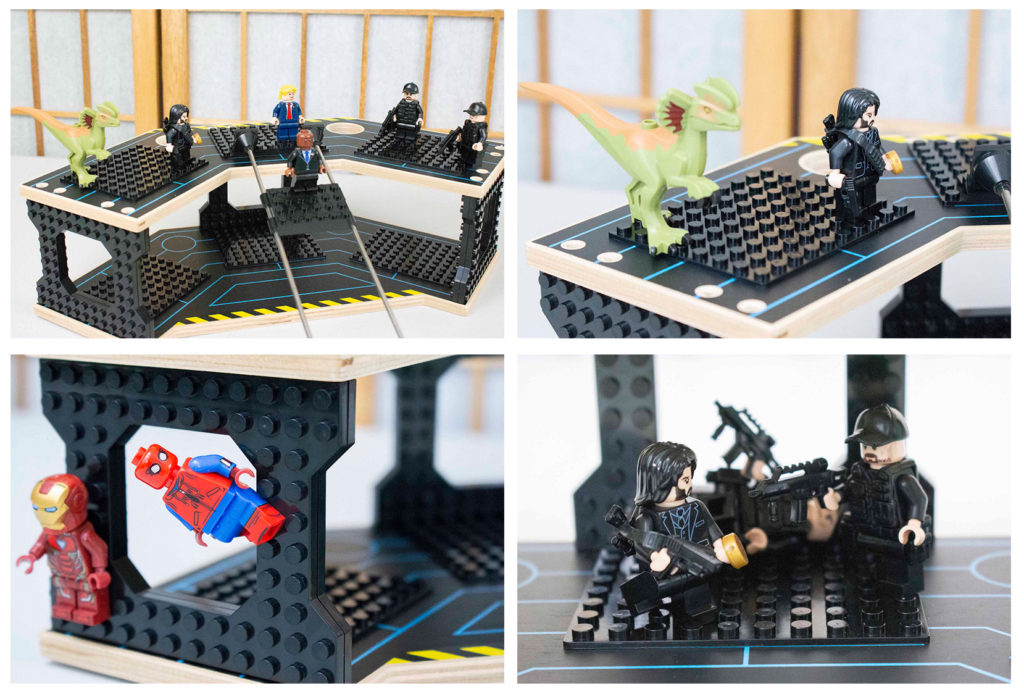 To conclude our look at the Ace Base EVO play-set – I think it's a lot of fun, and something which will only become even more fun when combined with more products from an assortment of different lines. The variety of colours on offer provides some fun options for imaginative play, and the compatible elements provide the opportunity for the play-set to be used in conjunction with a variety of other toys. I like the robust nature of the toy, but do have a couple of concerns – namely the fact that the dual-sided sticky tape used to attach the baseplates, and the dowels in question feeling somewhat flimsy when being removed and interchanged.
With that said, for around thirty pounds the EVO kit feels like a solid toy – and something which is likely to be popular with Christmas around the corner. If you're looking for something to buy the young LEGO fan in your life this Christmas, then the EVO kit, whilst not an official product, is something which is bound to keep them occupied for weeks after the special day!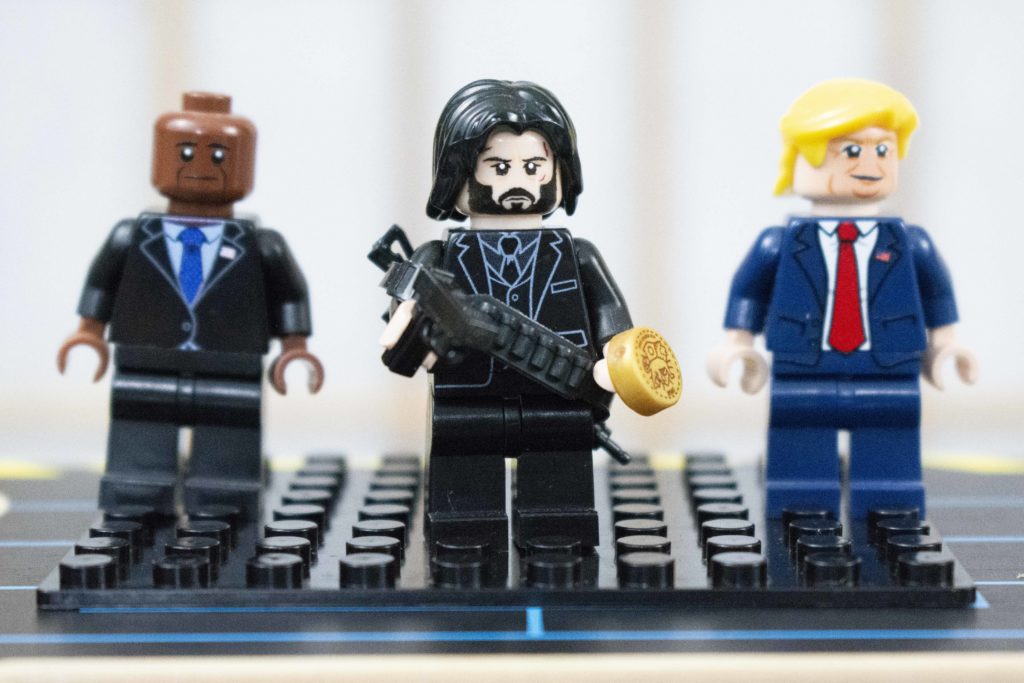 If you'd like to learn more, make sure you visit the website today: https://www.baseace.co.uk/collections/base-ace-evo-kits