A huge day for us LEGO Harry Potter fans! 6 incredible Harry Potter sets have been officially revealed by The LEGO Group. The sets are coming this summer and will be available on July 1st in the US and Canada, although they will be available a month earlier on June 1st in the rest of the world. Some have been available since May 20 in select regions. We are getting 2 new Hogwarts castle extensions, 2 very different houses, a giant up-scaled LEGO minifigure and a huge brick-built owl! Very interesting and probably one of the best LEGO Harry Potter waves! I'm going to cover some basic details and give my opinion on each of the sets.
75966 Hogwarts Room of Requirement
Starting with the smallest set of the wave. Hogwarts Room of Requirement includes 193 pieces and 2 brand-new molded trans-clear animals. It also includes 3 minifigures: Harry Potter, Hermione Granger and Luna Lovegood. It will retail for US $19.99 / CAN $29.99 / UK £17.99. The full model, when built, measures over 2″ (7cm) high, 7″ (19cm) long and 2″ (6cm) deep.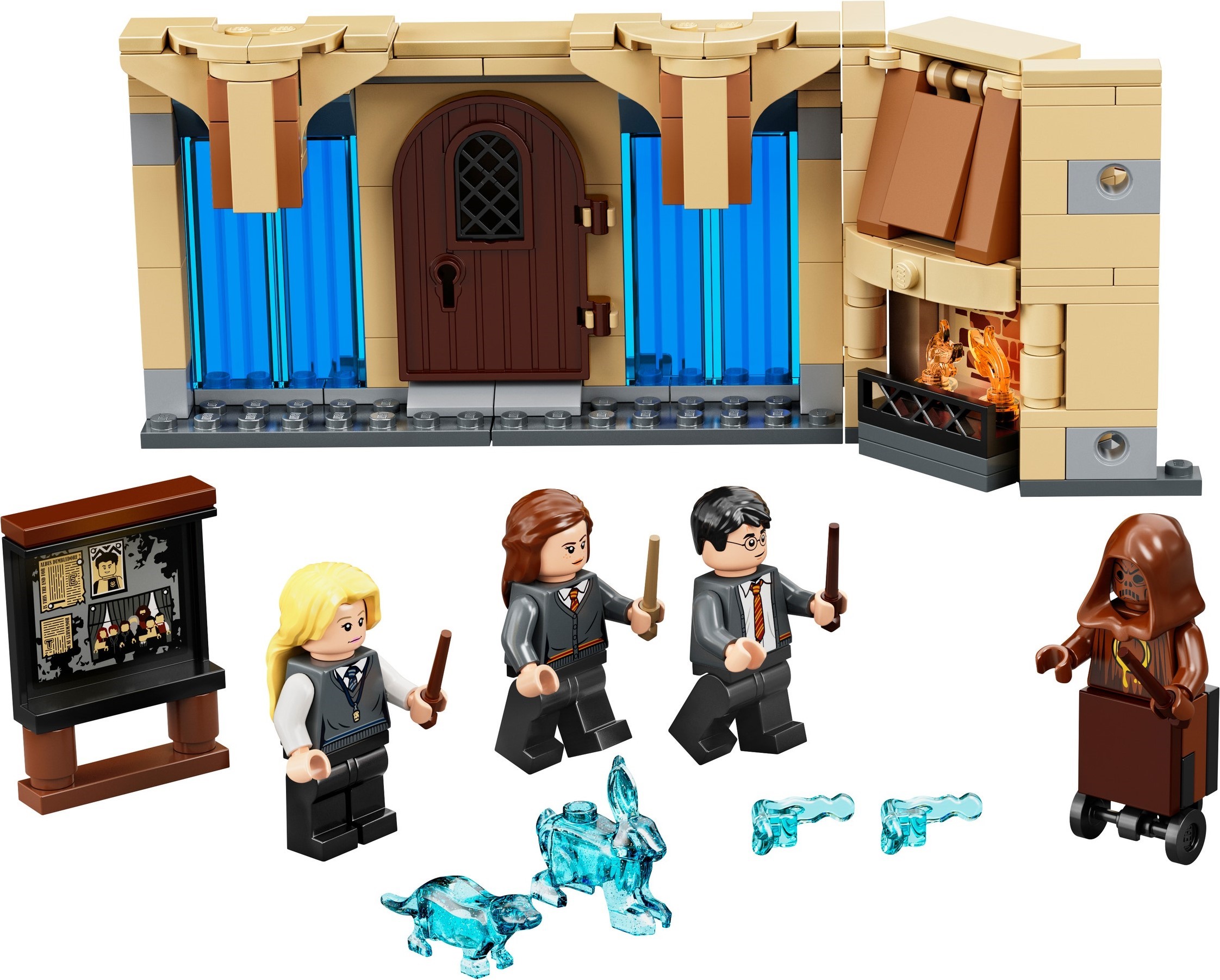 Official description: Slide the panel to reveal the hidden entrance to the Room of Requirement and join Harry Potter, Hermione Granger and Luna Lovegood for secret Defense Against the Dark Arts practice!
This set looks great for just US $19.99. We are getting 3 (and a half) brand new minifigures and 2 new Patronuses for Hermione and Luna – a hare and an otter. The build itself looks detailed enough for the price. The hidden sliding door feature is awesome. The fireplace looks really cozy and the separate wall piece off to the side has a brand-new sticker. It features a pair of bricks where pins can be inserted to connect to other sets, possibly existing Hogwarts castle ones but who knows, we can be getting more "Room of Requirement" sets later down the year to complete the full room!

75967 Forbidden Forest: Umbridge's Encounter
Next up, the Forbidden Forest: Umbridge's Encounter includes 253 pieces, 3 minifigures, 2 Centaurs and a giant. The 3 minifigures are: Harry Potter, Hermione Granger and Dolores Umbridge. It will retail for US $29.99 | CAN $39.99 | UK £24.99. The full model measures over 4" (12cm) high and Grawp stands over 5" (13cm).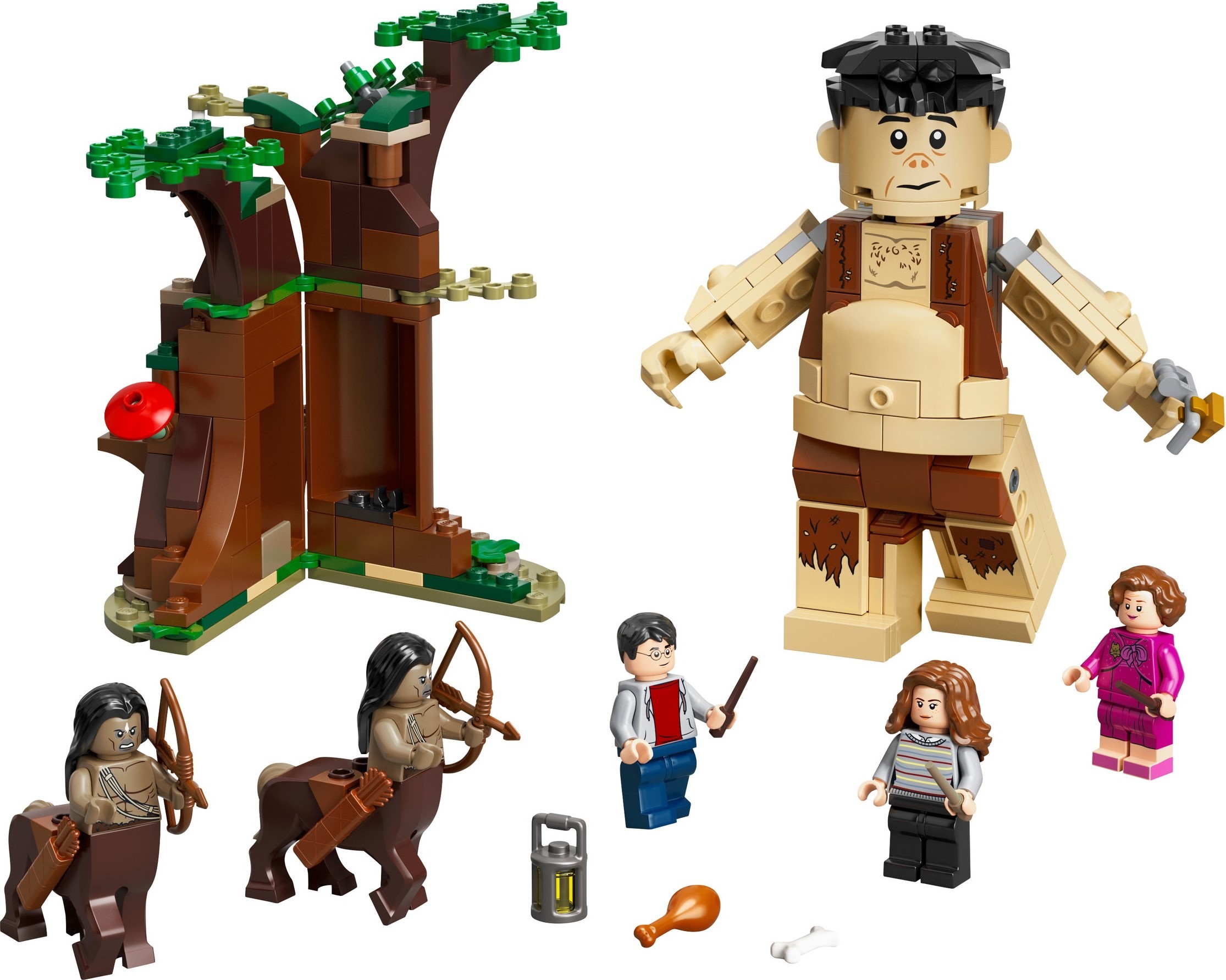 Official description: Trick Professor Umbridge into entering the Forbidden Forest and introduce her to Grawp and a few centaurs.
This set is just fantastic! Grawp the giant is such a great build for an oversized minifigure. We've seen such design 3 times in the past- the Giant Ant-Man in Captain America: Civil War Super Hero Airport Battle set from 2016, Ares in the Wonder Woman Warrior Battle set from 2017, and the Ninjago Giant Stone Warrior 4-handed oversized minifigure in Cole's Earth Driller from 2019. The tree build is nice to get.

Highlights of the set are the 2 Centaurs included with a brand-new mould for their horse legs and my one of my favorite figures of the wave: New Dolores Umbridge! Umbridge's look has slightly changed from the Bricktober pack version. Honestly, I prefer this one. Below is the old Bricktober version.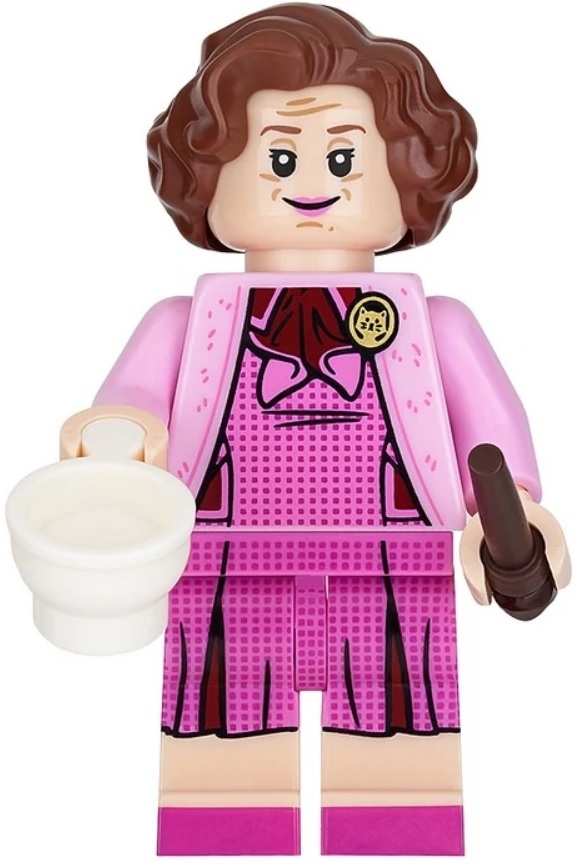 2018 version (Image from Brickipedia)
75979 Hedwig
Next set is mainly a display set with a cool feature. We have Hedwig
which includes 630 pieces and 1 minifigure: Harry Potter. It will retail for US $39.99 | CAN $49.99 | UK £34.99. With a wingspan of over 13" (34cm) and a beak-to-tail measurement of over 7" (20cm) it really is a decently sized set.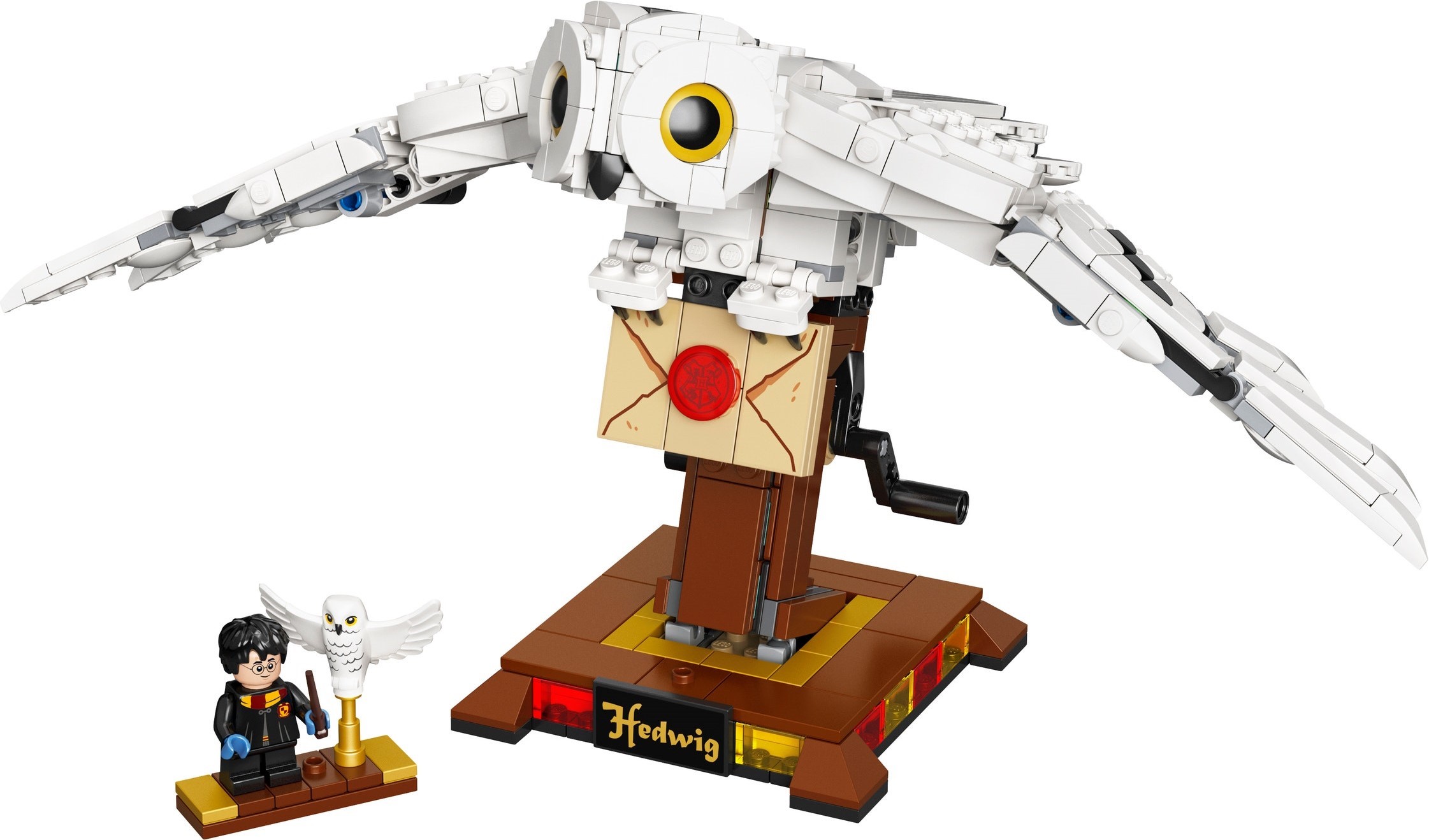 Official description: Capture the magical personality and elegant movement of Hedwig, the celebrated owl from the Harry Potter films.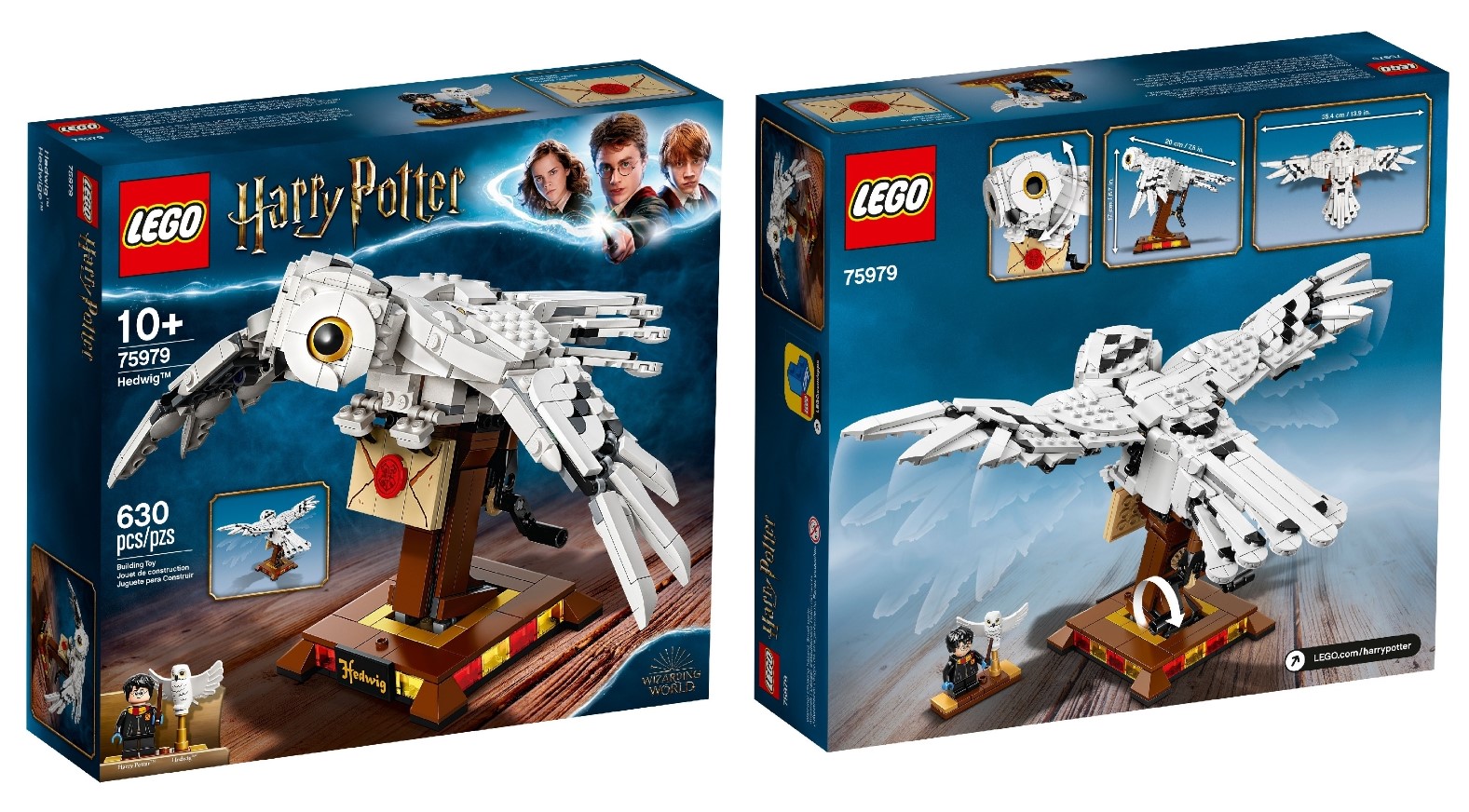 The set has a cool play feature where you can turn a knob to make the wings go up and down. I'm really excited to see all the gears inside. Hedwig is holding a cool letter build whilst being on a stand to make the displaying process easier and for it to stand on its own without falling. The minifigure in this set is a young Harry Potter. This is also the first set where we see the new minifigure-scale Hedwig mold. The first time we see a minifigure-scale non brick-built owl with the wings spread. This is a really great display piece.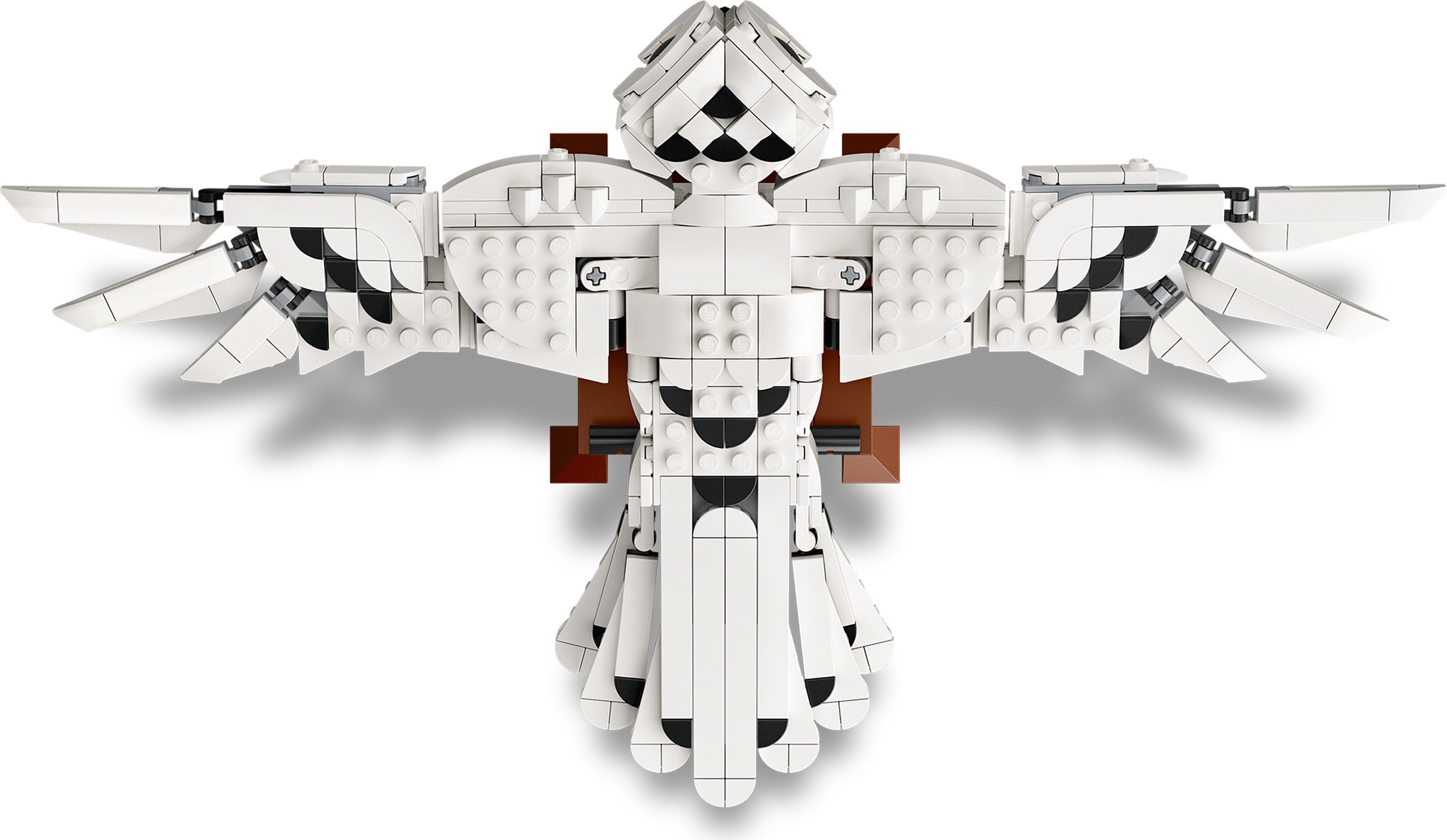 Get the Latest LEGO Sales & Deals
75968 4 Privet Drive
Next up is another fantastic set. LEGO Harry Potter 4 Privet Drive includes 797 pieces and 6 minifigures: Harry Potter, Ron Weasley, Dudley Dursley, Vernon Dursley, Petunia Dursley and Dobby. It will retail for US $69.99 | CAN $99.99 | UK £64.99. The house measures over 6" (17cm) high, 6" (16cm) wide and 4" (12cm) deep and the car is over 4" (12cm) long.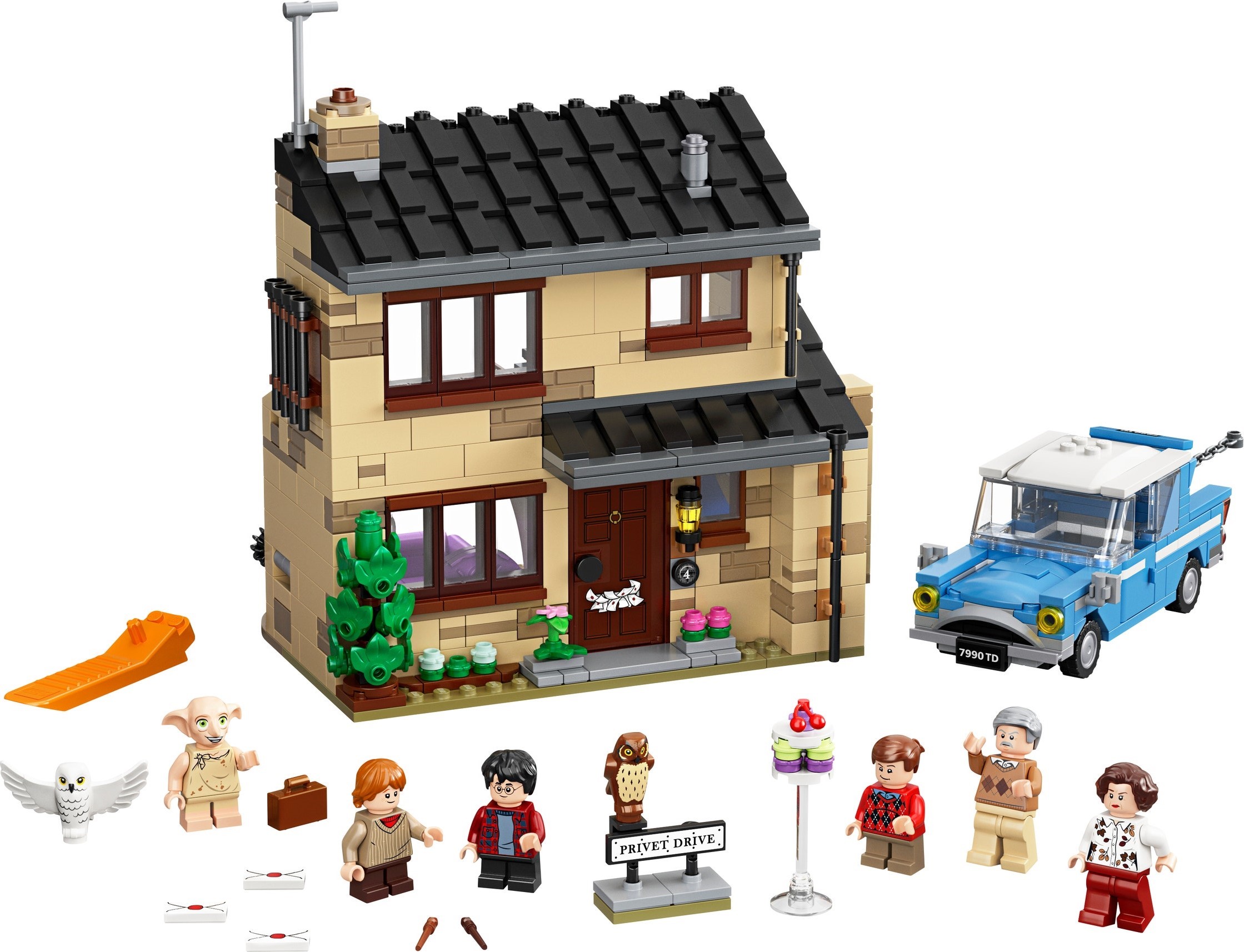 Official description: Explore 4 Privet Drive, the Dursley family's home, and discover a whirlwind of excitement!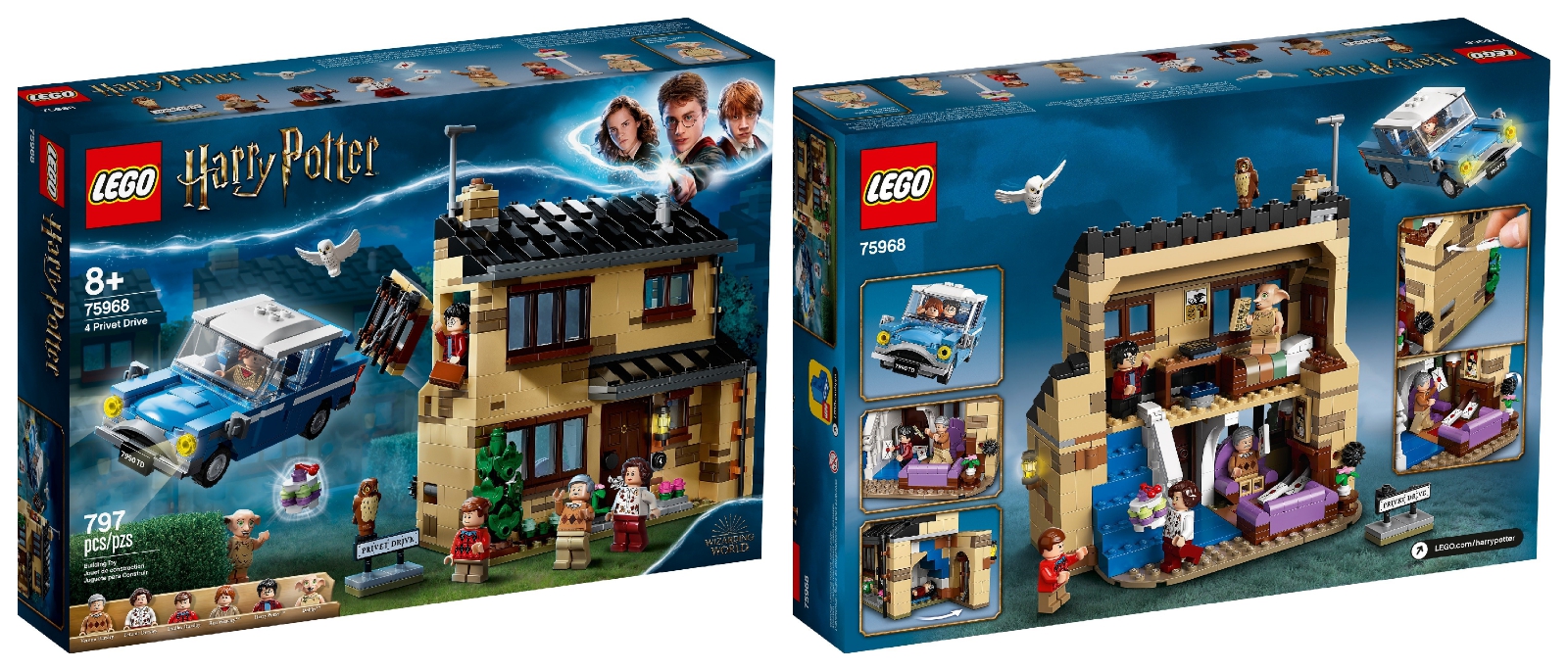 This is with no doubt my favourite set of the wave. I love all the new minifigures, the house looks incredible and the car is a nice inclusion. We have the whole Dursley family with brand-new prints on them! Interior of the house is really cool. There are details all around such as the lavender sofa and armchair, the cake Dobby levitated, it even holds a play feature to drop the letters down the fireplace to replicate the scene where Harry is invited to Hogwarts by letters that just keep coming every day. It even holds a "secret" room under the stairs where Harry can be put in, just like in the movies.

75980 Attack on the Burrow
Here we have the set that is most people's favorite of the wave, and I definitely see why that is. Attack on the Burrow
 includes 1047 pieces and 8 minifigures: Ron, Ginny, Arthur and Molly Weasley, Nymphadora Tonks, Bellatrix Lestrange, Fenrir Greyback and Harry Potter. It will retail for US $99.99 | CAN $139.99 | UK £89.99. The Burrow measures over 13" (34cm) high, 8" (22cm) wide and 7" (18cm) deep.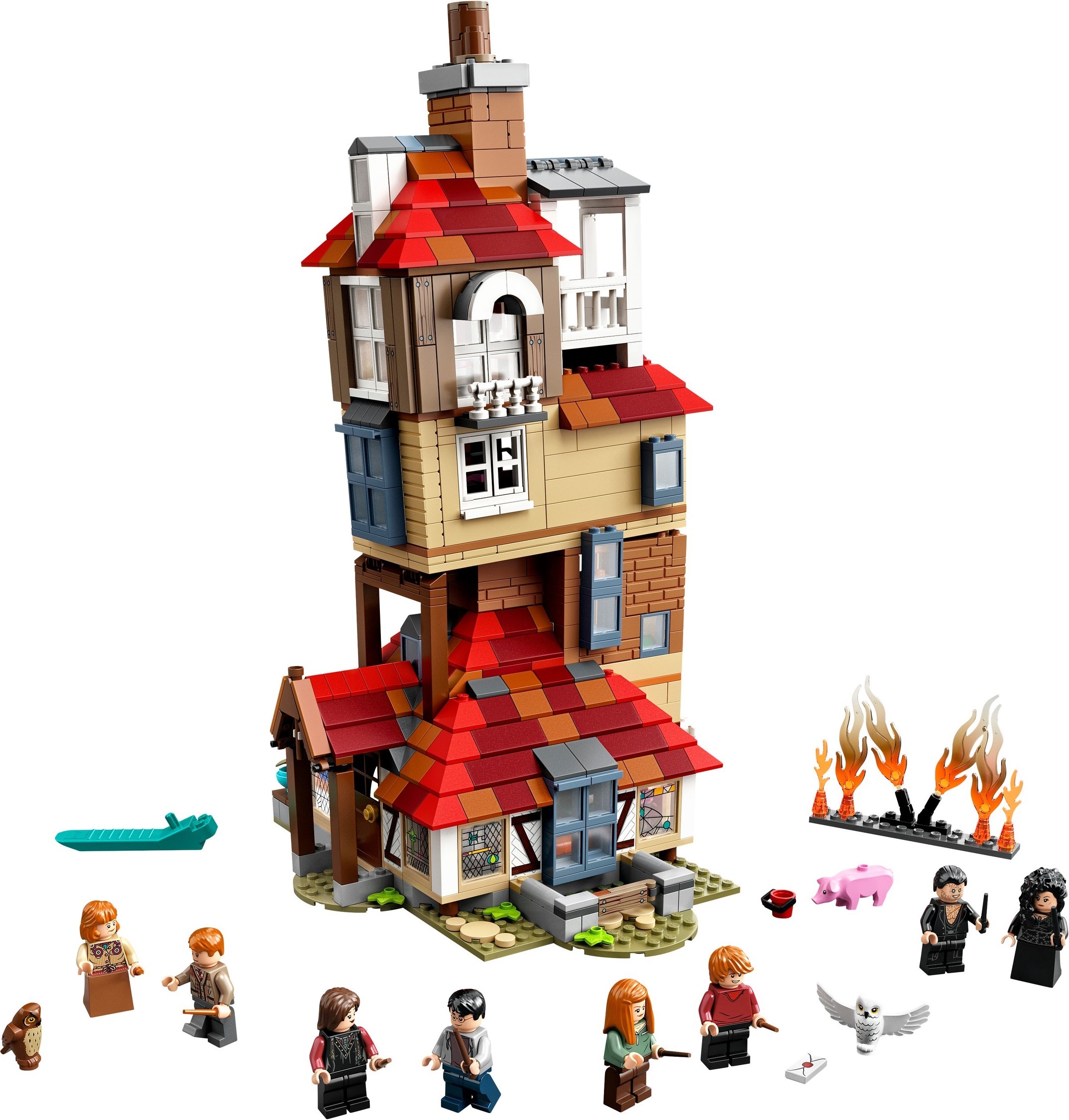 Official description: Explore the crazy, colorful Weasley house with Harry, Ron and the rest of the family and help protect it from the Death Eaters.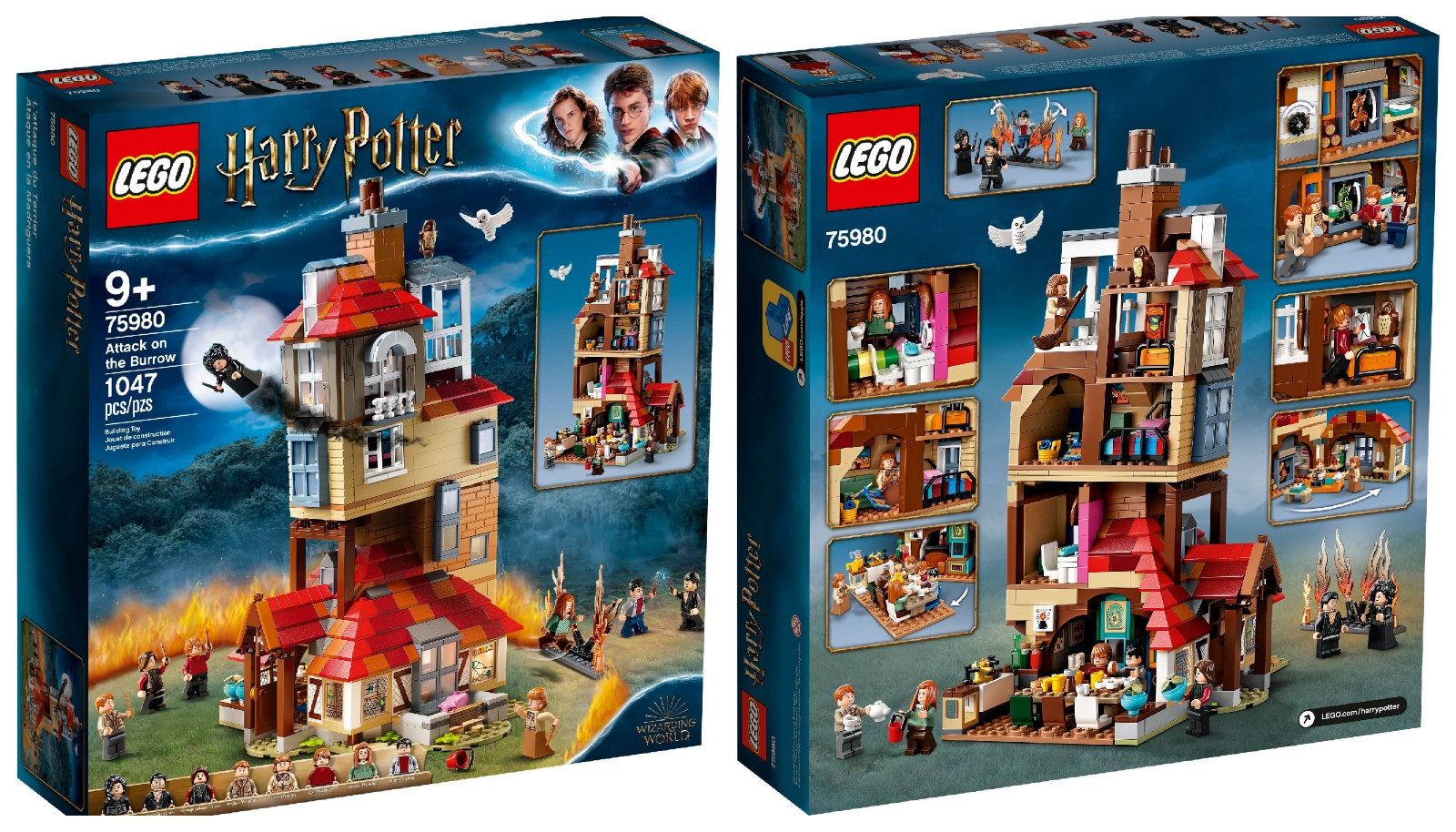 A great set, my second favorite of the bunch. Some minifigures worth mentioning are new Bellatrix, new Molly and Arthur Weasley and for the first time we have Nymphadora Tonks in a set! I'm so glad LEGO included Tonks since we've never gotten her before. The house itself is just stunning! LEGO managed to keep all the details and shapes of the Weasley house, I especially like how they captured the angle of the top half of the house. The interior is represented very well! The dining room and all the bedrooms are perfect! Such a great set.
75969 Hogwarts Astronomy Tower 
The newest playset Hogwarts extension is here! Hogwarts Astronomy Tower set includes 971 pieces and 8 minifigures being Harry Potter, Hermione Granger, Horace Slughorn, Luna Lovegood, Neville Longbottom, Ron Weasley, Lavender Brown and Draco Malfoy. It will retail for US $99.99 | CAN $139.99 | UK £89.99. The set measures over 15" (40cm) high, 11" (29cm) wide and 6" (17cm) deep.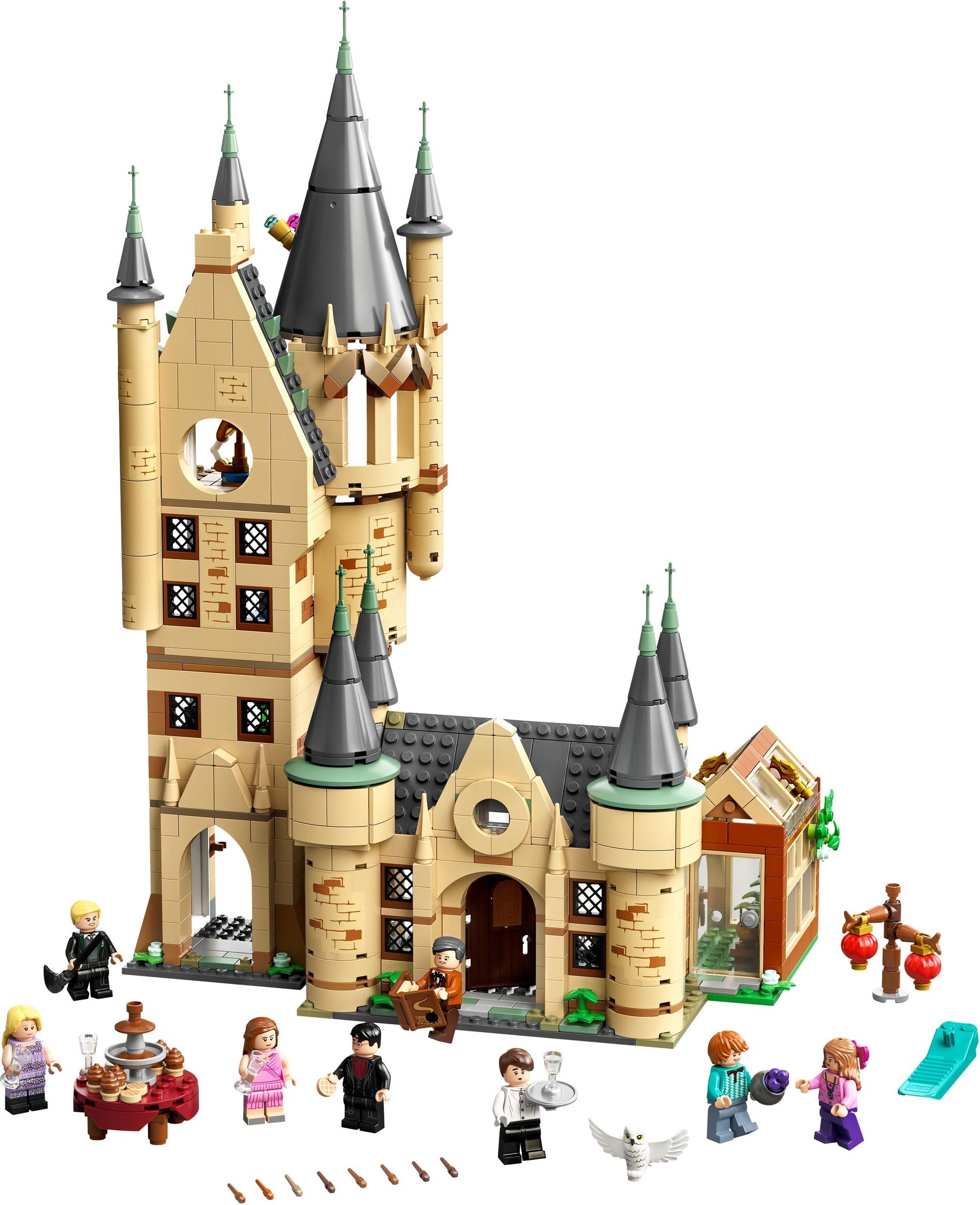 Official description: Visit Potions Master Horace Slughorn's classroom and office, check out the magical mandrake in the greenhouse, then explore the Ravenclaw dorm and the cool astronomy equipment.
We have another Hogwarts extension! This one connects seamlessly with LEGO Hogwarts sets 75953, 75954 and 75948. I gotta say, the minifigures are the highlight of this set for me. Although I won't be getting the full set, I'll be getting some of the figures, especially Luna and Hermione! There are hidden details inside the tower such as Professor Slughorn's potion class and many, many more!
Overall this is one of the best LEGO Harry Potter waves ever and certainly my favorite one! So many great sets, honestly there isn't a single bad one! I'll definitely be getting the Forbidden Forest and maybe 4 Privet Drive too! Till next time,
Borna (@bornabrick)
Get the Latest LEGO Sales & Deals
Images are from Brickset unless otherwise specified