It's only a machine…
Ever thought of a LEGO set so brilliant you'd like to share it with the rest of the world? Well, the other day I was browsing on the internet (like most do these days) when I came across such a set: The LEGO Time Machine. It had been buried along with countless other ideas in the LEGO IDEAS website. Which is why now I'm only mentioning it, as it was the first time I've seen it myself. While it is not an actual LEGO set yet as such, I feel it deserves a lot more attention than it has been getting. Believe it or not, I have mentioned this as an idea for a set in a previous blog and it seems someone was actually paying attention and made it!
The model I'm writing about is none other than the 2002 Time Machine from the movie aptly named "The Time Machine" which appears in the movie of the same name. While most of you are familiar with the older 1965 machine, along with the original movie (yes, there have been others), this one, with the help of the design team at Warner Bros Studios, gave it a much needed update. When you look at it, you'd think it could actually work and given that Simon Wells (great grandson of H.G. Wells) had a hand in designing it.
Personally, I loved the steampunk design, but unfortunately, I did not like what they did to the movie. That being said, it's the model I'd like to talk about today and why I hope LEGO would make it a reality.
The Actual Movie Prop
But first, a bit of trivia.
Did you know that the 2002 Time Machine was the biggest and most expensive prop ever to be built for a movie at the time? Some say, because it was so expensive that actors and sets played a smaller role in production. The movie prop was 3.2 meters high, and weighed nearly 2700 kilos. It was made mostly of aluminum and polycarbonate to mimic brass and glass, and the chair was an exact replica of the one used in the 1960 movie version. Also, the idea to incorporate Fresnel lenses came from the fact that the time traveler in the novel is mentioned as a professor of physical optics.
It also blew out the budget so much, there were plans a-foot to shelve the movie.
And as mentioned above, Simon Wells' sketches are what the machine is loosely based on.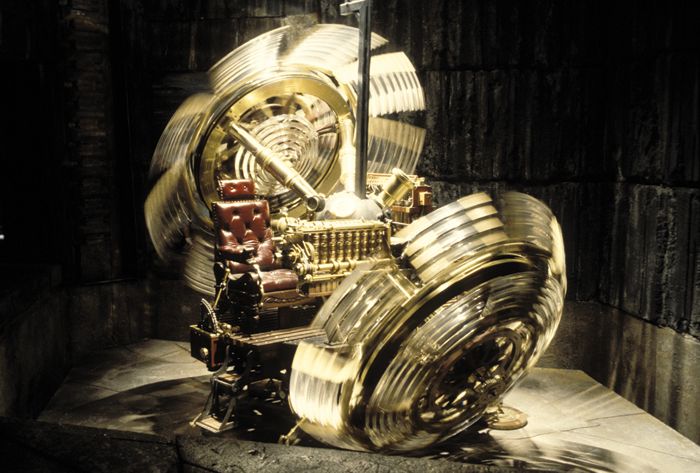 The LEGO Time Machine
This current design was put forward by Darren Jones in January this year, it took him 220 hours to complete. The dimensions of the LEGO Time Machine model are approximately 46 cm x 47 cm x 37 cm. It's not to minifigure scale, though he has shown minifigures that could be included as a bonus.
The construction is a mixture of Technic and System LEGO parts. It's made up of 2,998 pieces and this was remade to meet the strict limitations set by LEGO IDEAS, though the actual set had 300+ more pieces. To date, he has not shown a picture of what the original version of the LEGO Time Machine would look like, but according to him, the model had a lot more detail. I wonder if he was kidding…
Darren has also made the entire model move, in as much as one can, given the limitations of LEGO. That is a feat in itself, as he has also included a video to demonstrate this. With the prime example of the rotor dishes rotating clockwise and counter clockwise at the same time. I take my hat off to the guy as with so much detail in a model like this would be hard to beat. The last one to even come close was possibly the UCS Millennium Falcon, but that model was detailed and static. This is something else.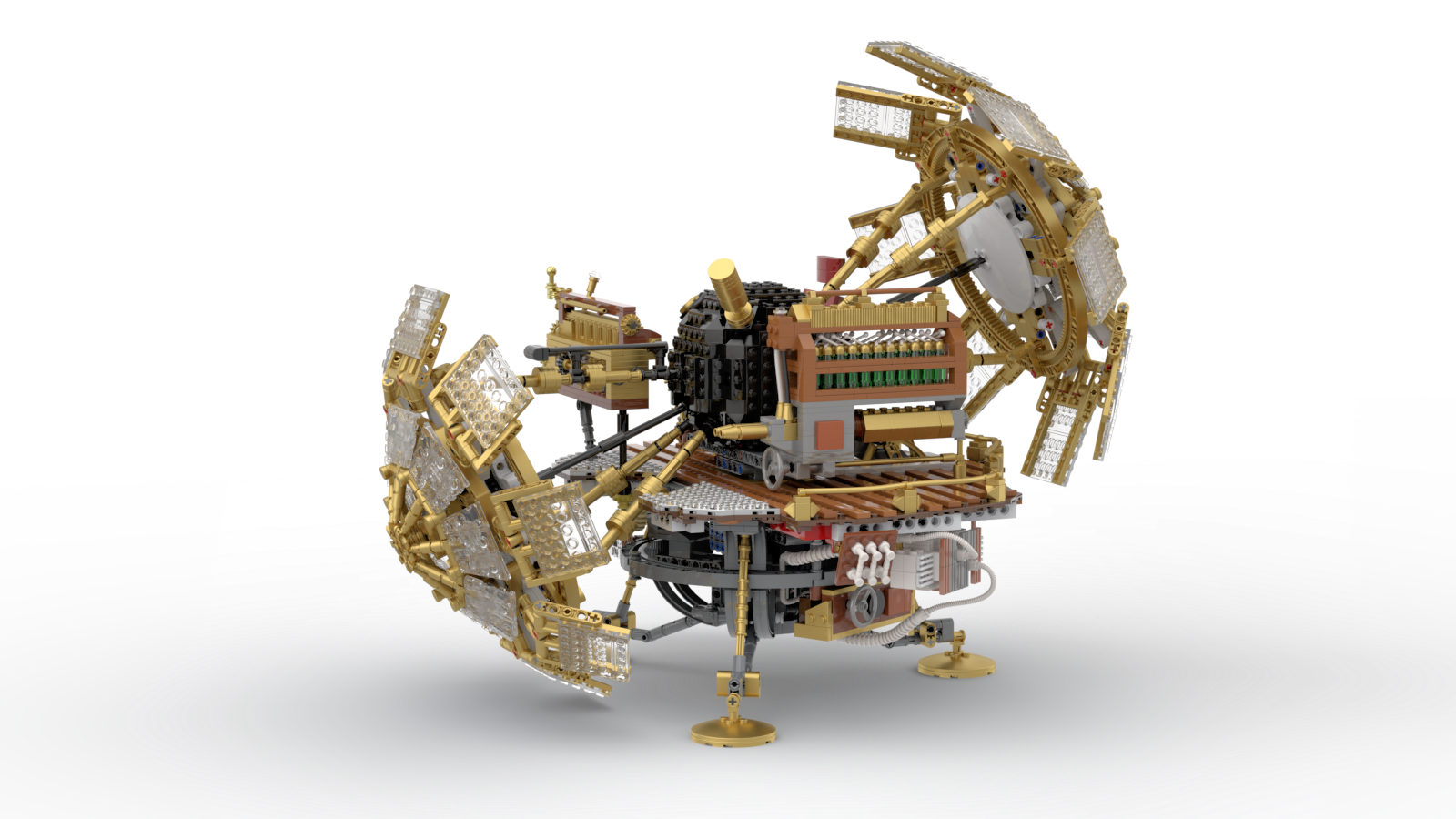 The Model / Set
According to Darren, because it uses mainly Technic parts and has multiple moving elements, it is a complex build, therefore not for the faint-hearted. But for someone who likes a challenge, you cannot find a better example out there.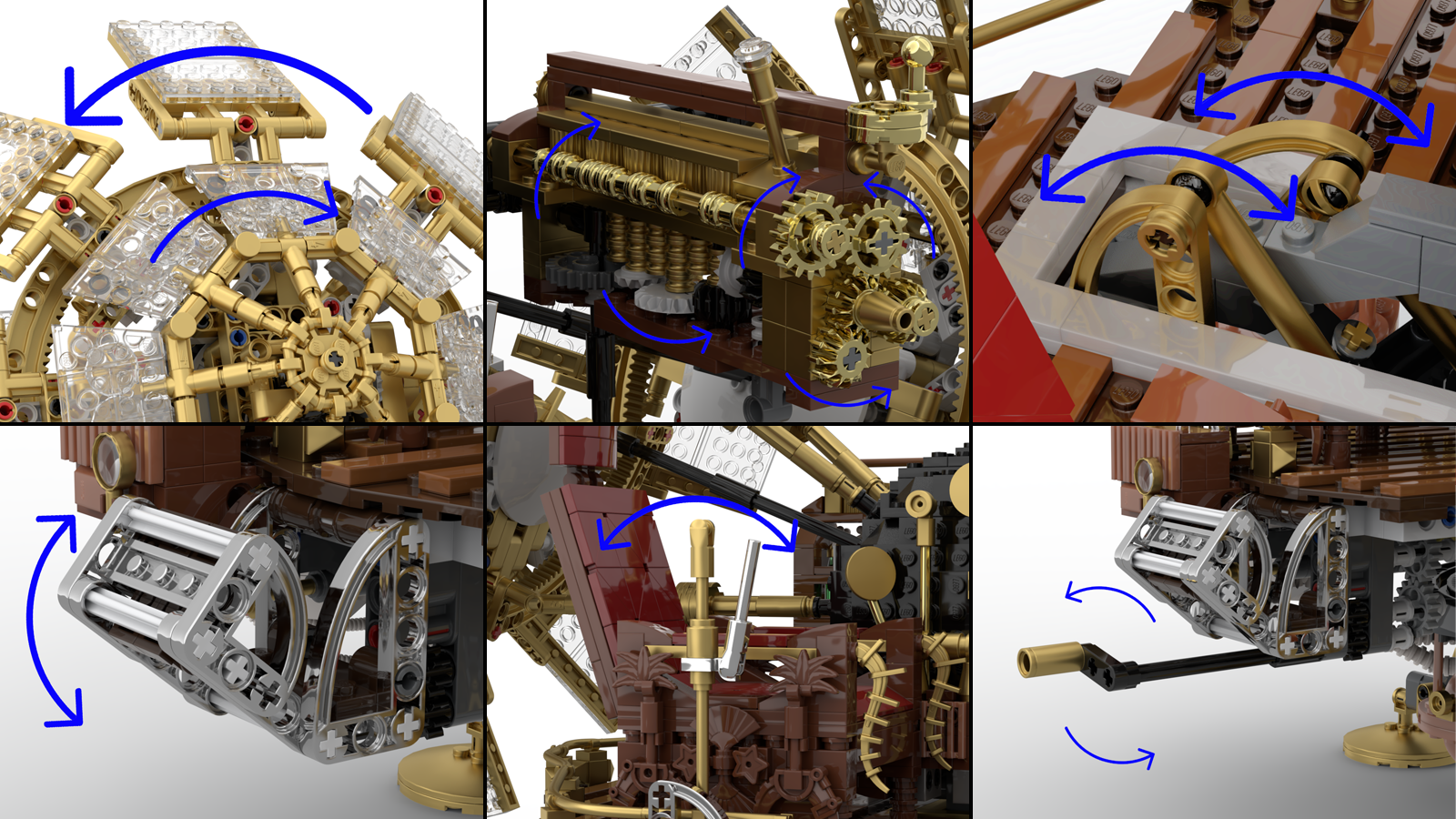 Get the Latest LEGO Sales & Deals
Some of the main features of the model include;
Bi-directional rotating mirrors
Spinning drums and gears along with date and time rings on the control panel
Moving piston elements at the rear of the machine
Folding ladder and gear handle
Although the original submission to LEGO IDEAS was in yellow, the main pieces would be made in gold. Not a common colour made by LEGO, but it's doable should he be successful.
As for movement, take a look at this video of a model made by Martin Fromme and tell me if something like this is not cool.
While I'm not suggesting they make the design do something like this, Darren has already made most of the functions on this machine possible using LEGO parts.
Why I think the LEGO Time Machine would be a hit with LEGO fans
Let's be frank here, Star Wars has always been number one when it came down to sets. Their sleek designs, and many various shapes and sizes along with the minifigures have always been a draw card with kids and adults alike. While there is an extensive material to choose from, Star Wars has had its day, and something fresh such as a model like this would definitely liven things up.
Given that most adults see the building of technical models as something of a challenge, this would surely merit making this set into a reality. It would be an achievement just to finish something like this. Can you imagine the lap of honour on the day you do?
That, and the fact it would look great on anyone's desk.

As for the size of the set, take a look at the UCS Falcon. I can't, because mine sits in a box broken up due to its size. It was just too big to sit anywhere, unlike the Time Machine, which falls into the "Goldilocks" range. Not huge, but not so small either to look like a toy. Just the right size, which would be a great conversation piece when you see it for the first time.
Add the historical significance. After all, it's the Time Machine based on (you guessed it!), the Time Machine novel which was written by H. G. Wells in 1885, and is still talked about even today, and you have yourself a winner.
Price-wise, it would probably be half the price of the Falcon or even less given by the piece count (UCS Falcon has 7,541 pieces) but would it be worth it?
Then ask yourself this, could you put a price on perfection?
Look at the detail on this, compare it with other sets out there, there is just no contest.
To look at what he has done when compared to the original model is breathtaking, and all this in a LEGO set. Currently it is sitting at 1,486 supporters with 473 days left, please help make this set possible.
Conclusion
If you haven't guessed already, I'm a huge fan. I was sold the minute I saw this, and should it make the grade, I'll be one of the many in line to buy it.
It has, to me, everything I'd want in a LEGO set. The design is close to perfect, and it's got just enough technical ideas to keep them guessing, especially how it was built and the way it functions. The bottom line is, it's not just a model, it's a Time Machine, which was something that blew me away the first time I saw it.
And how would I know this, you ask? Because at one stage I tried to build this myself, though mine was only a smaller minifigure scale version and nowhere near as detailed. I didn't have all the parts and the model was only on the LEGO design program so if you ask if it's possible, yeah, it is.

To say to those saying "This is not the only Technic model out there", that's true. I have built a few Technic sets, mostly cars and trucks. I even built a Star Wars robot at one stage, but in the end, they didn't do much. This actually does! It moves, and looks good into the bargain, though not enough to travel through time unfortunately…
In so far as how the set will work with a younger audience… Well, I heard through the grapevine there's a new film based on the Time Machine being considered. I hope it's better than the last one, as the best thing in that was this machine.
Finally, I'd like to say that if by some miracle that this does become a set, it would restore my faith in LEGO.
And if not, as the time traveler said: "It's only a machine."
All images are from the designer's LEGO IDEAS page unless otherwise specified
Get the Latest LEGO Sales & Deals