Who doesn't love celebrating anniversaries? Even more so if you're an AFOL and your favourite brick-making company is celebrating with you! The LEGO Group really knows how to do that in an awe-inspiring way that leaves everyone in shock – whether you're into building or not.
20th anniversary of the LEGO Star Wars sets
Let's start with the most recent one, shall we? Now, we all know this year is the 20th anniversary of the LEGO Star Wars sets. In 1999, just before The Phantom Menace hit cinemas, there was a convention held in Denver, Colorado, called Star Wars Celebration. Since then, 12 more conventions have taken place, mostly in the U.S.A., but also in Europe and Japan. The most recent at the time of writing, located in Chicago, started on April 11th and lasted until April 15th.
The LEGO Group created something extraordinary for this celebration. According to Michael McNally, the senior director of brand relations at LEGO, they wanted to do something in a smaller (!) scale, so instead of building a huge Star Wars themed model, they went with a humble Stormtrooper helmet-shaped build – that consisted of 36,440 Stormtrooper Minifigures!!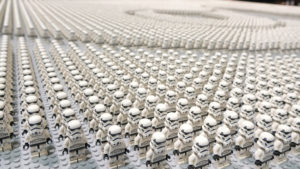 It took a group of 12 people more than 38 hours of work, but the result was – yes, I am going to repeat myself – truly extraordinary. But hey, don't take my word for it, see for yourself!
They aimed to break the Guinness World Record, which consisted of 35,210 Clone Trooper Minifigures, and they did! Guinness World Records adjudicator Christina Flounders Colon had the unenviable task of counting the individual Stormtroopers! To celebrate the record, Michael McNally accepted a certificate of achievement.
You can find a more in-depth article with some great images here, if you're interested.
The Dark Knight Returns
Of course Star Wars isn't the only theme that is the subject of a celebration this year. As you can guess from the title, Batman is also one of these themes. He's celebrating his 80th anniversary this year, and of course, the LEGO Group is right there celebrating with him.
Six LEGO Batman sets in total are releasing: one in June and five in August. These are: Mr. Freeze Batcycle Battle, Batmobile: Pursuit of the Joker, Batwing and the Riddler Heist, Batcave Clayface Invasion, Batman vs. the Riddler Robbery, and Batman and the Joker Escape. It appears there will be a little something for everyone, whether you're into Bat-vehicles or Minifigures, complex models or simple ones.
More info about the Dark Knight's upcoming sets can be found here.
And who knows, maybe there will be other surprises throughout the year celebrating this special occasion!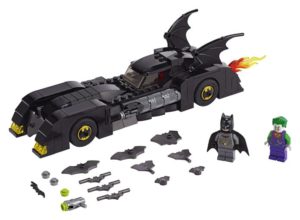 It Was All Started by a Mouse…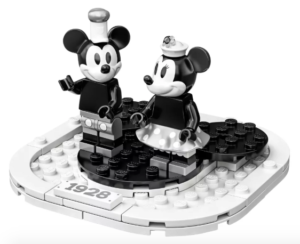 2019 may not be a round number anniversary like the two above, but in 2018 Mickey Mouse celebrated his 90th anniversary. And what better way to celebrate his birthday than with the iconic Steamboat Willie?
The idea was originally submitted in 2016 by Máté Szabó to the LEGO Ideas page, and after passing the review, it was announced that it had been approved to become a LEGO set in February 2019. Very shortly after, on April 1st, it was already on shelves, and probably in many houses by now.
Steamboat Willie was first shown at the Colony Theater in New York on November 18, 1928. Despite being an animation (an unpopular art form at the time), its liveliness stunned audiences. Moreover, it was the first ever animation that used synchronized sound and music, and was the first Mickey Mouse film.
Now, I'm not going to go too much into detail, since one of our authors already did that here, but let me just share a little animation, introducing the LEGO Steamboat Willie set.
Celebrating Anniversaries: What's Next?
Currently we have 20 years of LEGO Star Wars, 80 years of Batman and 90 years of Mickey Mouse celebrating anniversaries in LEGO form. Of course these are only the ones we know of. Like I said, who knows what surprises TLG has in mind. So let me ask you, which sets or LEGO Minifigures would you like to see celebrating their anniversaries in LEGO? Do you have a set in mind that you think would be epic if it's brick-built? Let me know in the comments!
All the images used in this article belong to the LEGO Group.