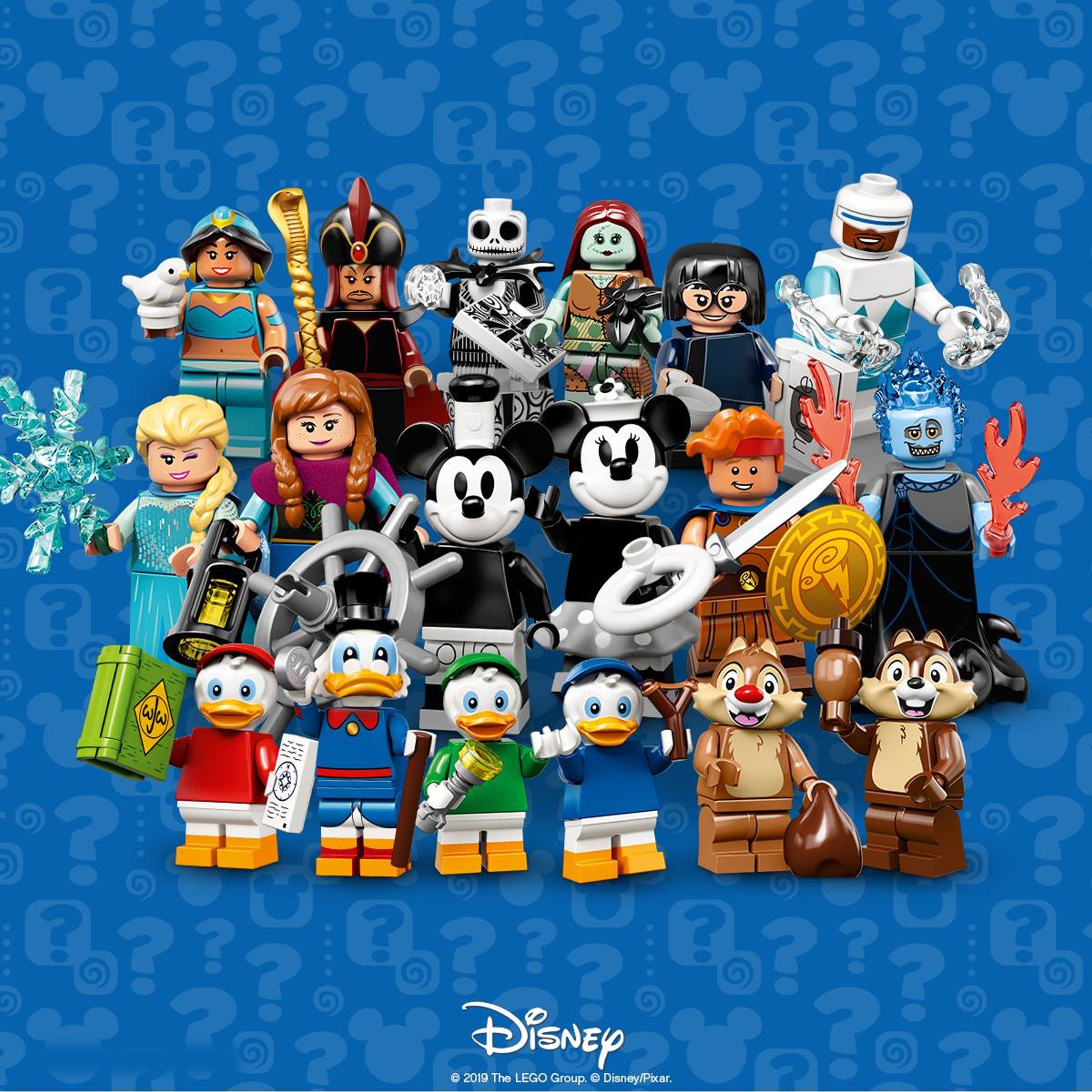 Welcome to Part 2 of my Disney CMF Series 2 retrospective. That's a lot of words. Ok. I have to admit, Series 2 has not impressed me thus far. The figures weren't bad – in fact, they were amazing. However, the first part of the series consisted of figures that were quite similar – meaning we didn't get a ton of very unique, specific moulds and prints. However, from what I can see, the second half of this series seems like it can definitely pick up the slack of the first half.
Released in 2019, three years after the original series, these minifigures retailed for USD 4 each. There were 18 figures in the entire CMF.
Also, I'd like to disclaim that I am a very casual Disney fan – I've not even watched every Disney classic (Yes, I know, I had no childhood). For example, I've not seen Mulan. Anyways, I believe that my basic knowledge of these characters will carry this article. So without further ado, enjoy!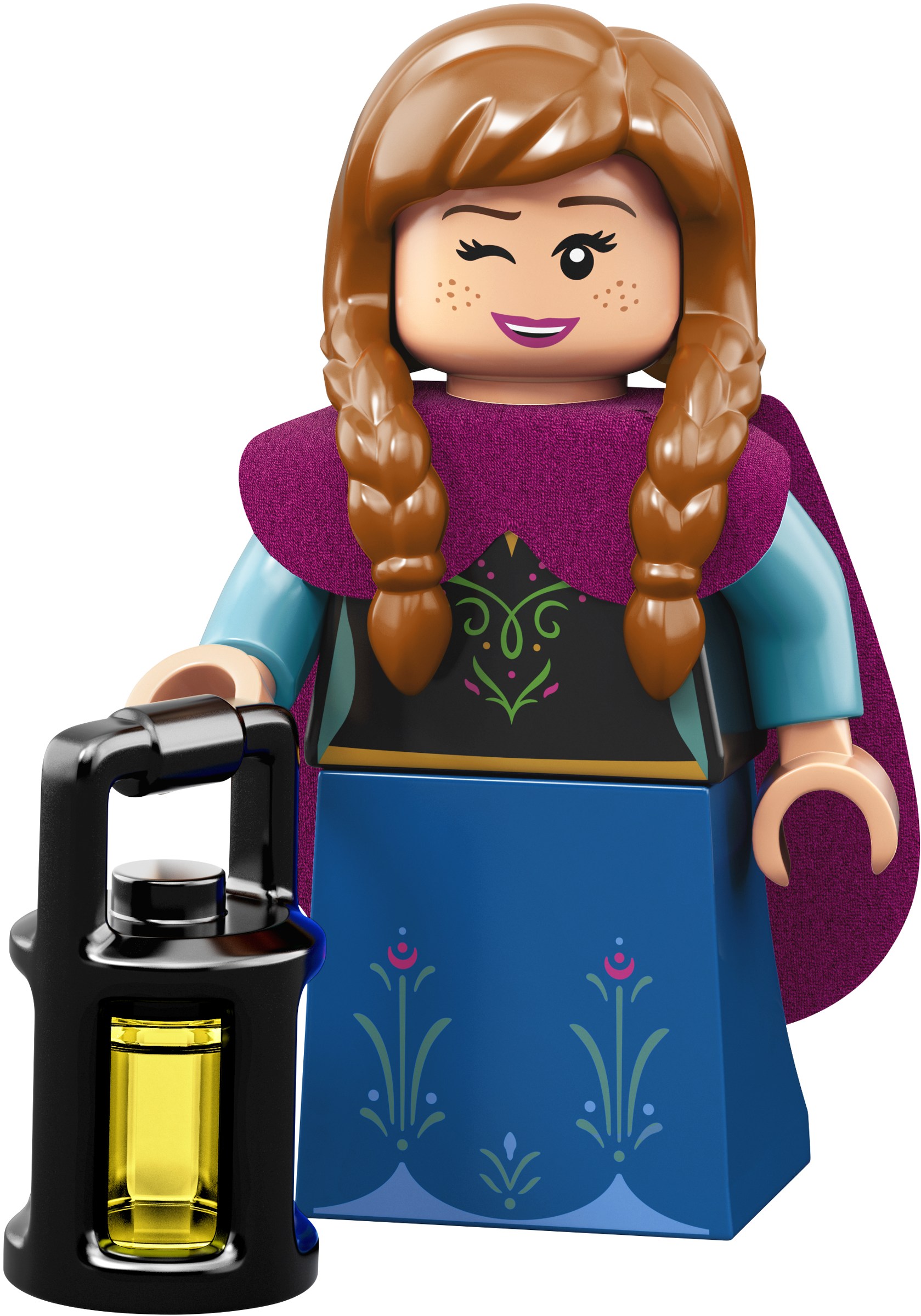 I mean, it was quite obvious that LEGO would also make Anna in a series to go alongside Elsa. She came with a new hair mould, which was extremely accurate. Both her faces were amazingly printed – with a very bubbly, animated vibe. She came with a new cut of a cape in purple. Both her torso and dress piece prints were also done extremely well. Her accessory was a lantern piece. Overall, this was a nice figure! 10/10.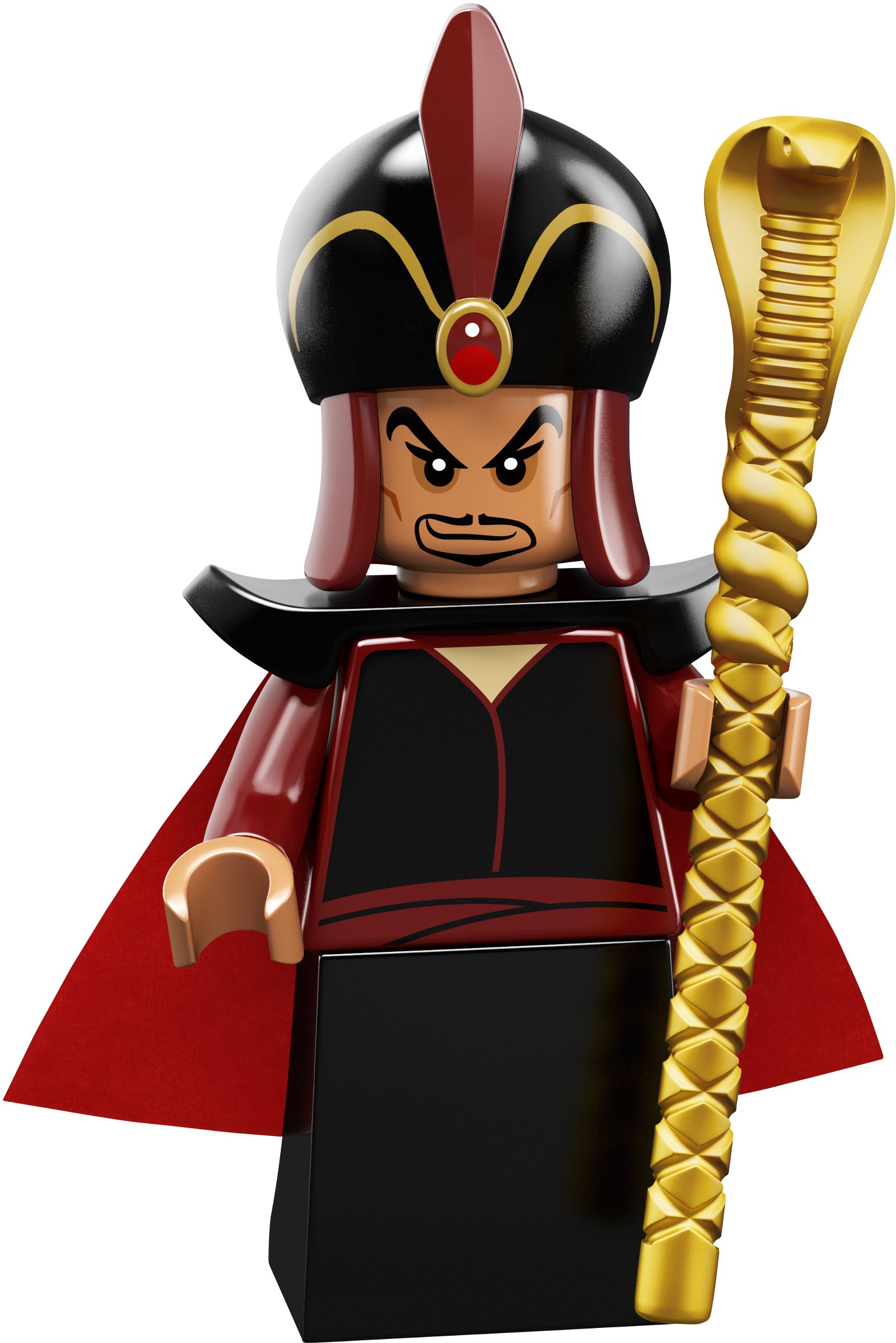 To add to their Aladdin minifigure collection with the Genie and Aladdin from the first CMF series, LEGO gave us the villain – Jafar. They created a completely new mould for his headpiece. I really like how they made the jewel on the front of the headpiece – as it looked like an actual jewel. His amazing face print was the definition of a moustache-twirling villain. They gave him a pauldron piece and a new cut of the cape. His torso print was quite simple, yet effective. He was equipped with his golden snake staff from the movie. I enjoyed this figure, and therefore he gets a fitting score of 10/10.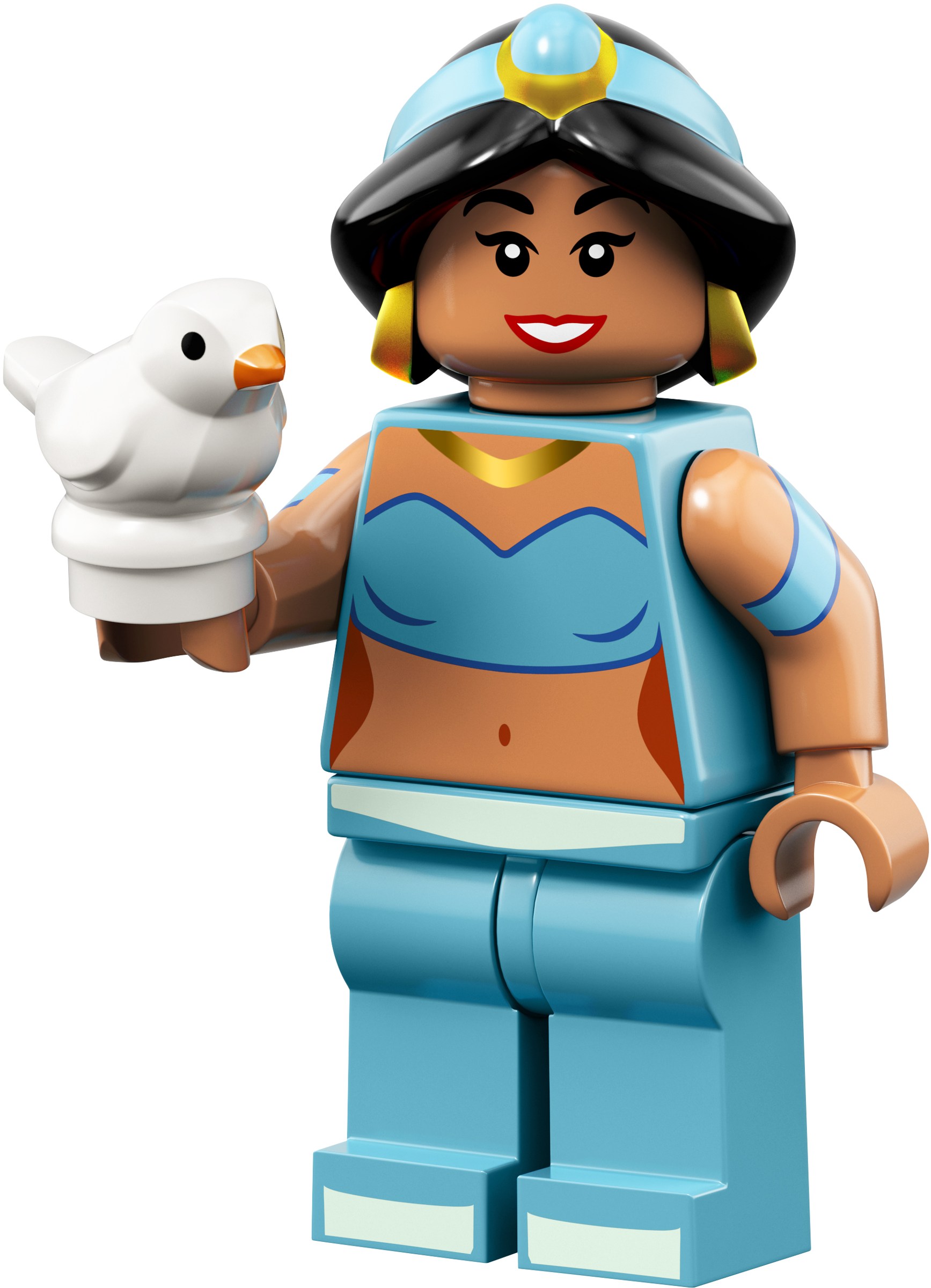 Following Jafar, Jasmine made her appearance in this series for the first time in minifigure form. We previously got her in minidoll form, but getting her as an actual LEGO minifigure was exciting. She came with a dual moulded headpiece – with her headband, hair and earrings all attached into one mould. Her faceprint was quite lovely. Her torso print – simple. However, to switch things up, LEGO gave her arm printing on both arms to accurately represent her outfit in the film. The designers then finished the figure off with three streaks on the legs to continue their detailing. She also was given a bird as an accessory. 10/10.
Get the Latest LEGO Sales & Deals
Woah. This figure has to be the most detailed minifigure from the entirety of Series 2. Like, all the previous figures discussed were cool. But Hades was just unbelievable. Based off his appearance in Hercules, Hades reused the 2016 Ghost Rider headpiece to represent his fiery blue head. They used a light blue colour for his face – where they gave him a very creepy face print. That was a perfect reuse of a piece that LEGO has done in the past. Hades was given the typical torso printing. However, we got dual moulded arms which was nice. His leg piece was a new mould with proper printing and unique to him. This figure should've been the learning curb that all LEGO employees should've looked at. This figure is how you reuse preexisting LEGO moulds properly. Finally, he came with two fire pieces. Overall, this figure was an 11/10.
Hercules was pretty sick. He came with a completely new hairpiece. I loved how LEGO moulded his hair to match his iconic hair wave in the movie. Both his faceprints were quite cool, and they even made sure to define his chin. His torso was amazing, and so were his legs. LEGO even decided to give us sidearm and leg printing for the minifigure, along with a blue cape. Finally, he was equipped with a printed shield and a sword. 9/10.
Surprise surprise, I haven't seen the Nightmare Before Christmas. The movie looks quite creepy, and LEGO did a great job portraying the unsettling appearance of Sally and Jack Skellington. She was given a new, unique hairpiece. Her face printing was extremely creepy – especially because of the stitch printing for the scar and mouth. Her torso was just so well put together, as it accurately matched the patchy appearance from the movie. She also got two different dual moulded arms – one with two different shades of green, and the other with the aqua green and brown. That was great attention to detail. Her legs continued this patchy printing – as it had dual moulded legs and printing on them. The printing continued onto the side of legs too. Finally, she received a withered flower as an accessory. 11/10.
This has to be one of the most detailed figures from the series. Jack was designed equally as creepy as Sally. His face was a completely dead expression – as if he was staring into your soul. His mouth was terrifying. LEGO created a unique bow-tie for him to match his iconic look in the movie. Then LEGO gave us the most detailed torso and legs of the series, with continued into the side arms and the side legs. He came with an equally as printed present piece, which was filled with 1×1 circular tiles with a snowflake print on it. 11/10.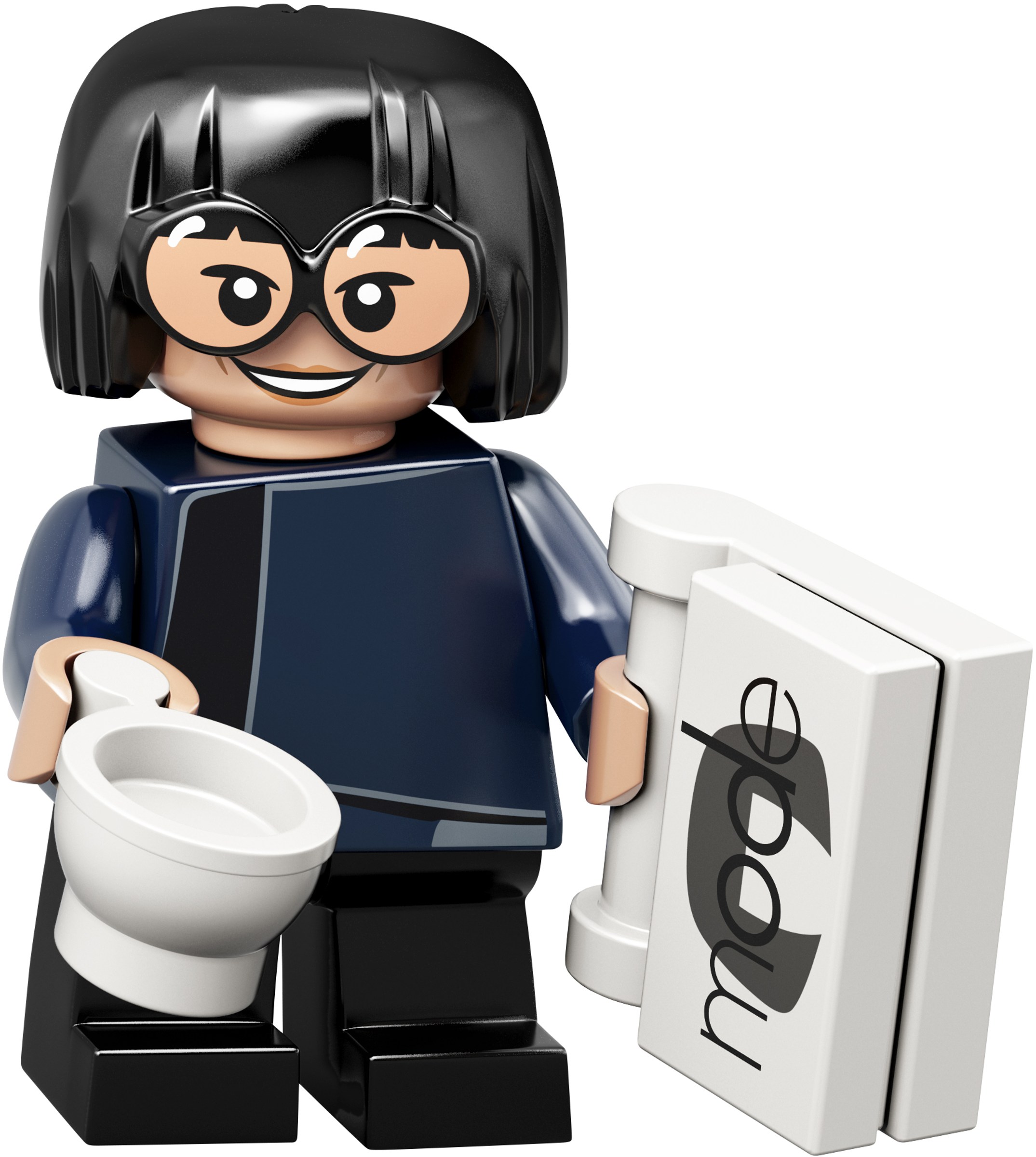 Following the release of Mr. Incredible in Series 1, LEGO decided to give us the iconic Edna Mode in this series. Her new hair mould was amazing, as it had her massive, iconic glasses attached to her hair. The printing on the glasses made it as if her eyes were magnified. They did well. She had quite a simple torso print and no leg printing. Her accessories consisted of a sketchbook – which had a printed 1×2 tile. Finally, she came with a teacup. 9/10.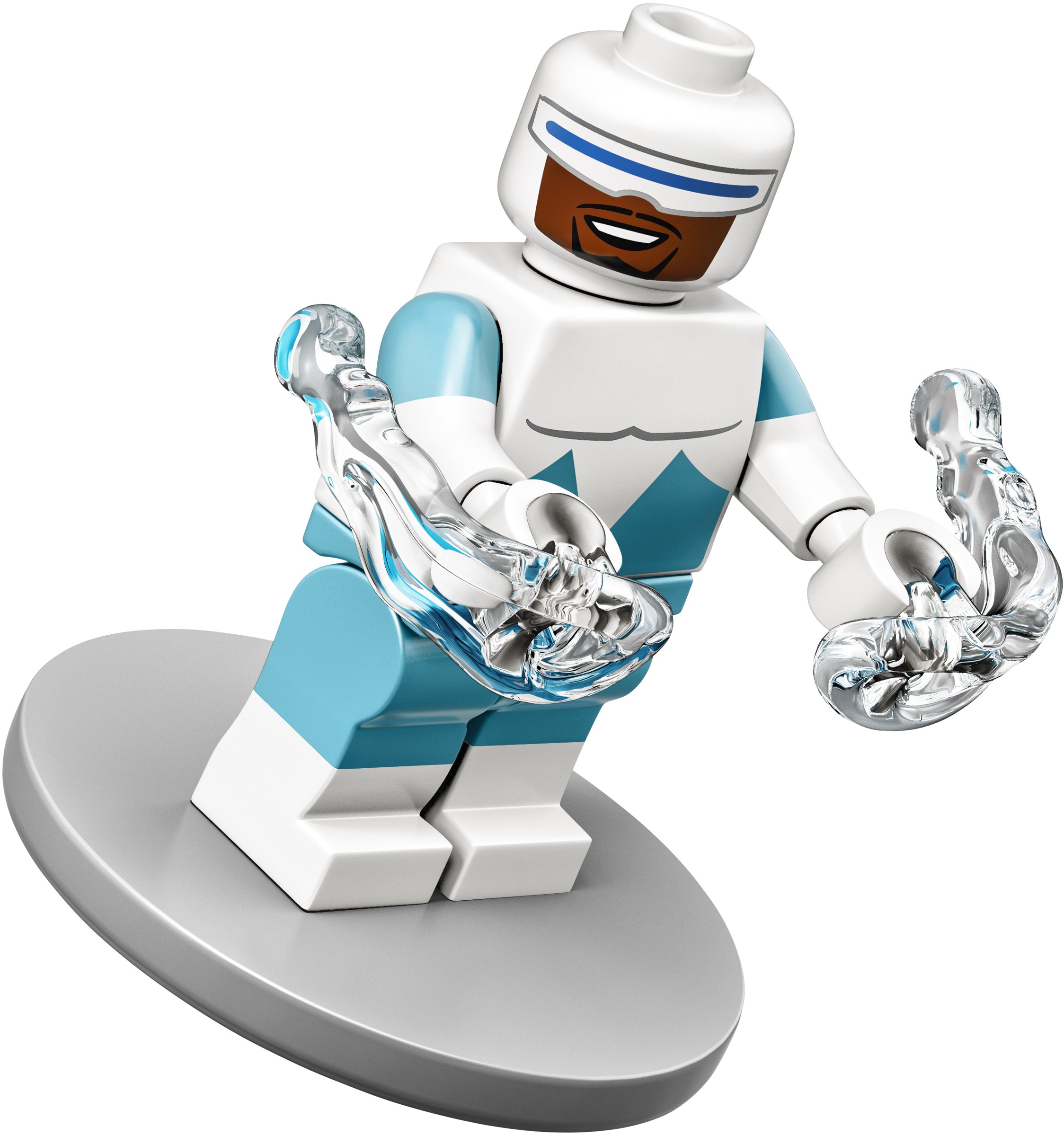 And finally, the final minifigure of Disney CMF Series 2 is Frozone. He also is coincidentally the second of the two figures that I own from this series. I'm glad that they didn't create a new mould for his head, because it would've been too bulky. The face print captured the iconic look of the character. His torso print was quite simple, and they also gave him dual moulded arms. His legs were a dual moulded blue and white. Finally, he came with two power blast pieces to represent his ice powers and a large, circular dish – which I don't know what it was supposed to represent. 9/10.
And that's it for every single Disney minifigure released in CMF form! I hope you enjoyed these! I'm planning on writing an article for all the CMF series, but I'm not 100% sure yet. Anyways, let me just say it. Disney CMF Series 1 was better than Series 2. It had so many more unique characters and moulds which is why it takes the cake. Anyways, I am feeling quite tired now, so enjoy your day! Peace!
Images from Brickset
Get the Latest LEGO Sales & Deals