In 2014 LEGO started a new line of Star Wars merchandise. Priced below £10, Microfighters are small affordable LEGO models that depict iconic vehicles from the Star Wars universe. The product line has been very successful, lasting over 6 years. However, there are still many Star Wars vehicles that LEGO has failed to depict in Microfighter form. LEGO has never made Quadjumper, Hammerhead Corvette and First Order Star Destroyer Microfighters. Or have they?
Prepare to be amazed! Within the game files of LEGO Star Wars the Force Awakens, there are tons of official LEGO models that most AFOLs don't even know exist. This article is the second in a series of articles that will explore official LEGO models that LEGO has never made into sets.
If you're excited to read this article please check out my first article on Unseen LEGO Star Wars Microfighters. Also consider checking out my article on Official LEGO Star Wars Models That You Never Knew Existed.
Hammerhead Corvette Microfighter
The Hammerhead Corvette was first brought into Star Wars cannon in the second series of Star Wars Rebels. Since then, the vehicle was featured in Rogue One. Admiral Raddus ordered the Corvette to ram two Star Destroyers into one another. Crashing Star Destroyers tore down the shield gate over Scarif, enabling Jyn Erso to transmit the Death Star plans to the rebel alliance. Considering the vehicles prominence, it is somewhat surprising that LEGO never produced a set based off the Hammerhead Corvette. Hopefully LEGO will make this vehicle a set in the near future.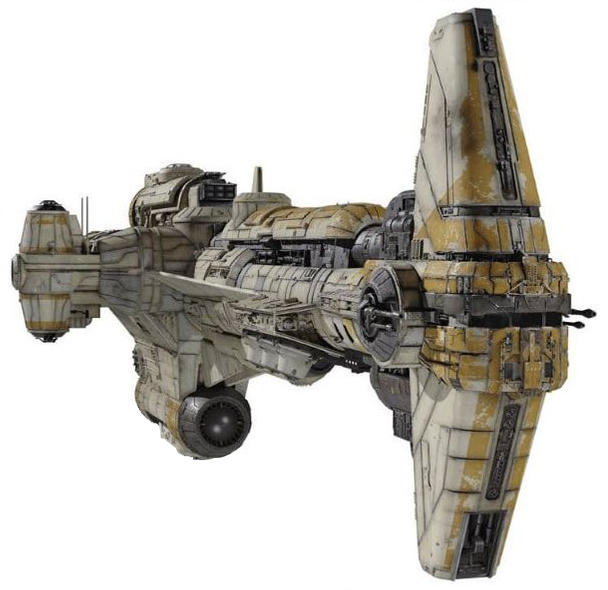 This is a Microfighters model that can be found in the Star Wars the Force Awakens video game. It looks stunning. I'm baffled the designers were able to squeeze so many details into such a small LEGO model. The only problem I can see with model is the use of the back plate with knob. I suspect the connection is very loose and would probably fall off frequently if LEGO decided to turn this model into a real set.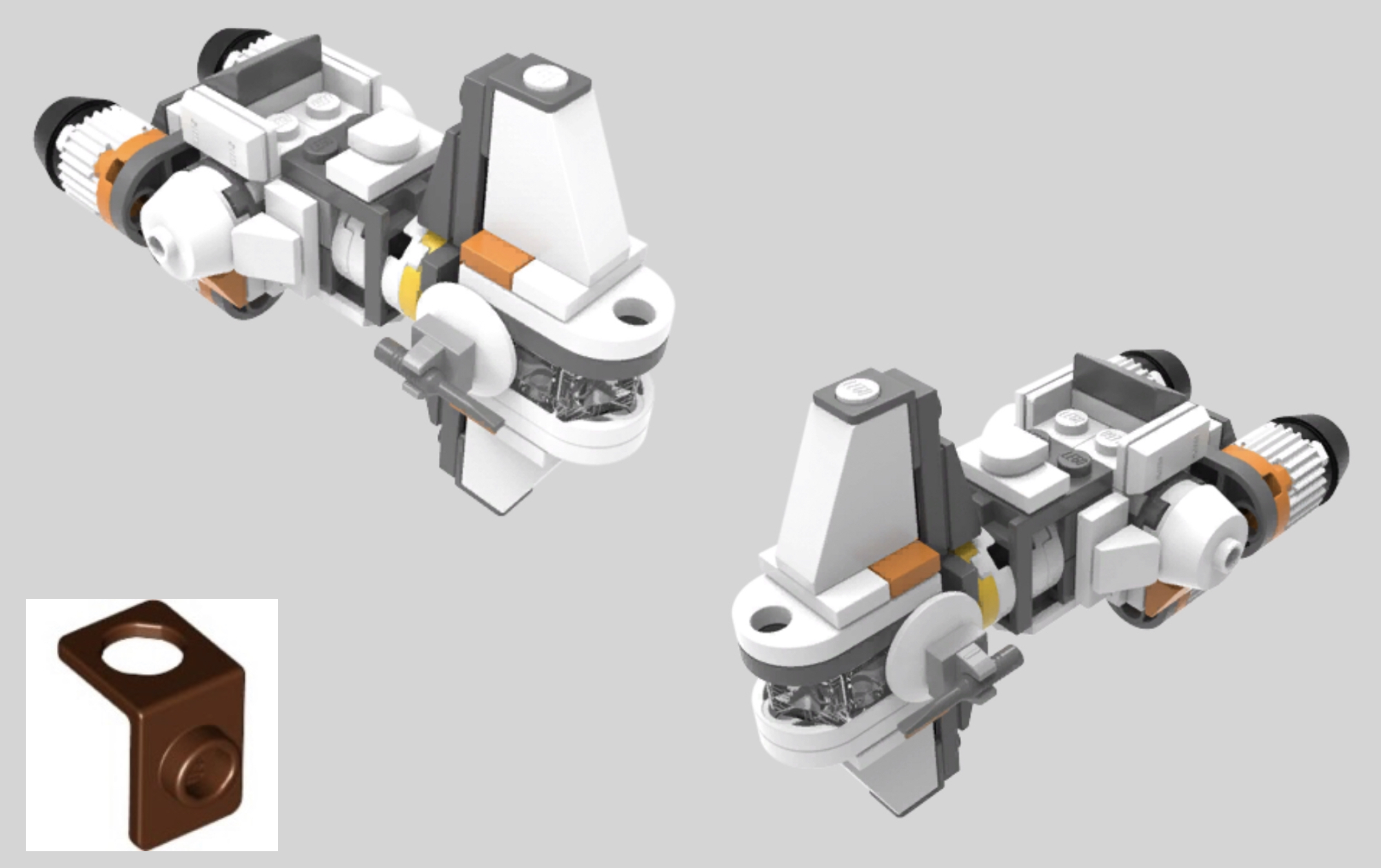 Poe's X-Wing Microfighter
Poe's Black One X-Wing was first featured in the Force Awakens. Unfortunately, the X-Wing was destroyed when Kylo Ren destroyed Raddus' hangar bay. LEGO released a play scale version of Black One back in 2015. The set included 717 pieces and included three minifigures. LEGO have actually made a Resistance X-Wing Microfighter, however that set featured the generic blue and grey colour scheme rather than Poe's iconic black and orange.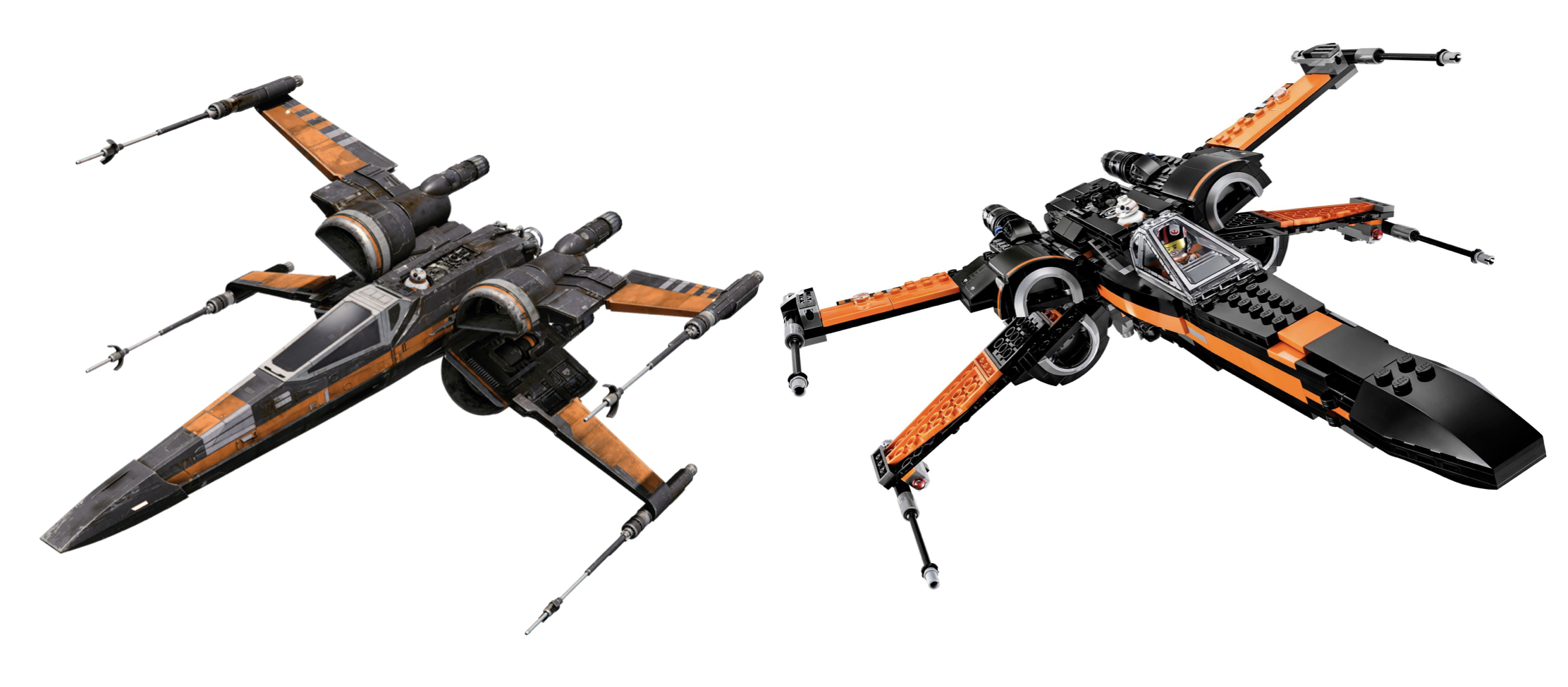 This is the Black One Microfighter that can be found in the Force Awakens video game. I'm fairly convinced LEGO will turn this into a set at some point. This model looks too good to never hit store shelves. I have to imagine that this model, combined with a nice Poe Dameron minifigure, would sell like hot cakes.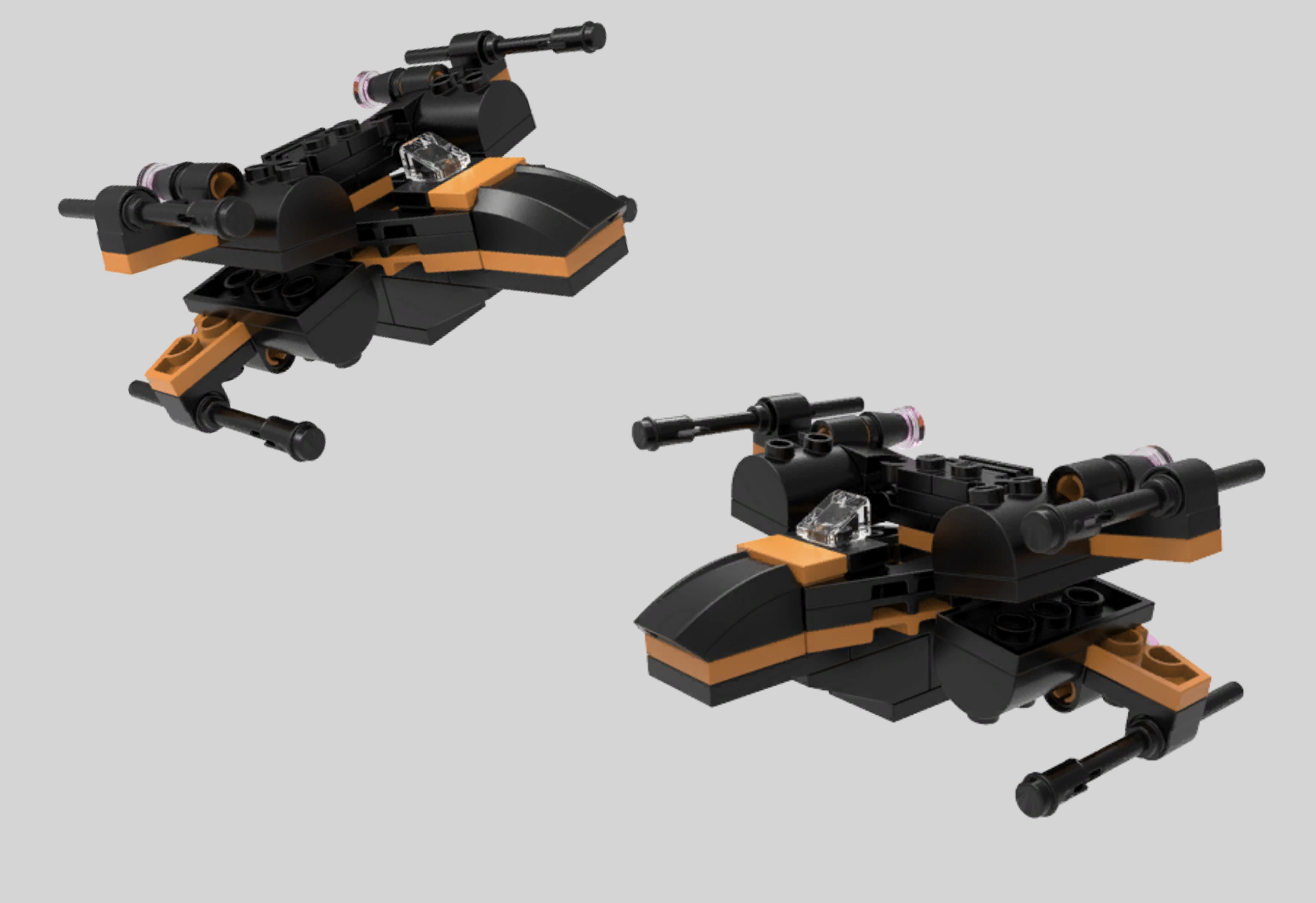 Luke's Landspeeder Microfighter
LEGO has produced a lot of sets based on Luke's landspeeder over the years. The X-34 landspeeder must sell very well as LEGO released a new version in 2020, mere months after the 2017 model left store shelves. Shockingly, LEGO has never made a Luke's landspeeder in Microfighter form (although the 2012 San Diego Comic-Con exclusive landspeeder model could arguably be described as a Microfighter).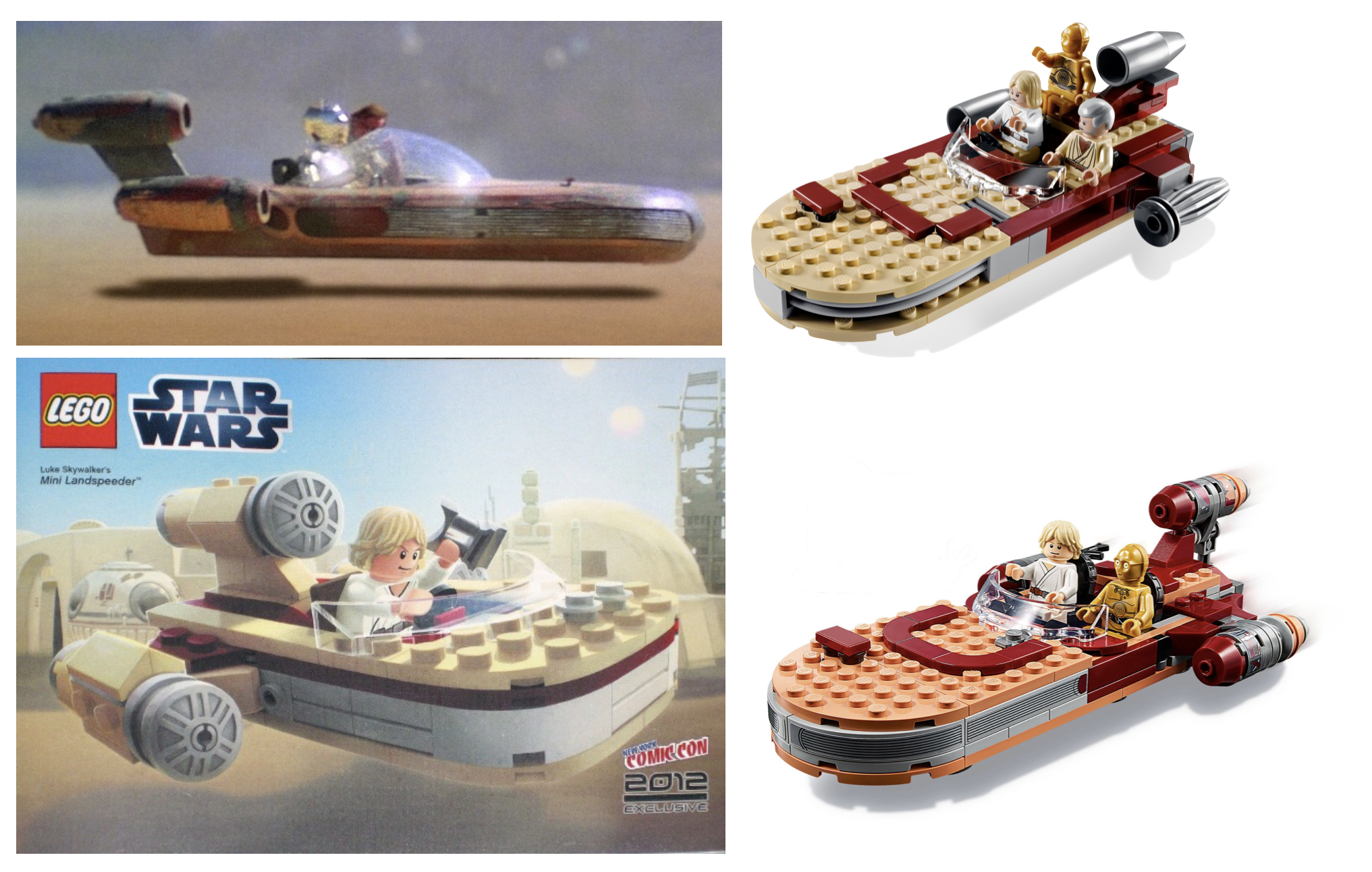 This landspeeder model is extremely similar to the 2012 San Diego Comic-Con model. However, there are a series of subtle differences between the models. For example, the side thrusters have a 1×2 light grey grill plate, unlike the Comic-Con exclusive.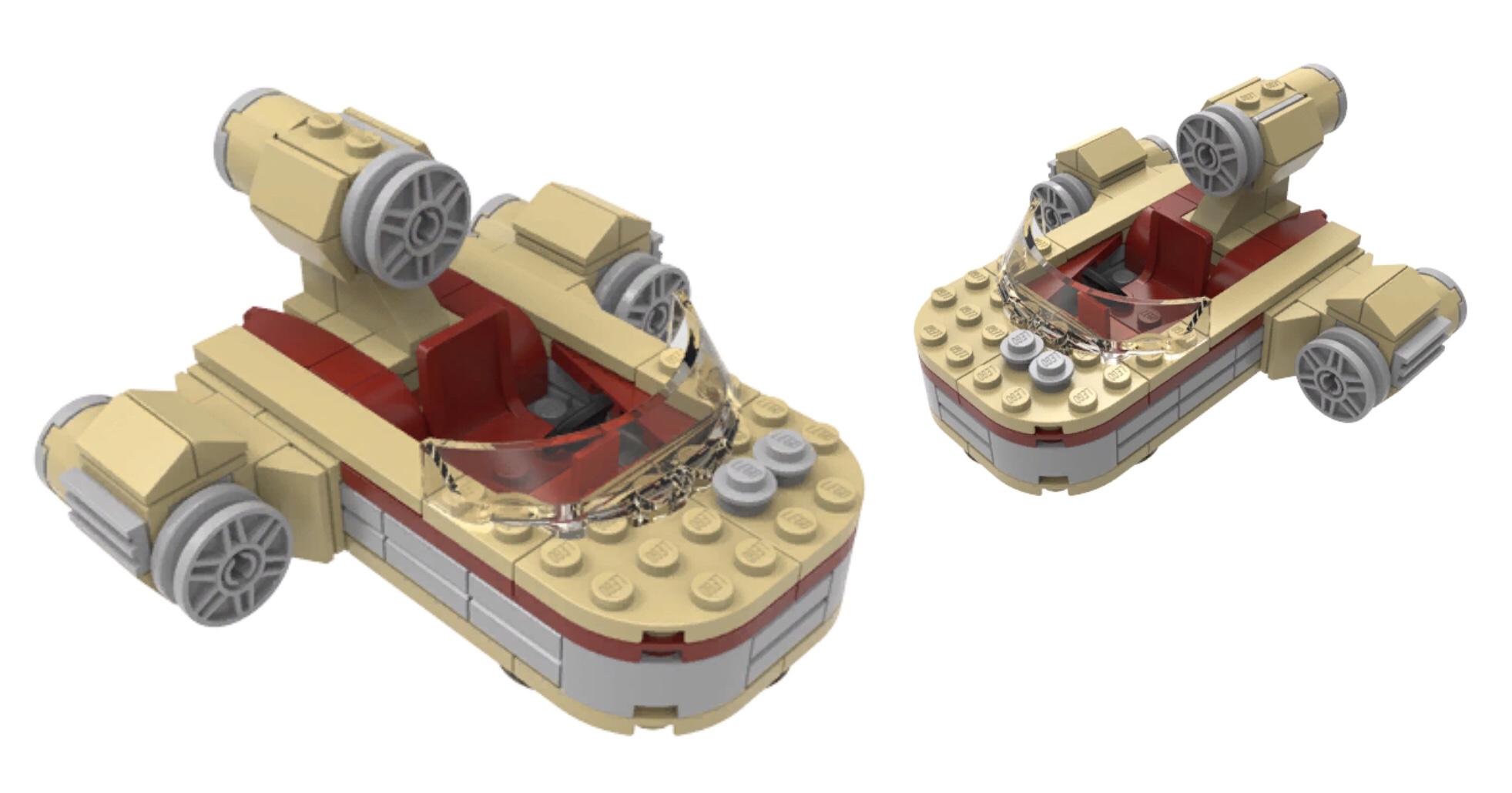 First Order Trooper Transporter Microfighter
The First Order Troop Transporter was first featured in the Force Awakens. The troop transport was designed to carry up to twenty stormtroopers into battle. LEGO released a play scale version of the vehicle in 2015. The set contained 792 pieces and an awesome Captain Phasma minifigure. It's actually one of my favourite LEGO sets of all time.

The transport was depicted as a Microfighter in the LEGO Force Awakens video game. Once again LEGO captured the ship's appearance beautifully. I wonder if the designers were able to incorporate a lowering exit ramp. Hopefully LEGO will release this as a set in the near future. Many fans would love a cheap way to get Captain Phasma and this would be a great set to include her in.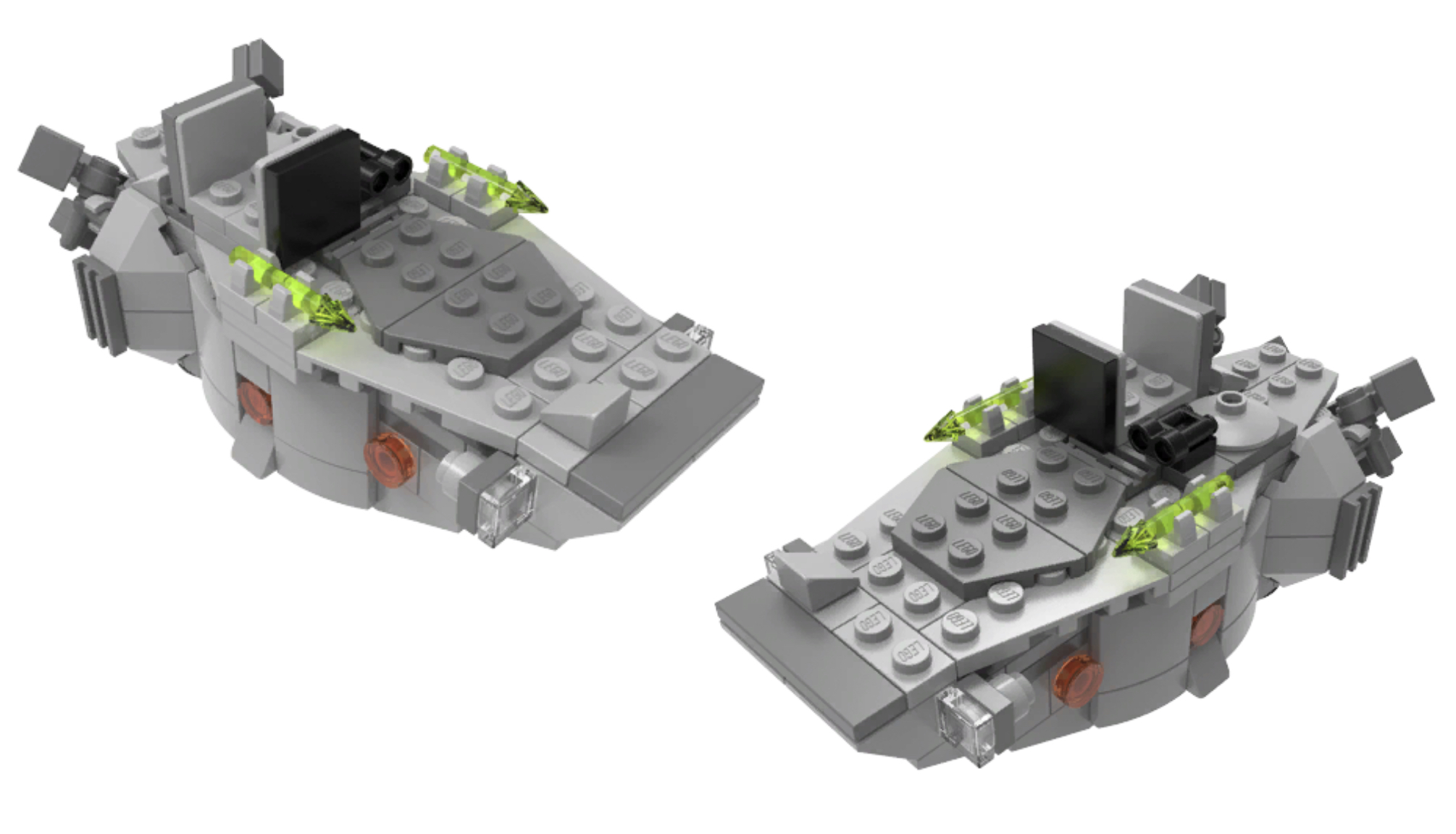 Get the Latest LEGO Sales & Deals
Rey's Speeder
In the Force Awakens, Rey used a custom speeder bike to transport salvaged ship parts. LEGO made a version of the vehicle in 2015 wave. Set 75099 retailed for £20 and included 193 pieces. It came with an exclusive mask piece for Rey. Although I loved the set, many fans complained that the vehicle was considerably larger than minifigure scale.

This version of Rey's speeder probably doesn't qualify as a Microfighter, but I thought it was worth featuring anyway. It's considerably smaller than the official LEGO set. This model is almost two studs narrower, much closer to minifigure scale. At some point I could see LEGO including a similar model as a side build in a large Niima Outpost set (like how LEGO included a small Tie Advanced model in Vader's Castle).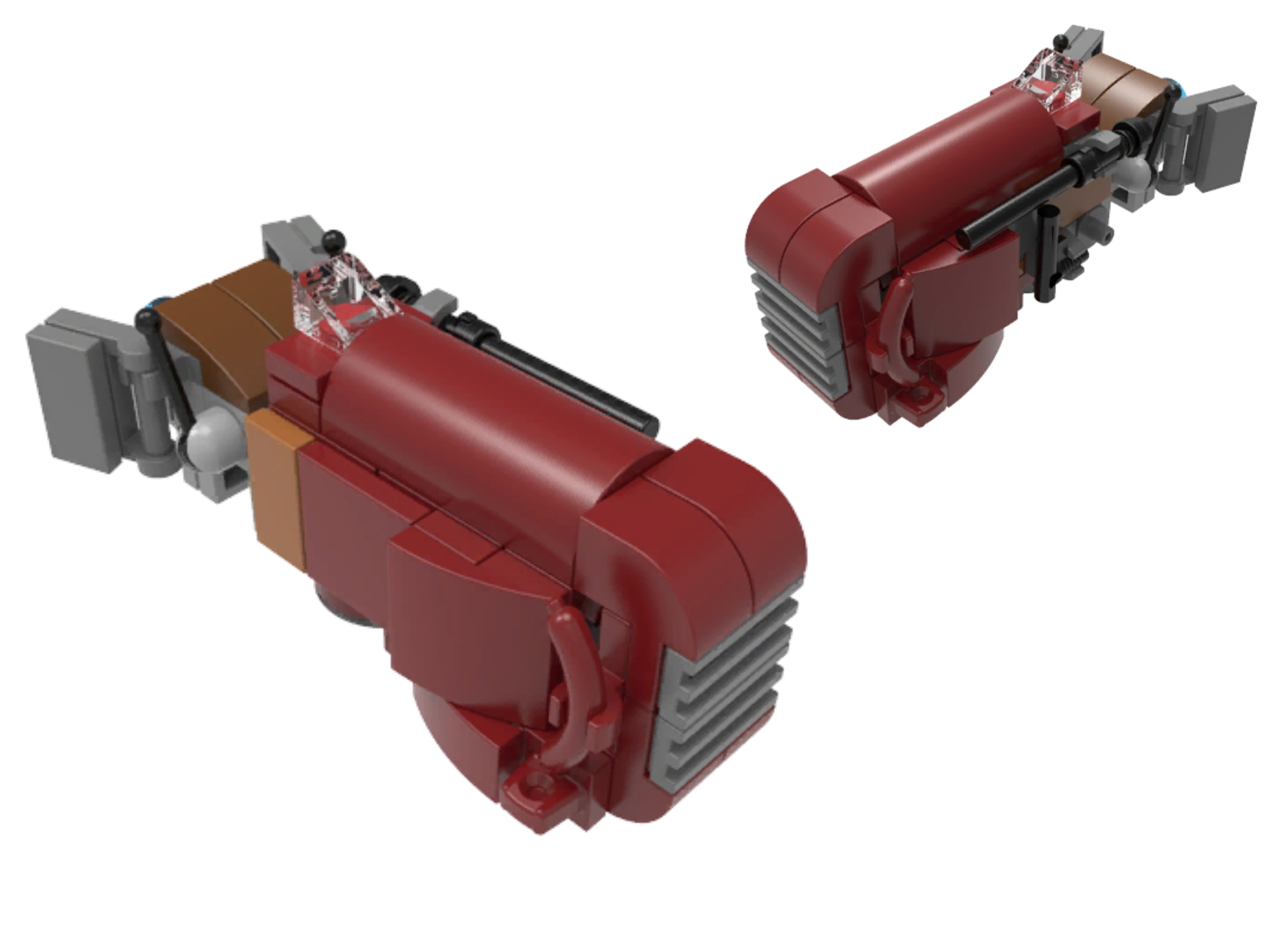 Resurgent Class Star Destroyer Microfighter
The Resurgent Class Star Destroyers were a series of battle cruisers used by the First Order navy. Kylo Ren's personal Star Destroyer was known as the Finaliser. LEGO made a First Order Star Destroyer in their 2017 line of Last Jedi sets. The model comprised of 1416 pieces and included the rare Supreme Leader Snoke minifigure.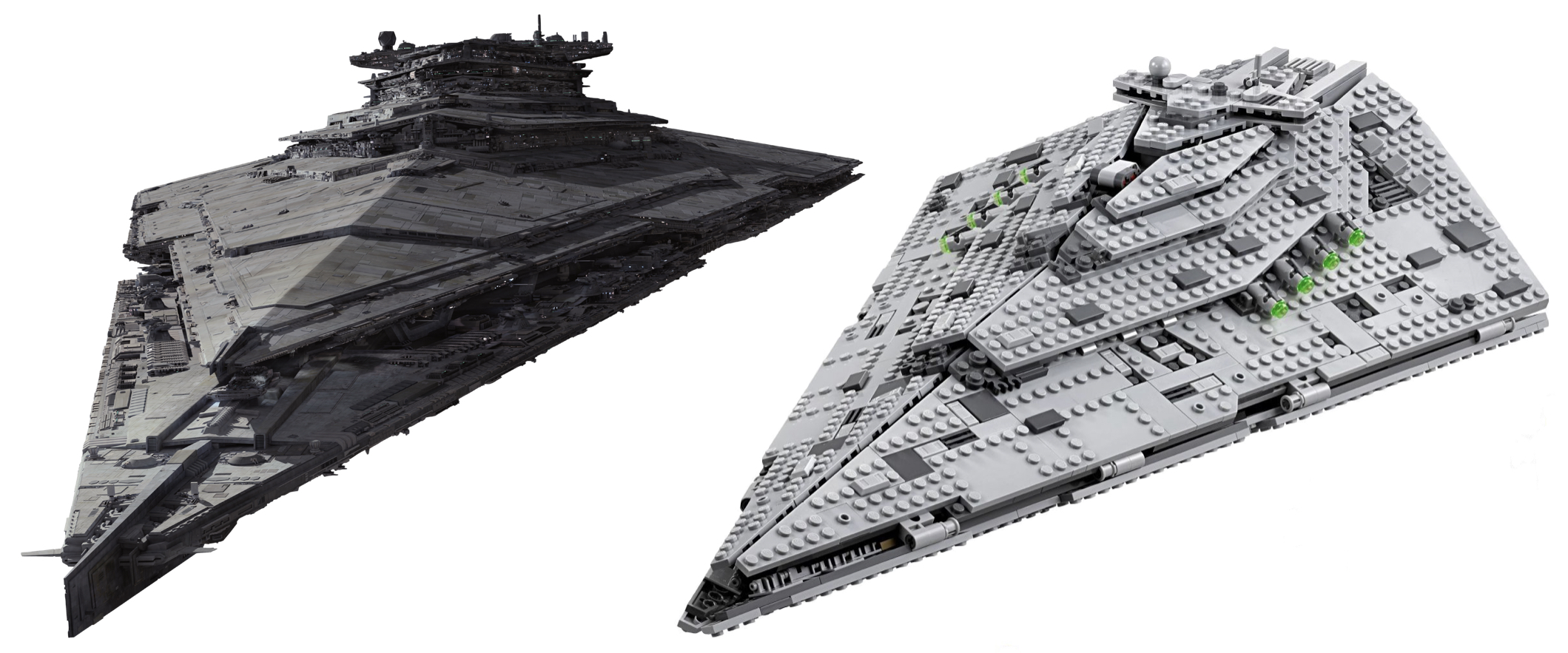 This Microfighter model looks pretty good. I like the use of the 1×1 plate with clip pieces to depict laser turrets. The use of a 1×2 ingot pieces to represent the Star Destroyer's bridge also works really well. Unfortunately, the designers struggled the capture the sleek angular look of the battlecruiser (this would probably be easier now due to the introduction of several new wedge plate pieces). With any luck, we'll see an updated model at some point (perhaps in the new Star Wars Skywalker Saga video game).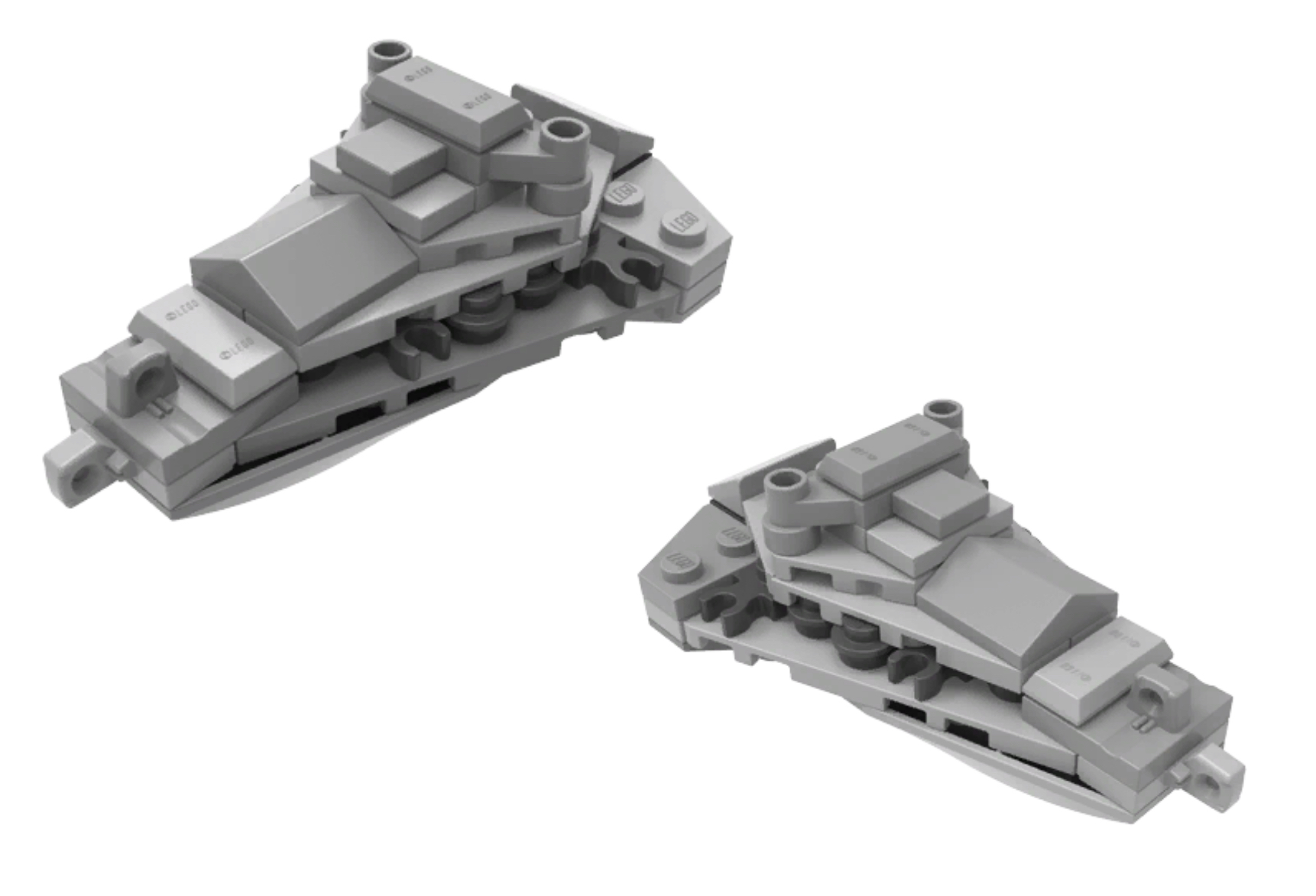 Quadjumper Microfighter
The Quadjumper was first introduced in the Force Awakens. Rey and Finn ran towards the vehicle, only for it to be destroyed in front of their eyes by First Order Tie Fighters. Despite its limited screen time, LEGO created a play scale version of the vehicle in 2017. Set 75178 retailed for £55 and contained 457 pieces. The set included an awesome exploding action feature so fans could replicate the iconic scene.

This Quadjumper Microfighter looks stunning. Imagine how great it would look with an Unkar's brute minifigure sat in the pilot's seat. The only thing I'd change is the use of white for the engines. I think this should probably be light grey.
Other noteworthy models
There are several other models in the Force Awakens video game that I felt were worth sharing. For example, there is a Starkiller Base Planet Series model and a brown Gozanti Microfighter. Unfortunately, I don't recognise several of these ships meaning I'm unable to write about them. If you know what they are please let me know in the comments section.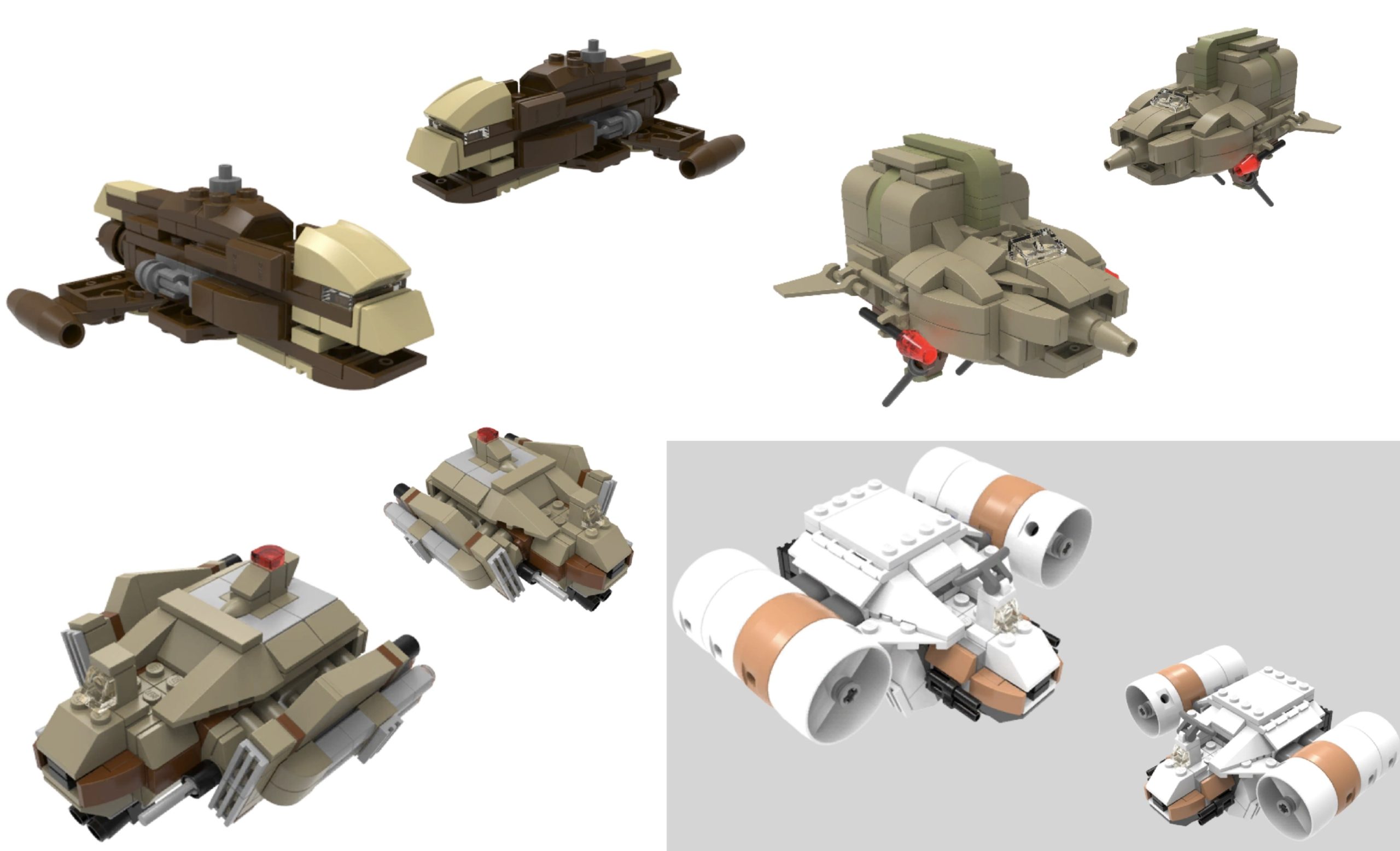 Conclusions
I hope you've enjoyed looking at these official LEGO Microfighter models. Keep reading FireStar Toys' blogs if you want to see more exciting LEGO articles. In the meantime let's start a conversation. Which of these Star Wars Microfighters do you want LEGO to turn into a real set? Let me know in the comments section below. I'd love to hear your thoughts on the subject.
Get the Latest LEGO Sales & Deals
The images in this article were taken from Brickset, Wookieepedia and The Spriters Resource