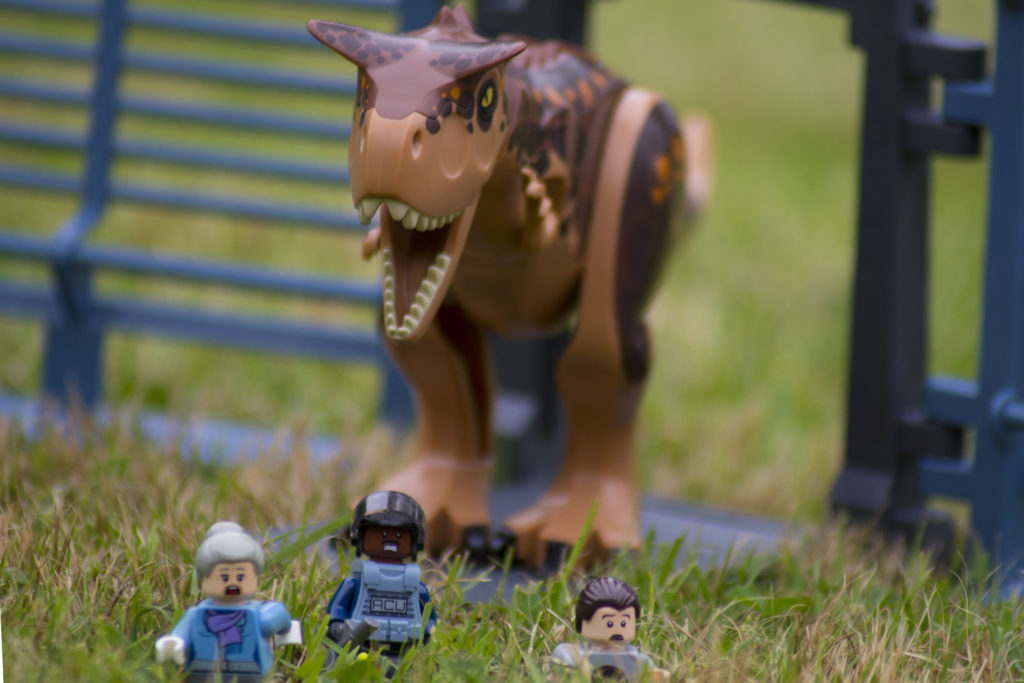 Hello everyone – and welcome to a blog post which I am very excited to be writing on the Firestar Toys Blog as we mark our first Friday in June, as we enter LEGO Jurassic June!
So, for anyone who doesn't know, I am a massive fan of both Jurassic Park and Jurassic World. I frequently produce content for the Jurassic Park Podcast, and my Social Media handle of 'Tom Jurassic' should give away just how much of a big fan I am. With that in mind, I will be working on a series of LEGO 'Jurassic June' content to bring you my favourite pieces of dinosaur-fuelled LEGO content.
So, without any further ado, let's jump into today's post where we look at some great LEGO Dinosaur content.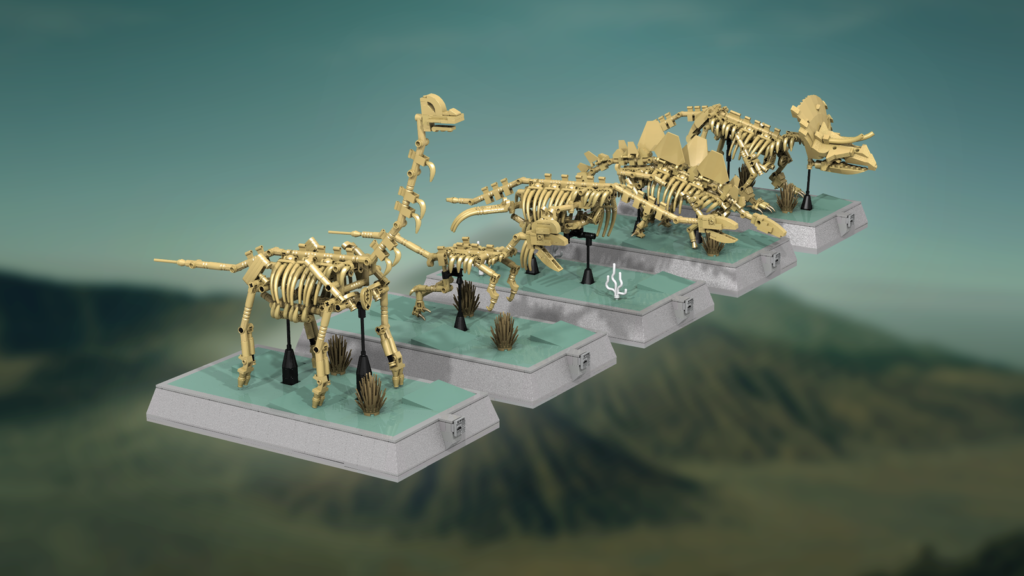 LEGO Ideas Confirms Dinosaur Fossil Skeletons Natural History Collection
What better way to kick off today's piece than with a look at the truly beautiful new set which LEGO have recently approved under the IDEAS moniker – the Fossil Skeletons Natural History Collection. This pack has me incredibly excited – not least because the creator, Mukkinn, has done such a fantastic job with it! I am very excited because three of the dinosaurs featured here – the Stegosaurus, Brachiosaurus and Plesiosaurus – have not seen 'modern day' LEGO variations – with the Plesiosaurus having never seen a release within the LEGO line-up.
The set is awe-inspiring – as the builds look intricately detailed and really do capture some of the key anatomical details of these beautiful creatures. I particularly like how the Dilophosaurus here perfectly captures the appearance of the creature – complete with the centralised bone crest which the animal has become famed for. These skeletons, combined with the beautiful and aesthetically pleasing display bases, come together to recreate a fun new set which I am excited to get my hands on.
LEGO, if you're reading this – we would LOVE to review this one here on the FST blog!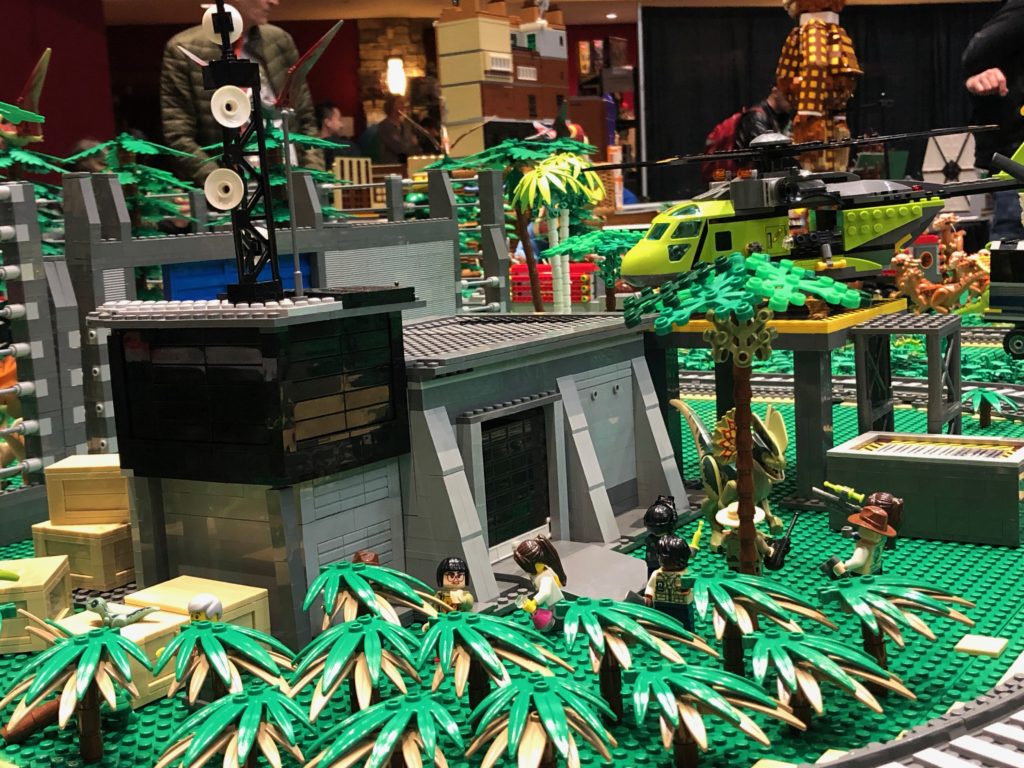 Beyond the Brick Shares an Awesome LEGO Jurassic Park Build
If you're a big fan of LEGO, you're probably familiar with Beyond the Brick  – the great show helmed by Joshua Hanlon which looks at some incredible LEGO builds debuting at conventions across the country.
I was really excited to see a massive Jurassic Park build from BrickCan 2019 feature in the latest version of the show – highlighting some fantastic nostalgic Jurassic builds which hit all the key beats from the films. James Ritzman and his great team of builders did a fantastic job with this build – incorporating so many distinct elements from the franchise. Every key structure is represented here – from the Jurassic Park gate in its iconic grandeur, to the stunning visitors centre, and even an ACU centre inspired by the same structure which appears within Jurassic World Evolution. I absolutely love all the intricate details in this build – with everything from the minifigures to the assortment of dinosaurs and more really conveying a great, 'lived in' Jurassic Park world. Train builds offer the opportunity to do something incredibly unique – and that is something which James proved here.
Check out the full video: https://www.youtube.com/watch?v=wgQ-QZBteyE
Get the Latest LEGO Sales & Deals
Baby Dinosaurs Continue to Take Over In 2019
After debuting the brand new and incredibly adorable Baby Velociraptor mould in 2018 with the Jurassic World: Fallen Kingdom sets, it looks like LEGO are set to continue to let the baby raptors rule the roost in 2019. One of the upcoming LEGO Jurassic World sets, LEGO Jurassic World T. Rex vs Dino-Mech Battle is set to include adorable re-creations of the entire Raptor Squad from the first Jurassic World film. Whilst the mech and the builds leave a little to be desired, the adorable velociraptors here look incredibly cute – and are characters which many collectors will want to add to their collections!
Miss out on the 2018 version of Baby Blue? You can pick it up on FST today.
Brickosaurs Hosted at Marwell Zoo in Hampshire, United Kingdom
In other Dinosaur LEGO news – LEGO fans will have the opportunity to encounter their favourite dinosaurs in near life-size LEGO models at the Brickosaurs attraction which can currently be found at Marwell Zoo in Hampshire. The attraction includes a total of 50 different dinosaur sculptures – one of which is a massive eight-metre rendition of the Tyrannosaurus Rex. The exclusive event has been created by Bright Bricks – a LEGO brick-building company who have been on television around the globe for their incredible feats achieved with LEGO bricks. With Bright Bricks responsible for numerous attractions across the globe – including heavy involvement with Brick Live – it is safe to say that this is bound to be one absolutely awesome exhibition.
Have you had the chance to check out the Brickosaurs exhibit? Or, if not, are you planning on visiting if you are a UK LEGO fan? Make sure to let us know in the comments below – we would love to hear from you.
An Oldie… But A Goodie
I wanted to end today's piece by highlighting one of my favourite LEGO stop-motions to date. This stop motion had a budget of over $100,000 and it is easy to see how – combining numerous techniques to create a fluid and accurate representation of Jurassic Park.
I am, of course, representing DigitalWizardsStudios rendition of Jurassic Park in a LEGO format. There is so much to love in this video – from the fantastic brick built introduction screen, to the smooth and sleek recreation of the famous flight into Isla Nublar itself. I adore how the team behind this stop motion built some incredibly beautiful and stunning vistas – with the large field featured at 0:24 feeling gorgeously natural – complete with its vast array of shrubs and trees.
I also love the charming rendition of the Visitors Centre in this piece – and must take a moment to point out how beautiful the use of tan plant pieces is for the roof radials in this build. That, combined with incredibly crisp and well-animated facial movements and immersive set design makes arguably the best Jurassic Park stop motion which is on the internet to date. If you do one thing for LEGO Jurassic June, I highly recommend you go and check out this stop motion, as it will leave you inspired.
Conclusion
That wraps up this introductory post for LEGO Jurassic June – I hope you are as excited as I am! Over the course of this month, we will attempt to dive deep into dinosaur sculpts, old lines and licenses, minifigures and much more – as LEGO has a much greater history with dinosaurs than many of us tend to believe! There certainly is lots for us to sink our dino-sized teeth into, so I do hope you will join me as we look across some of my favourite additions to the LEGO line-up to date. Don't fret however – as my friends here on the blog will be continuing their regular LEGO content so you still get your fulfillment of that too!
For now, thanks for checking out this article – I hope you leave with some new knowledge, and a few exciting things to go away and check out. Make sure to let us know what you enjoyed most in the comments below – and stay tuned as we go on the hunt of more dinosaurs in the coming weeks, right here on the Firestar Toys blog!
Get the Latest LEGO Sales & Deals