It's going to be "that" time soon, when houses are covered in twinkling lights and sparkling garlands as children await the arrival of Santa. For many 'FOLs (Friends of LEGO) this is also the time when the Christmas sets are assembled (or re-assembled from last year). But what do you do if you don't have a spare dining table to get the entire Winter Village up and running? This article looks at LEGO displays, but on a much smaller scale.
As a quick disclaimer: Having played with LEGO for many, many years some of my winter items are now discontinued; they are displayed as much to remind me that I have them! I mention this in case you can't find it to buy online or in your local LEGO store.
Deck the Halls
Probably the easiest way to show your allegiance to the popular interconnecting brick connection system is to dangle it from your Christmas tree. Over the years, LEGO have released several transparent plastic baubles with some form of brick or toy within them. Two examples I have are the Santa and the mini gingerbread house.
With Boughs of Holly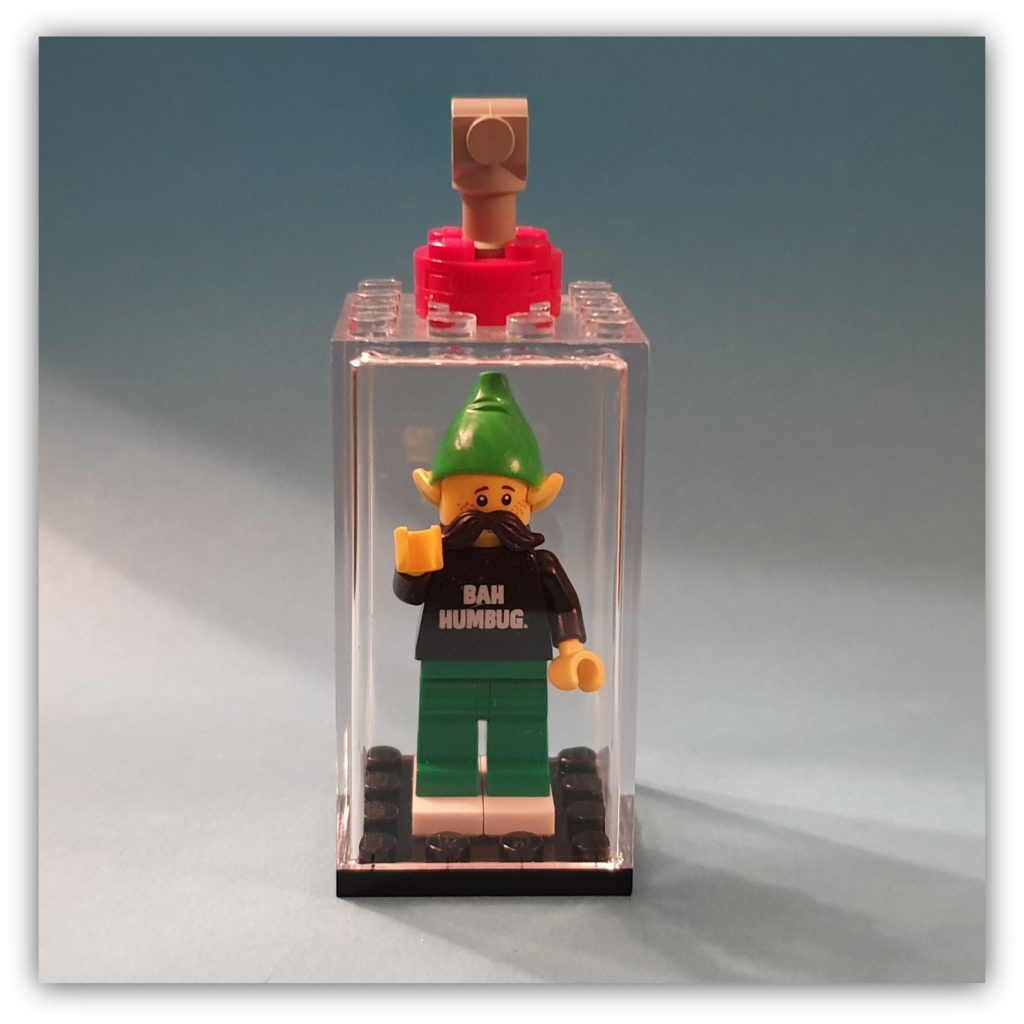 A neat item to display on your tree is a minifigure, especially if you've made it to represent family members. Obviously, I should mention that companies such as Firestartoys have hundreds of minifigure parts to enable you to create that miniature representation. I did see that there is a company (funky3Dfaces) that will create a model head for your minifigure based on photographs you send them.
Of course, once you've created your mini-masterpiece you'll want to hang it on the tree. Fortunately, there are single-figure display boxes that can be used for this purpose, and you can either put a purpose-made loop on the top or use a Technic part to achieve the same effect.
These LEGO displays can also be Christmas presents on their own; put some lightweight paper inside (so the display case doesn't get scratched) and then put all the separated parts inside. The recipient can then build their figure themselves!
Oh, come all ye faithful
I think it is worth noting here that this is also the perfect time to make your alternative LEGO figure. The two examples in the image above show alternate figures that you can create that aren't "standard", the Christmas jumper and dear head (made from the minotaur head and antlers) are two parts that shout Christmas.
Fa-La-La-La-la
It wouldn't be a proper article if I didn't mention LEGO baubles! The artist Chris McVeigh (chrismvceigh.com) has a huge collection of model building guides that you can download for free and create your own Christmas decorations (The 2018 guide and earlier can be found here).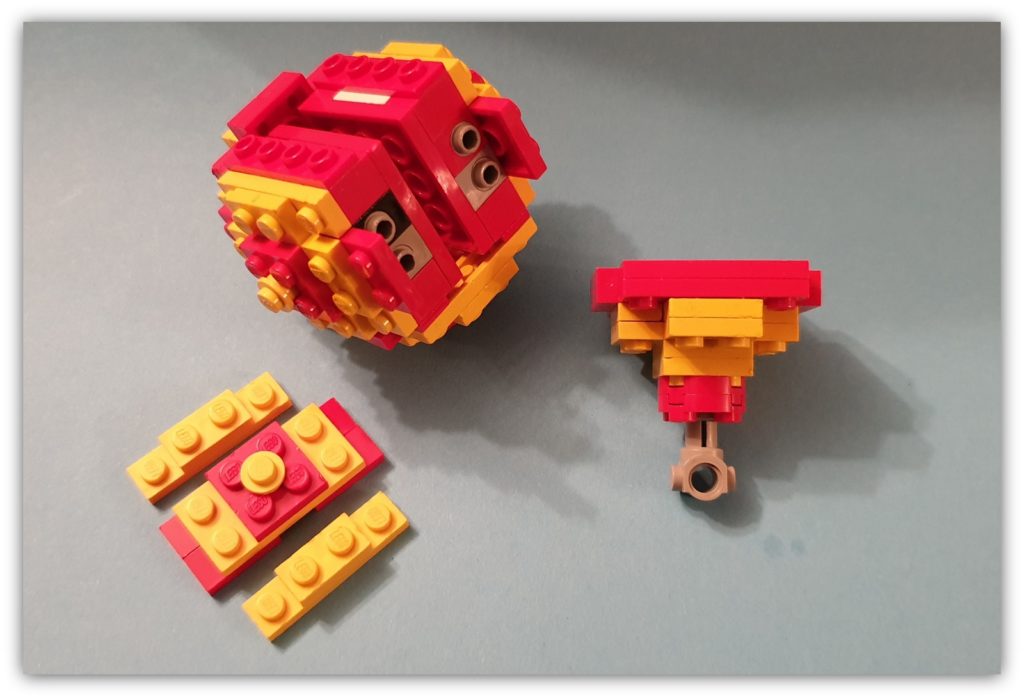 Whilst I can't remember where I saw the inspiration for my Christmas baubles, I do recall that I didn't have quite enough of the right parts at the time to make proper Lowell Spheres, but I did find enough parts that I could create my own version of them. The result of my version is that it is quite heavy for the Technic hanging loop (and I don't want to glue them, even though they go away each year whole!) so I have to display them as mantlepiece items. I'm sure that a correctly made Lowell ball would be much lighter.
Step away from the tree!
As with so much in life, you can overdo it and for me that includes decorating the tree. In our house that is due in part to the fact we have cats who see the tree as a new inside climbing frame with all manner of dangly things to play with and knock on the floor!
Fortunately, LEGO don't only produce large scale modular gingerbread houses. I still have smaller gingerbread houses that they released a few years back. As well as this little "snow globe", I also have the vignette sets that were released by Lego. As I said at the start, not everyone has the space to create an entire winter village, but I suspect most can find a corner of a display shelf.
Countdown to "Hope It's Not Socks Day"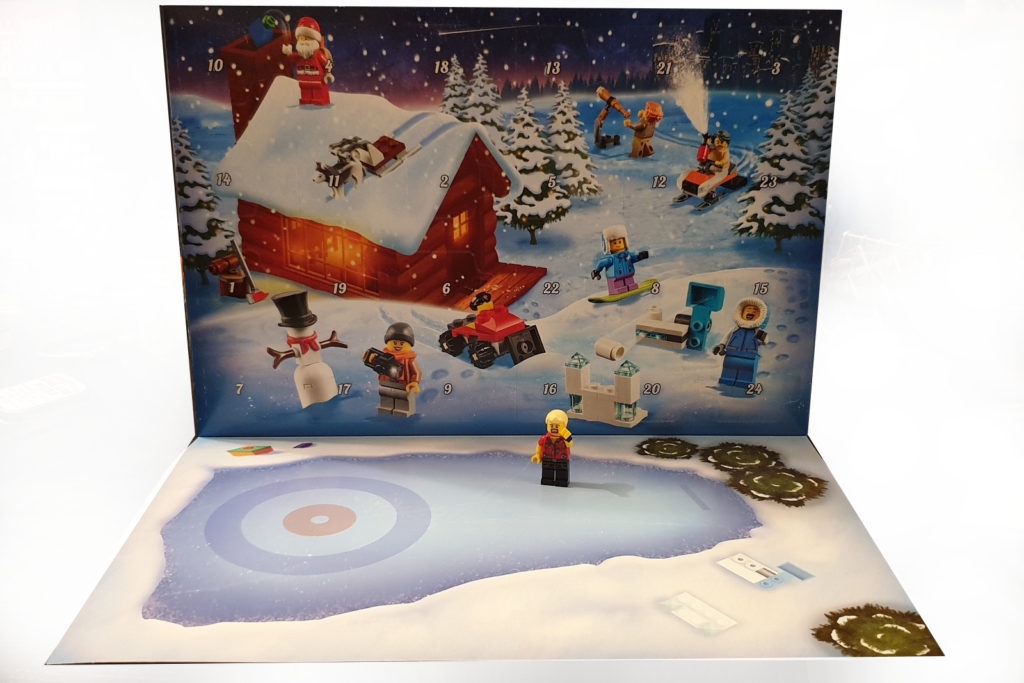 One of my favourite Christmas-related LEGO products is the advent calendar. This year, LEGO has produced four calendars; City, Friends, Star Wars and Harry Potter. I have bought the City advent calendar again this year. What I like about the calendars is that the box offers as much play potential as the twenty-four gifts behind those doors. This year the floor is a lake, with a house in the background. My only criticism with the box is that it would be nice if the upright background remained as a single piece of card like the base; the background scene becomes less effective once the gift boxes are opened. For my toy photography I find I must use one of my own background cards to hide the open doors.
Scene Setting
If you do have a little space to show off one or two Christmas-related sets, how do you do that? At the time of writing, LEGO have not produced Christmas-related backdrops, just the one for Ninjago (or the Movie Maker set). But at my local garden centre they have a corner with all manner of Christmas displays; one of which is a large background sheet of trees and snow; perfect to showcase any buildings you may have.
Companies like Kanbancrafts.com also do background cards on A4 (some of which can be bought as digital downloads) which again provide a nice setting for whatever you may want to display.
Non-LEGO LEGO
So far in this article, I have talked about physical LEGO displays. But, you're probably also aware of other methods of displaying your LEGO creations. If you've managed to take a photograph of your creation you could use it printed onto your Christmas cards; or you could print it onto photo paper and display it in a frame. And of course, there is always social media; around this time there are no end of groups that you can share your creations!
One annual "tradition" for me is the Christmas advent story. Using my advent calendar, I create a LEGO story which leads up to Christmas. The "rules" are simple: the story has to properly feature whatever the present is for that day; it can't just be a quick mention. So, if the gift was a snowman I couldn't just say "they walked past the snowman" I would have to write something along the lines of:
"Billy set out towards the garage. In the darkness he could see someone, so he picked up a snowball and threw it at the stranger. To his surprise, the stranger's head fell off! Worried that he had managed to seriously injure someone with a snowball, he ran up to the body; with a huge relief he saw that it was a snowman, or at least a decapitated one. He put the head back on the body and hoped nobody had seen his reaction."
When I started out, I set myself a minimum number of words per day; unfortunately, now the stories are on a weekly basis, so the chapter features all the gifts for that week. It's quite a challenge, especially when you get a toy that has no bearing whatsoever on the storyline!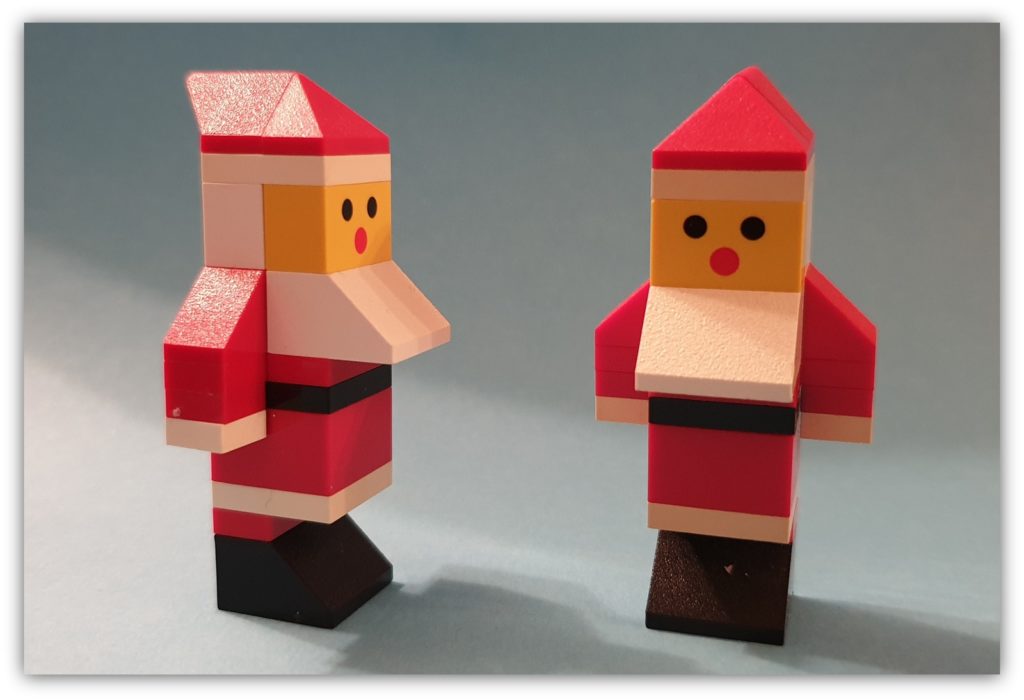 I hope that you have found this interesting and useful. If you have any tips, tricks or comments about how you display your Christmas LEGO, let us know!